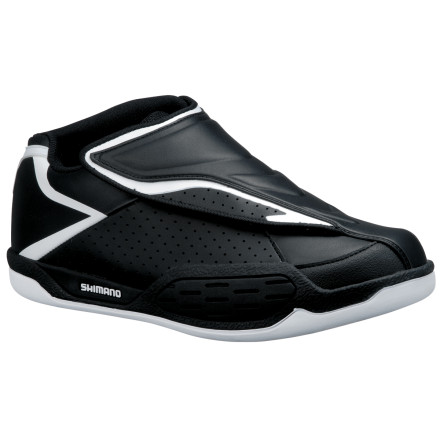 Description
To clip or not to clip.
The Shimano SH-AM45 Mountain Bike Shoe may look a little like a throwback to the moonboot era, but it'll give you the support and protection you need when you're railing the trails. The mid-top uppers are constructed from synthetic leather, and there is no mesh to let sand and grit in. The last is Shimano's Volume+, which provides more room in the toebox to eliminate pinching. On the outside, the outsole wraps up and around the toebox and uppers to provide additional protection from rough debris. The sole itself features a fiberglass-reinforced polyamide soleplate with a rubber that grips your platform pedals. The SH-AM45s are also compatible with SPD cleats for a more traditional trail feel.
Synthetic leather, no mesh uppers
SPD compatible
Too bulky
Familiarity:

I've used it once or twice and have initial impressions

Fit:

True to size
I've only used them once (and I'm returning them). They are too bulky and slope towards the front, so they slide off the pedal binders (I did not try them with SPDs).
Great shoes
Gender:

Male

Familiarity:

I've put it through the wringer

Fit:

True to size
They are a little bit heavy but it's not a game stopper. When mine wear out I will buy a new pair.
Awesome shoe.
Familiarity:

I've put it through the wringer

Fit:

True to size
The only thing I was worried about with these shoes was them being too hot in the summer. Well, I can now say that I never had that issue. These shoes did great in the hot weather in St. George and Moab in the middle of summer. I can also say they rock in the winter. I rode this year in these shoes (with Smartwool socks) down to 32 degrees and was never cold. My only complaint is that around the top of the shoe there is a cotton type faberic over the foam and I ripped it a little while riding at Deer Valley this last summer.
Classic
Familiarity:

I've put it through the wringer
This shoes is a great DH or AM shoe.

I love the total coverage and the ability to clip in.

I wear 39 (size 8 in women's) and they fit perfect.

They also are very comfortable for any hiking you may encounter.

They are a little heavy and not overly ventilated.

Attached is an amusing photo of these durable shoes still attached to my pedals after a crash in which I became detached from my bike!


Get ready to get rowdy
Gender:

Male

Familiarity:

I've put it through the wringer

Fit:

Runs large
A great downhill OR trail shoe. It's stiff enough for a relaxing trail ride, but you can push it as hard as you want in any sort of race you like. I wore these when temps got cold during the collegiate race season this year and they kept my tootsies warm enough to not worry about my feet during the race. It's also nice to have a shoe without cleats if you're planning on doing some hike-a-bike action. They do run a bit big, so you may consider sizing down.
Hard To Beat For The Price
I primarily ride XC and lift-accessed trails around Park City and these shoes have been great for both. They're comfortable, functional (I love the full wrap), look decent enough, and, most importantly, fell in a great price range. A previous reviewer noted that they may run a little hot in the sun which I agree with but haven't had any major issues.
Great for casual cross country mountain biking and kicking around town , when you are not on your bike.
I have few pairs of these.
I prefer clips for DH and XC riding. It seems to be getting a bit more common for DH. How many times I have ridden Whistler and the amount of people who can't comprehend being clipped in. I can't imagine not being clipped in. These are great shoes for DH and XC riding. I wouldn't recommend them for riding flat pedals , they are not nearly as grippy as 5 Tens.
Great Shoe
Gender:

Male

Familiarity:

I've put it through the wringer
I just got my second pair of these shoes. I love them. The full wrap keeps the water out and the laces clean from mud. The only thing about this shoe is it is warm, on hot desert rides you will really notice this.
Best shoes ever
Gender:

Male

Familiarity:

I've put it through the wringer
Sturdy shoes, great grip, durable. Shimano, enough said
Fantastic Shoe
Gender:

Male

Familiarity:

I've put it through the wringer
Purchased this shoe due to its flat bottom, Mountain biking and an occasional DH ride, and am very pleased with the decision.

Sizing: I wear size 10 and the 44 is perfect.

Waterproofness: excellent, water stays out. At the end of a couple of wet rides, everyone else had soaked feet. Also with the cleats attached the shoe worked fine on flat pedals on the downhill bikes.

With this shoe you are able to pedal without being clipped in, and finding the clip is rather easy due to the flat bottom.

The shoe grips very well, better than my Giro or Shimano shoes with lug bottoms.

There is plenty of padding around the shoe and in the tongue. The laces give me a better fit than velcro straps. They are a little heavier, but it is mountain biking. The shoe performs excellent and I will purchase another pair when needed.
Great shoes, but the sizing is a bit weird though. The 37 is a bit too small and the 38 is a bit too big. I wear thick socks when I ride anyway cuz my tootsies are always cold, so I am gonna stick with the 38s.






Love them
Gender:

Male

Familiarity:

I've put it through the wringer
They are a lot easier to clip into. They hold up to my rough wear and tear.
At first I felt like these shoes where a little to spacey looking for me, but I have grown to like them. Probably because I have been very satisfied with there performance. Paired with the Shimano PD-M647 SPD Dual Platform Pedals, this setup is a perfect compliment to my freeride rig.
Thank you Shimano for making a DH SPD shoe in my size! I have the fiveten Karver shoes but my feet still slip in rocky technical sections and fiveten doesn't make a DH/Freeride SPD shoe in my size. I ride clipless for XC and missed that feeling for DH. I wear a size 6/6.5 in women's shoes and ordered the 36 at first. Too small, so I got the 37, just a bit too big but much better fit than the 36 (toes curling). I use these shoes with the Shimano DX clipless pedals which work great together: easy to clip in and out, big comfortable platform.
Strong shoe for MTB, I have a 10 shoe and size 44 is perfect fit. Grips well on the wet stuff. Can take off the cleat and use on flats.
Great shoes, clipped or unclipped.
This is my first season using clipless pedals and I ride these with a pair of Shimano 545's. Compared to the skateboard shoes I started off riding with these are worlds better and much stiffer. Before skateboard shoes I rode with regular tennis shoes and slammed my foot into a tree stump, which hurt really bad. The overall protection this shoe offers for unfortunate tree stump encounters is invaluable. As a newcomer to clipless I'm frequently riding sketchy terrain unclipped with these shoes, and find the grip amazingly good even though they are not specifically designed for it. I ride these with flat pedals as well and find them to be a great all-rounder bike shoe. I considered the AM41 but decided that the clipless feature may come in handy for less sketchy terrain and I can work my way up with them, and were a necessity for BMX racing.



My only gripe is from what others claim, that these are slightly more difficult to clip in/out of than regular bike cleats, but that is understandable given their more recessed clip location.
nice, but wide + high volume
I ordered a 39 and normally wear a 7.5/8 in women's shoes. The stiffness is awesome. I don't have a super skinny foot but these shoes were wide and high volume-- I can only get a good fit by cranking down on the laces, and with them that tight, the hooked velcro on the flap doesn't make contact with the velcro loop strip. If I just casually throw these on, my heel slips when walking/pushing up section of trail Plus these shoes are hot! and I live in the Montana rockies. I may put some superfeet insoles in these to try and take up some space, but may also return and try for the Mavic alpine or alpine xl... or five ten hellcats.
These are almost perfect. Not too stiff and very comfortable. The only problem I have is the heel pocket. It is a bit large, so when I walk my bike up hills, my heel pulls out. That's a pretty easy fix for the overall quality of the shoe, so I'm not complaining. I love the flap over the laces!
I really like these shoes. They fit comfortably and allow me to effectively transfer power to the pedals. I like that the cleats are flush with the bottom of the shoe. The velcro closure covers the laces well so they don't get caught in your crank, and definitely keeps dirt out. They get in the way a little bit when you're lacing them up, but it's not a big deal. I especially like the mid-top design of these shoes, I don't experience heel slip in them as much as you would in a low-top design, and they are much more supportive.



I normally wear a size 10 shoe, so I bought a 43. They were way too small so I moved up to a 44 and they fit much better. I have a tiny big of wiggle room but it doesn't take from the support. I noticed that the sizing of Shimano is a bit different than other brands, the box says Euro 44, US 9.7, 27.8 CM. Traditionally 44 is the same as 11, and 43 is the same as 10, so watch out for that. If you're going to order these shoes, I recommend getting two different sizes to start, or get a Guru to tell you the US size and length labeled on the box, as there is currently no size chart.