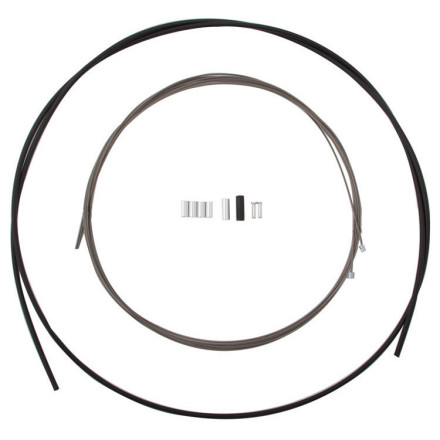 Colors
Derailleur cables and housing rank among the least sexy parts on a bike. Maybe the seat clamp is lower. Maybe. Few think of their cables. And that could be a problem. When your Shimano 7900 Dura-Ace levers seem to move the derailleurs at a glacial pace, it could very well be the derailleur cables and housing are to blame.
Cables and housing deteriorate. The more you ride, the more you shift. Each shift wears microscopically. The cable will eventually eat through the liner. And that isn't taking into account what the elements do to the cable. It might start off a stainless, coated work of art, but as time goes on and moisture gets trapped inside, it can start to corrode. Chances are, you should probably replace them much more frequently than you do. Our personal interval is once a year on the housing, twice a year on the cables.
So, to get your shifting feeling as crisp as new, it's time to invest in new shift cables and housing. Considering that you have to replace handlebar tape with 7900 shifting, it's a good idea to do your brake cables and housing when you replace your tape. The Shimano Dura-Ace 7900 Derailleur Cable and Housing set comes with two 2100mm x 1.2mm cables, one 1700mm x 4mm housing, and the necessary end caps/ferrules and cable end caps. Choose between Black, or Grey to match your frame.
Smooth shifting!
Gender:

Male

Familiarity:

I've put it through the wringer
I've got these on my road bike with the new Ultegra 11 speed drivetrain and what a great combination. Smooth, crisp shifting with no cable drag or delay. Should improve any shifting system.
Works!
Familiarity:

I've used it once or twice and have initial impressions
After Yoko'ing my bike along with a whole new drivetrain the bike would never shift into the big chain ring????? Tried everything. Local mech at my LBS said Yoko stuff is highly over rated but I felt it was great stuff. But anyway..............never could get the bike to shift under load of my weight which was a mystery. So I decide to re-cable the darn bike again. So Shimano gets the nod. Finally get the bike done and same issue but worked it out eventually and found the likely culprit. Bottom line...............Shimano stuff is easy to work with and I have no complaints. Hope my shifting issue gets worked out.
Good Cables
Familiarity:

I've put it through the wringer
I broke my last cables when I snapped my derailleur hangar. I put these on my bike and haven't had any problems since. They are great cables.
Trying to upgrade the ladies Shwinn World Race, I bought these with the brake cables and I'm pleased with product. Easy to install. Cables fit the whole bike with some extra left over. Shimano is always a good purchase.