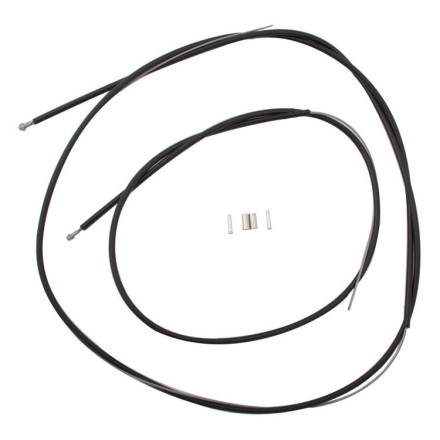 Colors
This Dura-Ace brake cable and housing kit is identical to what comes with a set of Shimano Dura-Ace 10-speed STI levers, and it's an elemental reason why Shimano Dura-Ace brake calipers feel so amazingly crisp. This is a complete set of Dura-Ace brake cables and and housings, with the appropriate cable tips and ferrules -- in other words, this set is enough for one entire bike. And in case you're re-cabling an older set of 9-speed levers, this cable set is perfectly compatible. Choose between Black or Grey.
Work Great
Familiarity:

I've put it through the wringer
I decided to swap out my original brake cables and housing when I was doing some work on my shifters, and these work great. I don't have any complaints about them. They were easy to install (once I got a housing cutter), and they work great with the Shimano 105 components I have on this bike.
Never fails
Familiarity:

I've put it through the wringer
The go to. Housing is smooth and easy to cut. Cables don't fray when cut and won't kink easily. Cant complain
Great system!
Familiarity:

I've used it several times
Simply put this is a great cable system that works and comes with plenty of cable both inner and outer housing to do most regular jobs. Easy to install but beware.............always do your rear brake system first........you know what I mean if you have replaced cables before. If not you accidently use the rear cable on the front and before you know it clip the cable and guess what????? You guessed it.............your other cable too short because they are not the same length to do the rear now!!!! LOL! It happens when you're in a hurry! Overall great system and would use again.
I'm trying to spiff up an old Shwinn World Race women's bike for the wife. I bought these along with the shifter cables and they fit the whole bike, easy to install, and they work great.