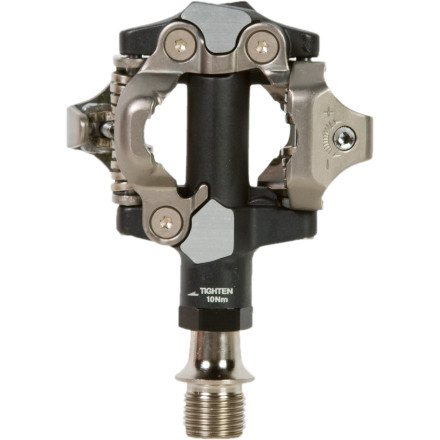 Detail Images
The XTR Race PD-M980 Pedals are lighter, provide more stability, and shed mud better than ever before. These improvements are the result of a refined pedal body shape. The design is leaner than the 970, with all non-essential material shaved away. While this amounts to a pedal that is roughly 20 grams lighter than its predecessor, it also lessens the potential for mud accumulation.
The retention mechanism is basically the same as the benchmark 970 pedals with wide, open ended tabs that allow easy entry and security for your cleats. In this case, no change simply means that Shimano had their pedals completely dialed already. The open design allows muck to flow through, not hampering your ability to engage in a hurry. The most significant design change is that the pedal body has small, flat platforms on the inboard and outboard edges to keep the sole of your shoe from twisting on the pedal. By small, we mean four times larger than the platforms on the 970 pedals.
The XTR Race PD-M980 Pedals come with SM-SH51 (single release) cleats and are also compatible with SM-SH56 (multi release) cleats. They have chromoly spindles and spin on sealed bearings. The tension of the retention mechanism can be adjusted via a hex screw on the back of each pedal on both sides.
Sealed cartridge bearing spindle unit for a long, maintenance-free life
Light spring action for easy step-in and release, even in sloppy conditions
Adjustable cleat tension settings for customized retention/release
Strong and durable cro-moly spindle
XTR pedals are great, but so are XT's
Familiarity:

I've put it through the wringer
I agree with other reviewers regarding the performance aspect of the SPD design in the XT/XTR line of pedals being top notch. i did have trouble with one pair of XTR seals that resulted in the shredding of the bearings (2-yrs ago), but that was likely an isolated incident. when choosing between the XT/XTR pedals, keep in mind that the XT pedal looks/feels the same as the XTR, weighs only 20-grams more and costs almost 25-50% less (depends on sale prices). so while the XTR pedal is fantastic, the true value lies in its baby brother (the XT's) in my opinion.
A Rock
Familiarity:

I've put it through the wringer
Light, performant, and dependable. Not much more to say than you'll never have to touch 'em after you install 'em. I've bashed plenty of rocks in corners, and they still keep going like the day I got 'em.
Super Durable
Familiarity:

I've put it through the wringer
These pedals are super solid and give me a much more solid pedaling platform than Egg Beaters. I have never had a problem with mud making it hard to click in. They just quietly spin along without a hassle. I haven't needed to service the pedals, but the videos I've watched make it look easy. No rebuild kits like the Crank Brothers.
More durable than any other mtb pedal...
Familiarity:

I've put it through the wringer
More durable than any other mtb pedal I know of. Even though I am an Egg Beater rider, I have to concede that on really rocky aggressive terrain I would prefer these. They are virtually bash-proof. I had an older SPD for a long time before switching to Crank Brothers. I feel like the SPDs have a crisper engagement, but the Egg Beaters' softer "click" is ingrained into my riding now.

Down side is they don't have Egg Beaters' 4-sided engagement, and probably don't shed mud as well.
Had good luck with these. They don't shed mud better than an eggbeater, yet they can be made tighter like a binding which eggbeaters lack. One set I have has 2 seasons of many miles and is still tight in the spindle, no looseness which is impressive.
Got these peddles on the advice of a good friend and have not been disappointed. I look forward to pushing these puppies through the ringer!
Shimano spd pedals have had problems in the mud and wet sand before, but not with these. They shed mud like an egg beater but keep you firmly secured to the pedal. The needle bearings are super smooth and very efficient. This is the best XC pedal out there.
I need my pedals to do 2 things - stay out of the way of rocks and hold my feet on the damn pedals. These pedals do both. I read that there was mud shedding issues with this incarnation of the xtr pedal. I owned the m970 version and hated how I constantly popped out of them even with the tension screws maxxed out. I was going to swap over the egg beaters but I've been on rides where my bigger friends have mashed those things into axles. I've had a lot of things bust and ruin rides - but shimano spd pedals have never been one of them. So, instead I doubled down on the xtr pedals and I was glad I did. they stay out of the way of the rocks and hold my feet firmly in place. This is only after a dozen or so rides - but all most worthy and difficult. Porcupine Rim, Kokopelli trails, gold bar rim and a few back in the northeast. Just did a mud filled ride at Holyoke State Park in MA. Did fine. tires all burped out on me though...