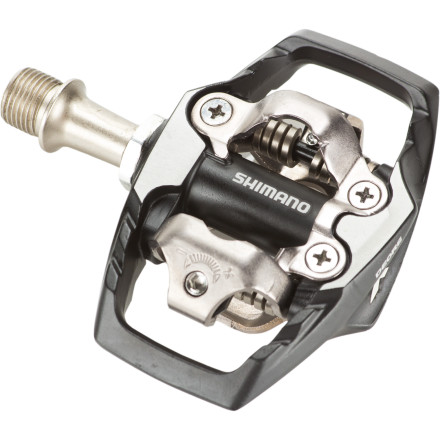 This is a slightly updated, slightly upgraded, XT-level version of the venerable Shimano SPD pedal. It gets some extra pedal body to better support your feet, which is nice when you miss a clip-in, or if you ride in slightly-softer-soled shoes, or if you want the option to not be clipped in for a particularly techy bit, and retains the Cro-Moly spindle, sealed cartridge bearings, and two-sided, mud-shedding design we all love.
Slightly larger platform than previous iterations
Two-sided entry
Cro-Moly spindle and sealed cartridge bearings
Best pedals I have ever owned.
Familiarity:

I've put it through the wringer
I run these on my mountain bike and the race pedals on my cross bike. I've owned the pedals for about a year and they have beaten through ever rock garden I can find and still work perfectly. If you want durable, components are a reasonable price look no further than Shimano XT.
Best pedal for the price
Familiarity:

I've used it several times
They're burly and hold up to the rocks well, and SPD is my favorite cleat system for mnt riding and clears dirt/mud well. They're heavier than they look, so if you're looking to dump weight and save $$ get the SPD without the platform(my old set), or go up to the next level. However, the bike is still under 25lbs.
do they come with the cleats included?
Power to the Pedal
Familiarity:

I've put it through the wringer
I have a set of these on my trail bike and love them. I've been a long time SPD user and like to stick with what works. This is the same quality as a standard XT SPD pedal but with the added support of the larger platform. The large platform comes in handy, especially if you descend a lot, because it dissipates the pressure over a larger surface area.... in short you just have less of a chance to get a hot spot under your foot. Save some money over the XTR version by going with these and add only 29 grams of weight.
Great Product (as expected)
Familiarity:

I've used it several times
Been using a set of Shimano PD M424's for about 12 years (still using them on my backup bike) and, although they have been through a 1000 ringers, they still work great. So, when it came time to buy pedals for the new bike, I stuck with Shimano and upgraded to these beauties. I haven't been kind to them so far (laid the bike down twice yesterday alone - once on each pedal) but they are just fine. Smooth operation, solid reassuring click going in, but no worries getting out of them. Haven't even adjusted them - just took them out of the box and mounted them up. Pretty sure they will last as long as I have the bike, and if my wife has any say (of course she does), I'm not getting a new bike for a looong time.
Platform makes it easier to clip in
Familiarity:

I've used it several times
I've been using spd pedals >15yrs. I finally upgraded my recent set of XT race pedals to these so I could have more of a platform when riding technical stuff unclipped. Larger Platform also makes it easier to find the right place to clip in (and gives you more confidence while doing so). A no-brainer
The Nice of XTR Without the Price
Familiarity:

I've put it through the wringer
Alex V's review is spot on, IMO. ...as are MANY of the other reviews.



I'll add another vote for durability. I've pinged these things off countless stumps, slammed them into flatrock in Moab, and generally put them through the wringer over the past couple of years and they still work (but not look) like a charm. The metal in these pedals should be called undestructanium.
What I expected
Familiarity:

I've used it several times
These having been the only SPD pedals I've used for an extended period, my experience will be limited. Having been frustrated with my feet occasionally coming off the pedals on rough terrain I began to shop around for some SPD pedals.



Not really sure what I wanted I compared several types and in various price ranges though I also didn't want to go too high. Eventually I ended up settling for these and have been more than pleased with them but I did do my research/read reviews beforehand.



I like the bigger platform, especially when first starting out as I found it gave me a better surface to stand on before I was clicked in. They were easy enough to install and haven't had any issues so far - I currently ride with Shimano M162 shoes.



I'll also mention that I live in Canada and had no issues with getting these delivered. At the end of the day, after figuring in the exch rate and shipping, I saved about 30 bucks. For some that may be worth it, for others you may want the peace of mind of being able to return it locally if there's any issues.
I bought these after getting hooked on my Look Keo Max 2 pedals that I bought for my road bike. It was very hard going back to my trail bike(s) that had just plain pedals. I craved the clip in feel for that bike too as I'm sick of my feet slipping around. I love my local bike shop but I loved the price on this site better. I got to see the difference between the XT and the XTR pedals and there's no perceivable difference in weight. Besides when dealing with bikes that weigh ~23 pounds, who cares about grams?!?! I've used these just once so far and they're better then I ever expected. The only bad thing is, I was stuck in a rain storm and I noticed later that the screws on the cleats started to rust so make sure the shoes dry well. They're much easier to get in and out of then the Look Keo Max 2 so I had to actually tighten the spring. I came back to buy another pair for my other trail bike that I use as a beach cruiser. I bought SIDI Dominator shoes for these pedals.
No looking back.
Familiarity:

I've used it several times
I used to use Crank Brothers Candy 3's and decided to make the switch to these about a month ago after getting tired of the Candy's inconsistent release. I love these! They're extremely predictable. I was debating between these and the xt race pedals and am glad I got the trails. I really like having the extra platform. It feels like it provides extra support underfoot and is big enough to descend techy stuff on if you can't get clipped in in time. The release tension is adjustable and mine came adjusted to about the middle. I've loosened mine to about as easy as possible and will tighten them if I find myself coming out of the pedals prematurely.
I can use these pedals with clips on one...
I can use these pedals with clips on one side and regular sneakers on the other, right? Also any SPD clip shoes will work?
Best Answer
Hey Craig W,

This pedal has the spd clip on both sides. You could ride on them with sneakers but you would be standing on the spd clip itself. The surrounding cage would provide some support. If you would like a pedal that offers the spd clip on one side and a platform on the other check out the shimano A530, Shimano PD-MX80 Saint Pedals, or any of the PD-M series dual platform pedals. All of the shimano pedals will use the standard SPD cleat. If you have any questions feel fre to contact one of our experts via live chat or by calling us at 1-800-409-4502.
Great Pedals
Familiarity:

I've used it several times
My first clip pedals, I mountain bike approximately 2-3 times a week. I was a little hesitant of buying clip pedals. After about 6 rides I am starting to get use to them. I have fell a couple times but overall I would highly recommend these pedals. They are easy to clip in and out for a new user.
I'm looking for a two sided platform pedal...
I'm looking for a two sided platform pedal that my wife can use for road biking. She is used to the release characteristics of her Shimano mountain bike pedals and prefers her mountain bike shoes. We tried Shimano road pedals but they don't release in quite the same way. After reading the comments in the Reviews, I'm just a little concerned about the consistency of release on these pedals. Any comments?
Best Answer
These pedals have an adjustable release. When I got mine, the release tension was cranked all the way up, and they were like bear traps. I backed them off a few clicks, and now they are great.
Shimano xt trail pedals
Familiarity:

I've used it several times
These are great pedals and are vastly improved from the old style shimano. I'm still more of a Egg beater guy.....
Unsatisfactory
Familiarity:

I've put it through the wringer
First off, I've ridden SPDs for almost 15 years, exclusively Shimano, and mostly XT. These pedals were a pain when I first got them...the factory grease was too thick when I first started using them and I could not get out of them even with the adjuster ratcheted to the easiest setting. I fell over on the road before a ride, couldn't unclip, broke my wrist...so yeah, I'm a little bitter. But I still got up and rode dadgummit. Thankfully Google was invented, because I learned if you soak these in WD40 and degrease them overnight, then apply your own light lubrican (Shimano greased these with lubrican't) and ride the heck out of them, they loosen up. I use them now, but still would not recommend them because after a few hundred miles I see very little benefit to the wide platform. They are just heavier, and catch rocks on techy terrain. I'd recommend these same pedals (over all other pedals) without the platform. Want a wider platform? Get a good set o' flats like Spike Spanks. Want SPDs? Avoid these.
Best Pedal
Familiarity:

I've put it through the wringer
I love these pedals, they have great retention and just the right amount of float. They are incredibly durable. I have beat them against every surface imaginable for the last two years. The platform is great and very stable and if it is a sketchy part of the ride you can unclip and ride on top of the platform to sooth your soul a little bit. The only downside I have experienced in these pedals is they aren't the best in the mud but will still work and occasionally they will get a little stiff but you need to do to fix it is put a few drops of chain lube on the springs and they are good as new. All in all, I love these pedals and would recommend them to any and everyone. If you have any questions about these pedals, feel free to give me a call. I'm happy to talk about these or any other pedals.



Here is my contact information: My direct line 801.736.6396 ex. 4389. Feel free call to me anytime, I?m always happy to talk about bikes or gear or the weather. Whatever works! I?m here Mon, Tues and Friday 1:30-10pm MST and Saturday 9-5:30 as well as Sunday 10-7. I look forward to speaking with you.
XT Trail Pedals
Familiarity:

I've put it through the wringer
After years of using conventional Shimano SPD pedals without any platform I find it difficult to go back. Previously I didn't think I would need any additional platform, but it truly does help, not to mention add more protection to the mechanism. These pedals can take some abuse and will put up a fight for more rock shots that I'm willing to admit. The bearings are noticeably smoother than Shimano's M520/M530 pedals, but I think the weight is more of the selling point in my eyes. Riding in mud and snow can gunk up the ability to get into the pedals, but is something I can deal with for the minimal amount it occurs. If you ride in muddy conditions often, something like an Eggbeat may be a better option for its mud shedding capabilities.
Look no further
Familiarity:

I've put it through the wringer
While you may be able to shell out the coin for XTR, I would look no further than the XT, unless you are really looking to keep the bike light. I have owned both sets, and believe that the XT's are a superior pedal due to the durability of the cage, and the fact that the XT's bearings did not develop play like the xtr's.



The slight cage is enough for support on long descents, but unnoticeable while climbing. All the benefits coupled with the fact that Shimano Pedals last at least 10 years is a real win in this case. I am still using a set of M545's that I purchased in 2002. That's a solid 11 years of service!
Bombproof
Gender:

Male

Familiarity:

I've put it through the wringer
These things are awesome. The only reason SPD pedals aren't the gold standard in the mountain pedal world is because their mud shedding capabilities aren't as good as Crank Brothers or TIME. These things have handled hundreds of rock strikes, and still click in and out perfectly, and bearings are still spinning smooth and crisp. I never want to worry about my pedals on my bike, I just want them to work, and these definitely fulfill that wish.
Solid Pedal
Familiarity:

I've put it through the wringer
I just switched back to these after being on Crank Brothers Mallets. The first thing I can say is the retention and release system on Shimano pedals is superior. I went with the mallets for trail all mountain use due to the large platform, however the cage on the XT Trail pedals has provided me with similar feel. I also feel like these pedals are more durable than the crank brothers.