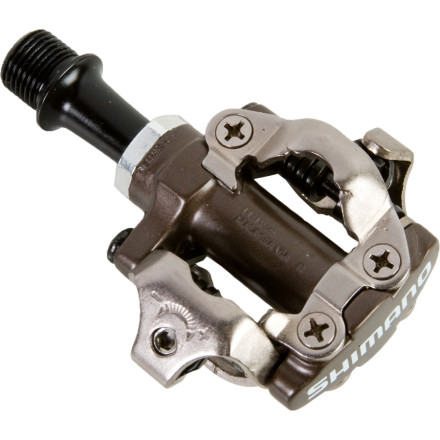 Detail Images

Community Images
Description
Proven by the masses.
Unless your daily bread depends on your race resume, or you just won the lottery, saving money in areas where it doesn't compromise performance is just a smart choice. The Shimano PD-M540 SPD Pedals include many of the same features of the XTR pedals at a fraction of the cost.
The open binding of the PD-M540 Pedals means you'll never fumble to clip in no matter how tumultuous the terrain. The dual-sided design further facilitates entry. Additionally, it allows the pedals to remain mud-free for consistent performance. The spindles are durable chromoly and the bearings are sealed to further dependability. The cleat design of the PD-M540 recesses the cleat into your shoe so that if your shoes have a tread, the cleat sits flush and makes walking easy. They are ideal for both trail riding and commuting.
Chromoly spindle, sealed bearings
2-hole cleat design
Share your thoughts
What do you think of the
Shimano
PD-M540 SPD Pedals
? Share a...
Durable and dependable!
Familiarity:

I've put it through the wringer
These are the prime choice for commuters looking for a clipless pedal system. Tightness is very easy to adjust, and they require practically zero maintenance.
Good enough for Jonathon Page...
Familiarity:

I've put it through the wringer
I recall reading a few years ago that Jon Page was using these when Shimano updated the XTR pedal. If they're good enough for him they're good enough for most of us. I use them in all situations and, as far as function goes, they're hard to distinguish from XTR.
Shimano Pedals, enough said
Familiarity:

I've put it through the wringer
Duel sided entry, improved mud clearance, adjustable spring tension, all metal.... lasts forever! I do ride nicer Shimano pedals on my mountain bike, but the ol commuter bike gets these budget baller pedals.
Hey Jus,
These are compatible with the Giro New Road Republic Shoes.
Inexpensive and Effective
Familiarity:

I've put it through the wringer
Great option for a quality pedal at a fraction of the price of others. Use them as a go to for demo mountain bikes and my commuter. They're Shimano, so I bet they last for years!
Great for beginners!
Familiarity:

I've used it several times
I always show these pair of pedals to people getting into clipless. They are great on the road and mountain. Very forgiving, so it is easy to pull out when learning how to stop at lights & signs. Also great for mountain biking when learning how to go over features. I use these pedals for CX and mountain and love them.

Make sure that your road shoes allow for a moutain bike cleat if you decide to go with this route.
Great Beginner Pedals
Gender:

Male

Familiarity:

I've put it through the wringer
These pedals are great for first time clipless pedal users on road bikes and mountain bikes. These were the first pair of clipless pedals I bought, and they served me well as I got used to clipping in.

The two-sided clip in and adjustable tension made them great for getting used to the clipping in process, although you definitely lose some stiffness compared to 3-hole pedals. They were really easy to install which is a bonus for beginners. Just don't forget to buy some grease if you're new to this!

Overall, great pair of pedals for beginners, commuters, or anyone looking for a cheap, reliable product.
Great pedal, right price
Familiarity:

I've put it through the wringer
I ride New England single track which means it's nasty rocky roots boneyardy stuff and as much as you want to not dab, you do from time to time. Nothing is smooth, mud abounds. I ride in the winter too, with snow, mud, snowmud, and other unknown trail hazards.

These pedals are great. You get a very solid SPD-like oh-yeah-it's-clipped-in feel to them, but they clear nicely.

I find the tension "just right" (right out of the box) to keep me positively locked in while still having the option to dab when I need to.

Weight is pretty decent--though since I have a full squish bike I ain't exactly counting grams.

Price is great too. Have no fear: buy these pedals and don't bother looking back.
Worth it. Especially when on sale. Easy to disassemble and re-grease the spindle and spindle bearings. Lasts a long time too.
Great Pedal
Familiarity:

I've put it through the wringer
A main stay for my mountain biking equipment. Have used this model pedal for several years and will probably use it for the rest of my life. Very reliable and durable.
Great Pedal..maybe?
Familiarity:

I've put it through the wringer
Okay Shimano makes a solid pedal, and these will definitely get you through a few seasons. If you have knee problems these may not be a super choice. SPD pedals have about a 5 degree float meaning you can move your foot in the pedals about 5 degrees either way. In other words, you are LOCKED into these things.

Other pedals (ATACS) have a 20+ degree float so you can move your foot around a bit more and give your knees/ankles a bit or wiggle room.
COST EFFECTIVE, HARD WORKING, STURDY
I use these on my Hardtail for intermediate trail and single track riding. I love them! Inexpensive yet well designed. THey hold fast to your shoes but are also easy to break free of in a wreck. And I've had plenty! All and all a great buy!
Great Value Pedals
Gender:

Male

Familiarity:

I've put it through the wringer
Shimano SPD style pedals have been around for years and there are a dozen different copied designs because it works so well. Not particularly light pedals, but 1/2 the price of XT pedals and 1/3 the price of XTR. Best value for your money in terms of mountain pedals, in my opinion. Double sided, with spring tension adjustments
upgraded my indoor trainer
Not much to report on these b/c all I did with them is install them on my Lemond RevMaster (indoor spin bike) which came with the old school cages. I wanted a better upstroke w/o having to crush my foot in the cages to get it. Since these clipless pedals are not being exposed to the elements and the challenges of 'real' mt biking they'll probably last forever. :)
Do these pedals come with the cleats...
Do these pedals come with the cleats (specifically, SH51?) or do you have to order cleats separately?
What's the difference between this model...
What's the difference between this model and the Shimano XT model (PD-M770) besides price and body paint?
The XT has Fluorine Coated Binders and slightly lighter Body with a better finish on the Axle. Really not that much besides the Paint.
These were my first clipless pedals on my FSR, and from day one the easiest starter set to use for a novice. I am on my second pair now and still prefer them to many similarly priced competitors These are currently on the Bianchi c2c in my profile pic, as I prefer them over them over my Ultegras. The tension is easily dialed in and I very rarely suffer from clipping out. Good pedal for a beginner to learn to use. Highly reccomend!!!
Can these mountain bike clips be mounted...
Can these mountain bike clips be mounted on a road bike shoe?
Best Answer
Some road shoes can use both two-hole SPD compatible cleats and typical three-hold Look style cleats. This is rare to find in upper end carbon soled road shoes. To determine if your shoe does support SPD client you should see two mounting holes about an inch apart that are allowed to slide fore and aft on the shoe for adjustment.
Depends on the Shoe
You need a SPD Compatible shoe
Most road shoes with Plastic souls will have slots for SPD cleats but few Carbon souled shoes will work