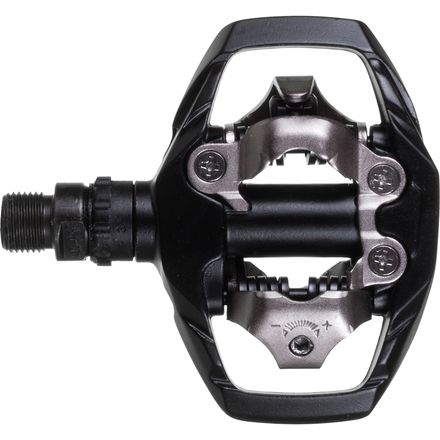 Community Images
Description
Just a little bit better.
Shimano's SPD pedals have been around forever and, aside from a few additions here and there, have remained pretty much unchanged. The reason is simple: Shimano got it right the first time. The M530 still uses Shimano's tried-and-true SPD retention system, but it incorporates a larger platform to add a bit of support in gnarly sections of trail where you're tossed around.
The M530 SPD MTB pedal incorporates the same smart features that SPDs have incorporated for years. The dual-sided pedals make clipping in a snap. Sealed cartridge bearings make them pretty-much maintenance-free, although if you need to take them apart to clean and grease the internals, it can still be done without any SPD-specific tools. Finally, there's the tension adjustment, which is why many believers have been riding SPDs for years. With a 3mm Allen wrench, you can adjust the release tension of your pedals, so you can customize the feel to your exact comfort level.
Larger platform
Dual-sided entry
Sealed cartridge bearings
Adjustable cleat retention
Cheap and Easy
Familiarity:

I've put it through the wringer
Had a pair of these on my hardtail previously; not what anyone would consider as light but durable. Just bought a pair to put on my road bike so I could use have more options in footwear for commuting to school. If you need a solid pedal that wont break the bank these would be your jam. The large platform is super supportive and makes these a great first pair of clipless pedals. This also allows you to ride to the store without cleats to pick up a sixer.
Everything I need in a pedal
Familiarity:

I've put it through the wringer
I am an avid road cyclist that likes to do 25-100 mile day rides and have been getting in to multi-week tours which cover 400-700 miles. Despite the fact that I don't ask for too much out of a pedal, these really deliver. Shimano quality and a great value. I anticipate getting 1000s of issue-free miles out of them.
Works well.
Familiarity:

I've put it through the wringer
Like these pedals so far. Feel very solid and no issues. Probably not the lightest, but very easy to use. They have taken a pretty good beating this summer, and continue to do the job as it should.
One side had a bad bearing
Familiarity:

I've put it through the wringer
I bought these as a gift for my GF for her first clip in shoes. The price is right but there is definitely a difference between these and the XTs. On her second ride she noticed a bad click in the pedal. I took it apart and found the bearings bound up. As a pro bike racer I had the tools to do this but am not sure anyone else would.
After the rebuild and some new grease they work perfectly and she hasn't had another issue. As others haven't reported this issue it may just be a one off.

I'd still probably recommend them for entry/intro level.
Hey, I have Mavic Crossride XL pedals on one bike, will I be able to wear the cleats that came with those with these pedals? I purchased them as part of a shoe promo sale you had yesterday.
Thanks, Mike
Best Answer
Hey Bikenaked,



You shouldn't use the Mavic cleats on these Shimano pedals, they use a different retention system.



Feel free to contact me with any other questions!



Ben

brabinowitz@backcountry.com

801-746-7564
Great pedals for the money
Familiarity:

I've used it several times
They are not the lightest pedals out there, but they are indestructible. They provide a good bit of support, and if you want to take your bike for a quick ride without your bike shoes you can do that with these.
Great pedals
Familiarity:

I've used it several times
Great quality pedals. These are my first pair of clipless, and they feel very stable. They have a nice weight to them; not to heavy and not too light. I like that the platform is a little larger; it's more forgiving for those of us who are far from pro-status with the use of clipless. I also love how you can adjust the cleat retention. Because of how much I liked these, my husband bought a pair as well!
Are cleats included? If so which ones ....SH51's?
Shimano SH51 SPD Cleats are included with these pedals.



If you have any more questions about Shimano or other MTB Pedals feel free to contact me:

Phone: 801-736-4337

Email: klivingston@backcountry.com
Will a pedal with this type of a platform work with a pair of shoes like the SPD Chrome Truk?
Hey Cory,

These pedals will work with the Chrome Truk or other shoes that are similar in design.
Great beginner mountain bike pedals
Familiarity:

I've used it once or twice and have initial impressions
I just bought these pedals for mountain biking, never having had clipless pedals. They are great with the extra platform and easy to adjust.
Brand new to clipless
Familiarity:

I've used it once or twice and have initial impressions
These are my first ever clipless pedals and they work great. They were easy to install and haven't had any issues yet.
No Joke. Full Stoke
Familiarity:

I've put it through the wringer
I run these pedals on both my AM and DH bikes. They're stupid strong and not too much heavier than their more expensive counter parts. The added cage helps when things get rowdy. Additionally the cage gives you the confidence to still charge those rocks even if you aren't clipped in.
Best SPD pedals I have.
Familiarity:

I've put it through the wringer
I have a few others, but I like these best. The "cage" allows you to knock the padle into position for cleat insertion, it's subtle, but it helps a lot. I've uses normal shoes on these also, it's OK, not as bad as I expected.
Pleasant Surprise
Familiarity:

I've used it once or twice and have initial impressions
I was looking for some inexpensive SPD pedals for my old Raleigh touring bike that was just rebuilt, and I was enticed by the price on these. These are the first wide platform pedals I have bought, after using SPDs for over 20 years. All I can say is that after riding about one block I was wondering why I never tried them before. They feel so much more stable and comfortable than smaller pedals, and they are also easier to get in and out of. I use Sidi MTB shoes for all my rides, and I am thinking about switching out the pedals on my other 5 bikes to these pedals. The only question remaining is how durable they will be, but I have other SPD pedals I have used for years and years with no problems whatsoever, so I am sure these will be the same. I think the average rider could not possibly go wrong with these, especially for the price.
Great pedals
Familiarity:

I've used it once or twice and have initial impressions
I got this as my first set of clipless pedals for my road bike and I'm very happy with them. I decided to get these vs. other lighter ones for a couple of reasons. First, I decided on spd/mt shoes because I wanted to be able to walk. Second, I wanted double sided entry so I don't fumble as much when in traffic. Last, I got the m530 vs the m520 because I wanted a slightly larger platform in case I wanted to sprint over to the store or a friend's house with my street shoes. Overall I'm very happy with them after two short rides (8mi and 20mi), it makes a big difference being clipped in, and I haven't had any issues clipping out, yet.



As far as weight, until I'm at my ideal body weight I'm not gonna worry too much about a few grams here or there on the bike. I paired them with a mid-level mt shoe (LG Montana XT3) because I wanted as stiff as possible on a budget.



I will say that I rode wearing flip flops to a friend's house last night and that was less than ideal- they definitely don't have a flat platform and can be mildly slippery. In the future I'll stick to sneakers. If this is a concern for you, go for the a530 but you lose the double-sided entry.



Overall, very stoked as my first pair of clipless pedals and I definitely recommend them. Probably won't be upgrading them any time soon.
These pedals rock! These are my first time using this types of pedals and I can't imagine using anything else. You can adjust the tension so when you are starting you can make it lose for easy release. Then as you progress and want to stay locked into your bindings you can increase the tension so it takes more force to release. The other great thing about this binding is if you find yourself in a sketchy section you can clip out and still set your foot on the pedal. I think this is a great comfort especially for someone starting out with clipless pedals.



I use these with my Diadora Escape 2 Women's Shoes. Here is the link to them:

http://www.backcountry.com/diadora-escape-2-shoe-womens?_requestid=393436



These are on my Juliana Furtado Bike, link here:

http://www.backcountry.com/juliana-furtado-segundo-complete-bike?ti=U2VhcmNoIFJlc3VsdHM6anVsaWFuYSBmdXJ0YWRvOjE6MTpqdWxpYW5hIGZ1cnRhZG8&skid=JLI0009-METBL-S
Great for the price.
Familiarity:

I've put it through the wringer
These work just as they should for a pedal at this price. Never had an issue with them. Ive had a couple sets of them now and never had issues.
Anyone know what the weight for these...
Anyone know what the weight for these pedals is? I'm not weight-weeny or anything. Just comparing.
Best Answer
Looks like 455g.



http://bike.shimano.com/publish/content/global_cycle/en/us/index/products/pedals/mountain/product.-code-PD-M530.-type-.pd_mountain.html
Great to ride loose
Familiarity:

I've put it through the wringer
cranked them down to make it easy to snap out and it. Makes for just the right amount a resistance to get out quickly. I was always a bit nervous with clipless, in constant fear of the bike chasing me down a fall. However, these are easy in and out, and you can easily ride them without cleats if you wanna race down to grab some beer on a Friday night but are too lazy to throw on your mountain bike shoes.