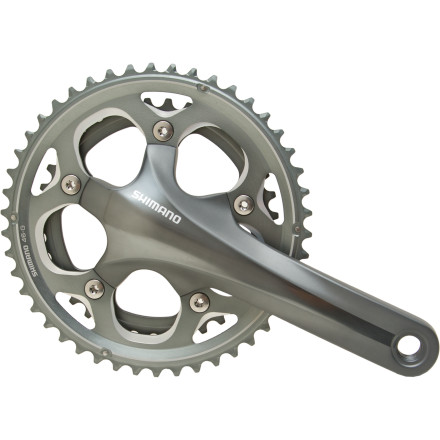 Detail Images
Shimano's Ultegra group has earned a reputation for low weight and low maintenance—two traits that are very important to cyclo-crossers. Ultegra often plays second fiddle to Shimano's Dura Ace group. That means it gets Dura Ace's trickle-down technology after Shimano has worked out all the bugs and sorted out any teething problems. That adds up to high-tech, durable performance. The FC-CX70 Crankset brings Ultegra-level performance to cyclocross.
CX70s are made with Shimano's venerable HOLLOWTECH II construction. While aluminum crankarms may not be as lightweight as carbon fiber, they certainly are tough. The integrated bottom bracket spindle also makes the system stiffer and more durable. CX70s come with Shimano's Hyperdrive SG-X chainrings, and the updated tooth profile provides fast, accurate shifting, even when mud coats your drivetrain. The new tooth profile is super narrow, and is designed specifically for use with 10-speed chains.
Superlight HOLLOWTECH II construction
Integrated spindle
Hyperdrive SG-X chainrings
Improved tooth profile
Cyclocross-specific 46T-36T
Do I need any adaptors or washer kits to install the CX70 crankset onto my trek bike that has a BB90 bottom bracket?
Hi there,



No, the BB90 system uses a 24mm spindle with an internal bearing. The frame has a wider stance than traditional bottom brackets but you do not require any ancillary adaptors or washers. Simply use a shimano bottom bracket (24mm) for your bike, and you are good to go.



Rob
Unanswered Question
I need to replace my bottom bracket and I'm not sure which ones will work. The shimano bb 91 looks good as does the hope pf 46. What works? Gary ps I have the cx 70
Is this 10 speed and Sram shifter...
Is this 10 speed and Sram shifter compatible?
Hey Bill,

This crankset is indeed intended for a 10 speed drive train. The comparability with SRAM shifters with ultimately be determined with what front & rear derailleur. But you would be able to use this crankset with a Sram drivetrain.



Please let us know if you have any other questions.
What is the BCD of this crankset? Is it...
What is the BCD of this crankset? Is it 130?
Apologies for the delayed response Noah,



The bolt circle diameter for the 46/36 crankset is 110.