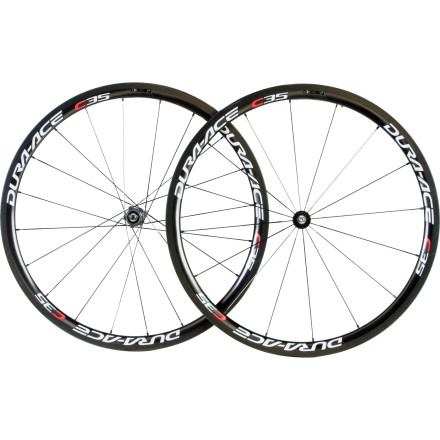 Detail Images
If you're a lighter-weight rider, the benefits of a 50mm "aero" rim can easily be outweighed by the abuse you'll take from the added stiffness, and the extra demands (and energy drain) of fighting for control in crosswinds. Enter a slightly aero carbon tubular like Shimano's high modulus Dura-Ace WH -7900-C35-TU, which is designed to be both lighter than their deep section C50, shaving 75g per wheel, and a bit more compliant.
Note that we didn't say "ultralight." Shimano won't cut corners when it comes to lower weight targets, particularly not on a carbon wheel. But they do demand high performance, and unlike many wheelmakers, Shimano targets smoothness in concert with strength. Therefore, a wheel like the C35 is meant to feel as fluid as possible, without being wimpy.
By the way, just because it's not a sub-1,000-gram flyweight doesn't make the WH -7900-C35-TU porky. It's plenty light, and given that the weight savings versus the C50 comes at the rim, they'll feel light, with real acceleration snap. In all, Shimano was after greater durability and quickness, as well as comfort. On the latter point, the 20.8mm rim width is a great width to support a 23c tire. This is the size you should use in training, when there's no team support if you do flat, and the roads are far more likely to be full of crud or cracked and pocked, when walking home isn't an option.
As with the C50, the C35 looks relatively traditional, with exposed spoke nipples for quick and easy truing. They have straight-pull spokes with a radial 16-spoke pattern up front and a two-cross 20 spoke pattern in the rear. There's just a hint of extravagance from the red anodized spoke nipples. The greater bling is in what you don't see, since Shimano uses extra large 15mm axles to strengthen the steering stiffness of the bike both front and rear. Yes, steering in the rear, where you'll often use as much body English through the pedals when laying a bike over in a corner, even as you unwind the bars in the front and aim past the apex.
Shimano also sticks with its own proprietary cup and cone bearings on highly polished races, with double contact, low-friction seals to prevent contamination. And Shimano's own cold-forged hub shell is another proprietary strength, since Shimano's metallurgy is the backbone of the company, and no maker in the bike industry comes close to Shimano's fanatical attention to metal working.
The Shimano Dura-Ace WH -7900-C35-TU Carbon Tubular Wheelset has a freehub body made of titanium and is compatible with Shimano 8/9/10-speed cassettes as well as with SRAM cassettes.
Unanswered Question
hallo guys, i am just wondering whether...
hallo guys,

i am just wondering whether they have a campagnolo freehub body for these wheels so that it can be used with campie groupset? thank you
Unanswered Question
Is the $780 price for the rear wheel only...
Is the $780 price for the rear wheel only or for the whole wheelset?
Unanswered Question
Please can anyone tell me if the decals...
Please can anyone tell me if the decals are laminated in or are they removable?? Ta, Andy.
what is the weight limit of these...
what is the weight limit of these wheelsets?
Shimano has no weight limit for their wheels. With that said, if you are 300lbs,, think again.
Hi there, Are these wheels durable enough...
Hi there,
Are these wheels durable enough for training ? Would it be a good choice for average amateur mileage on very reasonable,mostly hilly (hilly to steep) roads ?
Thanks much !
LT
yes and yes. Shimano wheels are generally over-engineered from a durability standpoint.
Great wheels for racing. They feel super stiff and are great in the crosswinds. I find myself wanting to race them even on the flatter days
Shimano Dura-Ace 7900-C35-TU Carbon Wheelset - Tubular
These wheels are awesome. I generally would go for a deeper wheel like the C50s, but I started using these last week, and they feel as though they have the same aerodynamic qualities of the deeper wheels, albeit a bit lighter.
These wheels are so light, and they have a great rigidity to them which makes them handle great around corners, and out of the saddle.
Don't worry about the crosswind
The best Race wheels for all types of terrain and weather condition. Very very fast. If you are racing or riding with crosswind, this is the perfect wheel.
What's the difference between tubular and...
What's the difference between tubular and clincher wheelsets?
Tubulars use a specific tire that needs to be glued on. The tires are tubular in shape with the tube sewn inside. Clinchers are the beaded tires used with separate tubes. Tubulars are light and ride great but require expert installation.
These wheels are perfect for competition. Light, stiff and very reliable are the best to climbing.
The design is the nicest thing
Great wheels, Light, super stiff. perfect for all race situations.
I using this wheel for Cyclocross, the best wheel i ever used.
Excellent, versatile race wheels
These wheels are sick! If you are going to buy only one race wheel, you want versatility. These wheels have it. They are light enough to get up any climb and aero enough for everything except maybe a pancake flat TT. They are insanely stiff and don't go out of true as easily as other wheels in this weight class. Shimano has really stepped up their wheel line up, and these are one of their best.