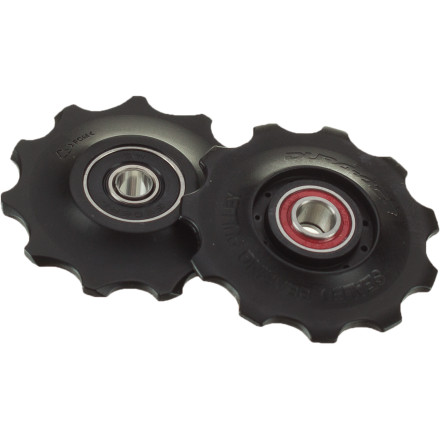 As veterans of the road, we accept that even the most venerable of parts wear out, break, or get destroyed through our own haphazard attempts of self-repair. And if you're anything like us, you've come to the same realization. So, if you're running a Shimano Dura-Ace rear derailleur, and fate has dealt your pulleys a vengeful, destructive hand, your only hope of salvation is the Dura-Ace Pulley Assembly Pair for the Rear Derailleur.
These aren't part of any aftermarket silliness, and they're not something that you'll find at your typical bike shop, either. They're Shimano quality with all of the assurance that comes with that name. It doesn't matter how you got to this point, it only matters that you found the solution.
The Shimano Dura-Ace Pulley Assembly is only available as a pair. Please note that this assembly is not part of the Shimano Yumeya series.