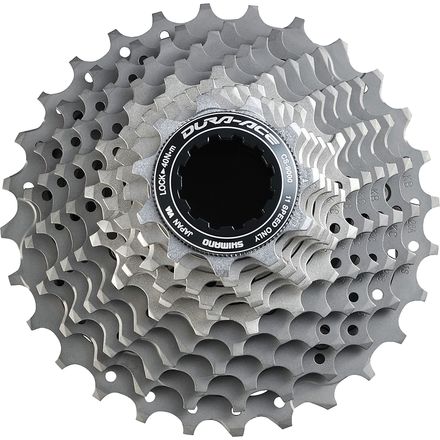 Colors
Description
Smooth, light, strong.
Shimano managed to add an additional cog in its Dura-Ace 9000 11-speed cassette with a weight increase of only three grams vs. the Dura-Ace 7900 10-speed cassette. Three grams. How'd they do it? Two time-tested yet innovative materials — carbon fiber and titanium. You'll find titanium cogs for everything above a 16-tooth on this cassette, and you'll also find a carbon fiber carrier buried at the center of the cassette. And, while Shimano's not exactly known for an abundance of carbon in its designs, we don't doubt that it's just as finely-engineered as its metals.
Carbon fiber carrier
Steel and titanium cogs
Variety of gear combinations, including an 11-28
Unanswered Question
I've been cautioned about using Shimano road cassettes on the Roval Control SL hubs, I guess because of the individual gears digging into the hub body (these are mountain bike wheels). How are the gears divided up on this DuraAce cassette? I have two pairs of these wheels and I want to use them for cross racing...
dependable and dura [ace] able
Familiarity:

I've put it through the wringer
I got 5000 miles and 300K of climbing out of my first cassette - an 11-28. What I don't like about the 11-28 is the dead spot going from the 6th to 7th cog. It's a big enough jump to cause a significant drop in cadence. That said, I replaced it with a 12-28, and there's no issue. I've never had any past or present issues with grinding noises or durability. Wondering if Shimano had a bad production run?
The CS-9000 is dangerously defective
Familiarity:

I've put it through the wringer
Bought my bike in August of 2014. The CS-9000's creaking and crunching started after about 1.5k miles and has been very consistent - only in the two biggest gears on the cassette, and only when under pressure uphill. People have been reporting this issue, and the CS-9000 imploding as a result, for as long as the thing has been on the market. But Shimano can't or won't fix it (I'm assuming can't).

The guy who built my bike is swapping it out for an Ultegra because clearly the issue is not resolved, a number of years after it was first identified. Do NOT buy one of these things - you're only creating a safety hazard for yourself, and people will hear the incessant creaking and crunching from 75+ yards away; not the silent bike we all want.
Dura Ace 9000 cassette
Familiarity:

I've put it through the wringer
I have to admit that I was a little worried about buying this cassette because of some reviews I've read about the carbon carrier breaking. So after a month on this cassette (about 1,000 miles), I am happy to report that it is holding up just fine. We do have a bunch of Cat 3 and 4 climbs here and I'm a pretty strong sprinter, so not having to worry about my cassette shifting properly or breaking in the middle of a race is extremely important. Yes, I would definitely buy another one again next season.
light, durable, awesome
Familiarity:

I've put it through the wringer
It's hard to judge cassettes, it's normally an item that doesn't get noticed until it fails. And the work we ask of it is rather simple: make smooth shifts, quietly, and dont' weight too much. The Dura ace cassette is the best in the business at doing those things. It's actually so light that most protour teams don't use it or they would void the UCI weight limit on their bikes. But all in all it's a soild piece of equipment.
Amazing find!
Familiarity:

I've used it several times
This was my first order #goatworthy is awesome. Great price on the Dura-Ace, it shipped and I was able to install it in time for my bike race! Backcountry.com made it happen. Shifting is so smooth, worth its weight in GOLD!
Just broke my second CS-9000 cassette.
Familiarity:

I've put it through the wringer
And this happened mid-race in a cyclocross event... I'm sure this can be covered under warranty, but I don't actually *want* another Dura-Ace cassette. The SRAM 1190 is far better in construction and was the replacement for my first broken CS-9000. I also have another unit that's creaking under load. It'll likely break as well.
Great climbing solution for Juniors
Familiarity:

I've put it through the wringer
For juniors making the leap to 11 speed, this is a great cassette. I was able to pair the 12-28 with a Zephr 44 front chainring, in order to meet junior gearing restriction rules, and with the 28 was able to provide good climbing gears for juniors who need the extra climbing help. My only wish is that they would make a 14-28 in Ultegra or Dura Ace, so we didn't have to go with an after market front ring. So far, we have put it to the test and it is running great!
Will the 11 speed Shimano Cs-9000 cassette...
Will the 11 speed Shimano Cs-9000 cassette work with SRAM Red 22 components? I would really like to have the 18t cog on the 11-23 cassette. SRAM doesn't offer an 11-23 cassette. I have an SRM power meter.
Best Answer
A number of people have been successful in running 11 spd cassettes with other manufacturer groupos. SRAM and Shimano will say optimal performance will be with matching parts, but they will work with each other.
I have Red22. I've witnessed the Dura Ace 9000 cassette shift BETTER than the Red 22 Cassette. I am going to keep my 11-26 for training and use a Dura Ace 9000 12-28 for my race which has lots of climbing.
Excellent!
Gender:

Male

Familiarity:

I've put it through the wringer
Have ridden Dura-Ace cassette's and chains with my SRAM group for years - smoothest, quietest combo there is. I currently have the SRAM 22, and you can use the SRAM Red 10-speed rear derailleur (change the pulleys - high/low) with this 11-speed cassette. Works totally awesome ! :) 186gm for 11/28