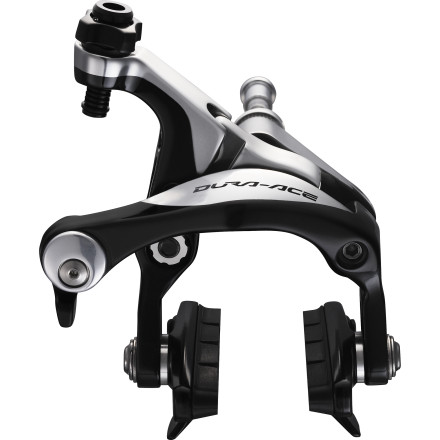 Colors
Description
Control your speed. .
Lighter operation, stronger modulation, and an aesthetic design that's unmistakably Dura-Ace, the BR-9000 is as good as Shimano gets.
Although the Dura- Ace 9000 Groupset is best known for its 11-speeds, when you're flying down the descent, the only thing you'll be thinking about are your brakes. The Shimano Dura-Ace BR-9000 BRake Calipers have been redesigned to function up to par with the rest of the lauded groupset.
For starters, Shimano pulled away from using the mounting bolt as the pivot bolt, as has been down the overwhelming majority of the time. They opted for the "new" dual pivot design making its way into brake caliper design which places the brake arm symmetrically over the wheel. The pivot action is obtained by a second rolling cam designed into the brakes. And while the cable is still located to one side of the calipers, braking action results in equal pressure being applied to both sides of the brakes. Furthermore, a twin bearing system keeps the braking action smooth, light and more importantly predictable-it does this primarily by reducing friction.
With the new center alignment, the arms are closer to the rims. And when combined with the equal pressure action, modulation is increased for added control while descending. The Shimano BC-9000 cables are a polymer-coated, low friction cable which results in lighter actuation. They come with brake pads that accommodate up to a 25mm tire. Shimano produces and aftermarket brakepad designed for riders who prefer wider, 28mm tires.
The Shimano Dura-Ace BR-9000 Brake Calipers are available in one size and one color. The calipers are only available as a pair and are recommended for use with the Shimano ST-9000 STI Levers.
Road bike compatible
Dual-pivot design
Brakes are sold as a pair only
Thinner brake pads for 28mm tires available separately
Compatible with Shimano 9000 STI shifters
Share your thoughts
What do you think of the
Shimano
Dura-Ace BR-9000 Brake Calipers
? Share a...