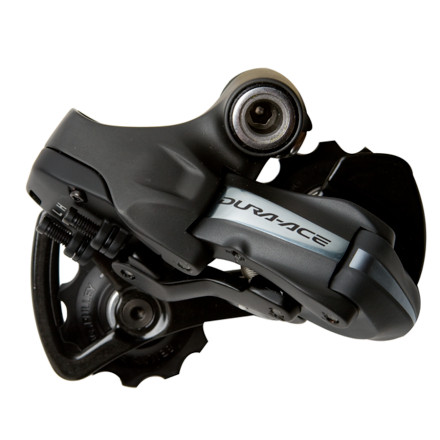 Detail Images
Shimano's Dura-Ace Di2 RD-7970 Electronic Rear Derailleur pretty closely resembles the RD-7900, their new mechanical derailleur. It has the same 11t pulleys, the same carbon pulley cages, the same body shape, and the same black anodized finish.
But a close look reveals how different it is. The wire goes into the rear of the derailleur at a right angle to how the cable housing normally attaches. The high and low limit screws are underneath the body and exposed. The derailleur spring is gone, replaced by a motor-driven worm drive. Shifting no longer goes with or against a spring, but is pushed or pulled a specified distance, in a "programmed motion." Programmed motion is that the derailleur travels a specified distance between cogs. It also means that the derailleur will derail the chain, drop or lift it onto the next cog and then the derailleur will adjust itself back slightly to be better centered underneath the cog.
A feature of mechanical rear derailleurs is that they move inward when hit from the outside. Rather than destroy the derailleur, Shimano has developed a "servo saving feature" that allows the derailleur to move inward upon impact without bending the derailleur or wrecking the worm drive.
So, in a crash where the derailleur is hit, you get up, start riding, and start cycling through the rear derailleur by shifting up and down a few times. This will realign the derailleur to the cogset. If this doesn't work, there is also an advanced on the fly adjustment you can do to get the shifting perfect. There's a button on the battery harness module (which also contains the battery life light). This is generally placed on the shift wire near where it exits from under your handlebar tape. Hold that button down. This puts the shifter into adjustment mode. Then, you fine-tune the derailleur by listening to the sound of the chain moving over the cogs. Each tap of each lever is like turning a derailleur adjustment barrel one way or another.
The Dura-Ace Di2 RD-7970 Rear Derailleur comes as a derailleur only, though it includes an instruction manual. No wiring is included. The maximum cog size is 27t. There is a titanium fixing bolt. The derailleur is designed to shift smoothly with any Shimano-spaced 10-speed cogset.
Built in mechanism allows derailleur body to move inward under impact for reducing damage sustained in a crash

Cage design is compatible with a wide range of cassettes for varying terrain

Motion is controlled by a servo motor – instead of springs and cables for fast and precise shifting

Needs to be used in conjunction with Di2 Battery pack, Wiring kit, Shifters, and F.Der.,