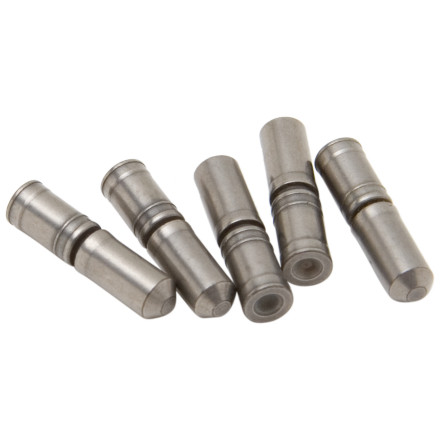 Community Images
Busted chain? Fix it with the Shimano Chain Pin. Shimano makes different sizes for 9 and 10-speed chains, so get the right pin and get back on the road or trail.
Sold as 1 pin
Familiarity:

I've used it several times
Shimano now ships these as single pins only. The 1.62/2.89 pricing is for a single pin.
If you're having probs trying to get the pin you just took out of your chain back into the chain, stop right there! Instead, use these break-away pins for eeeease of installation! The push through bit holds your chain together for you... a few turns with the chain tool, a snap with a pair of pliers, you're good to go!
I always keep a few of these in the box
Familiarity:

I've put it through the wringer
A must for shimano chains. Super simple to use and the only correct way to put your shimano chain together correctly.



It is also the reason I try to stay away from shimano chains for DH. I would rather use the power link or others chain connectors. Much less of a hassle.



For road bikes I stick with a shimano chain when using shimano components.
Must Have
Familiarity:

I've put it through the wringer
This is something you should always keep on hand if using a Shimano chain.
After careful installation it was hard to tell which link contained the pin, it fit perfectly........I will definitely use this chain pin the next time I need to remove a link from a Shimano chain
These are a must have for your saddle bag. If your chain breaks, which mine just did at mile 147 of a 150 mile ride, you need one of these to fix it. I didn't have one, I used a regular pin, and my chain broke again in 2 miles. If you have a shimano 9 or 10 speed chain, you should not be without these!! Don't think about it, get them now!!
They do the job of putting your chain back together if you dont have a powerlink or any kind of connector. Very easy to install especially with the front guide.
Is the price for the five pins pictured?...
Is the price for the five pins pictured? Or per pin? Title says pin, photo shows pins.
Shimano now ships these as a single pin.
Gotta have in your seat bag
Your chain will eventually break while you are on a ride and you won't be able to fix it without one of these...unless you want to lug along an extra chain. Great value!