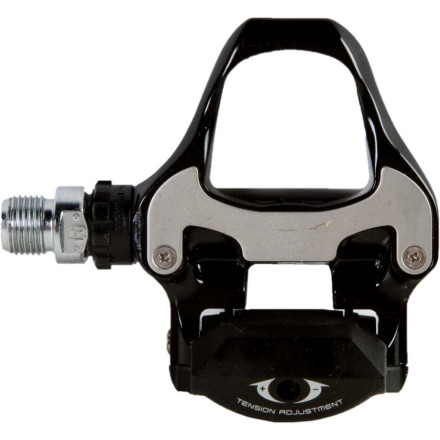 Detail Images
Need the performance of a high-end pedal, but can't justify the price? The Shimano 105 series has long been the choice for the cyclist who needs performance but is willing to sacrifice a little in weight to keep the price down. The PD-5700 SPD-SL Pedal only weighs about 50 grams more than Shimano's top-line pedal, and utilizes the same technology to keep your feet firmly attached.
My Favorite Road Pedals
Familiarity:

I've put it through the wringer
Shimano road pedals have been my go-to pedals since I broke a pair of Look knock-offs.



The Good:

--They use the omnipresent SPD-SL cleat, so spares are readily available.

--Nice wide pedal base (wider than the PD-R540s) which distributes the pressure across your feet when you're dropping the hammer on a 2+ kw sprint, or putting in a long day up your favorite road route.

--Plenty of float (with yellow cleats) for happy knees.

--Smooth and easy clipping, and tune-able release tension.

--Still reasonably priced, especially compared to the new carbon editions.

--Highly durable. I've had mine since 2008, and they show no real signs of wear.



The Bad:

--I really can't think of anything I don't like about these.



These remain my favorite road pedals: affordable, lightweight, and solid. Get 'em and be happy!
Pedals that will outlast your bikes
Familiarity:

I've put it through the wringer
I have ridden some great bikes with a variety of componentry, and my 105 pedals have outlasted all. These pedals are no lightweights, and in fact would probalby qualify as clydesdales if there were such a category for componentry. That said, the engagement is much the same as the higher end Ultegra pedals at a fraction of the price. Bottom line; if you have the bones to do it, Ultegra or Dura-Ace is a worthy upgrade. If not, there is hardly a better investment than 105 pedals.
Hi, Does the Item # SHI0338 Shimano 105...
Hi, Does the Item # SHI0338 Shimano 105 PD-5700 SPD SL Pedal come with yellow cleats?


Hey,



I did some digging and yes, it does look like they come with the yellow cleats.
These pedals are a great option for those people that don't need the super techy bike pedal option that is currently on the market. Really helps in her training!
Great first pedals
Familiarity:

I've put it through the wringer
I got these for my new road bike last year. Had used SPD's before on the mtb. Bit of a learning curve considering the much stronger connection between shoe and pedal, even on the lowest tension. I'm used to it now though. Did a fair amount of research before I bought them. You can't do much better for the price. They're kind of heavy, but you will have to spend a lot more on pedals if you want something substantially lighter. Buy them form Backcountry if you're not sure about these, cause they will take them back if you don't like them.
Good and functional pedal if you're looking at a lower price range and don't care about weight (because your legs are so freakishly strong).
Top-line performance without the price
I have been riding a full 105 group (crankset excluded) for well over a year and I can't think of anything negative to say about it. I love how 105 components work, and how they work every time that I want to use them. They are dependable, durable, efficient, and good looking. This is not to say that 105 is the best equipment on the market, just that I would feel silly paying more for anything else. If you are a top level cyclist, you will be disappointed. Er, wait, if you are a top level cyclist... you are probably out on a training ride right now... and you probably don't read component reviews... you probably don't have to pay for your components. Never mind.



These pedals are no nonsense points of contact. No carbon, no titanium, no foolery. They are solid pieces of metal, intended for years of faithful service. As the product description accurately states, "only weighs 50 grams more than Shimano's top-line pedal." While I understand the benefits of light components, I consider this an asset of the 105 pedal. There are places to save weight; pedals are not the place to start. Save the money and invest in better wheels or you could ride to work a few days a week. Do that, and you can stop worrying about grams and start focusing on pounds.


Not Light or Racy, But Does Its Job Well
For the Shimano 105 PD-5700 SPD SL Pedal, the focus is more toward a casual road biker and someone on a budget, yet the performance outweighs the price. The pedals give a fantastic noise when engaged and the adjust ability of the tightness is a no-brainer. You'll eventually want to upgrade to something lighter, but for those looking to get out for less $$ or not worried about the weight, you'll be happy with the 105s.
I like this pedal and it looks and feels very durable. I like them so much I bought a pair for my wife's bike too!
Replaced my speed-play x5 pedals with these and I cant complain. It took a ride to get use to them because there is alot less float for your feet to move around but it is a firm and stable platform. Got them when they were on sale and I've been a happy camper.
I really like these pedals. I switched from speedplay x pedals and missed all the float at first, but since I got the cleat position dialed in, I've been really happy with them. Bearings feel smooth, cleats haven't worn down too quickly (3k miles; they're getting there though), I like the rubber on the cleats for walking a few steps, power transfer and stability feel good (I think platform size matters less with stiff shoes though), and nice, positive, secure engagement. The paint is coming off in spots, but I could care less about that . Overall, a super good value.
I am new to cycling will these pedals works...
I am new to cycling will these pedals works with the standard 3 prong road shoe
Does this come with shoe-side attachment...
Does this come with shoe-side attachment as well? its not featured in any of the photos
The cleat? Yes, cleats come with pedals.
I just took my first ride with this pedal ..very easy in and out very adjustable ,great value
very comfortable ..I think the Shimano technology trickles down nicely
Paired them up with a new pair of Northwaves Aerlite sbs