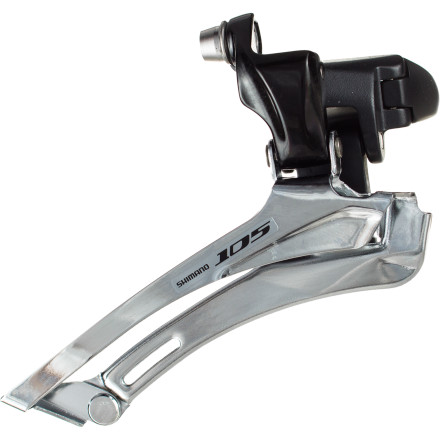 Shimano's 105 group has long been known as the bargain racer group of Shimano's lineup. What this means, of course, is that it gets the trickle-down technologies from Shimano's much more expensive Ultegra and Dura-Ace groups. If you're on a real-world budget, and you can wait a year for the hottest new stuff, turn to 105. The 105 FD-5700 Front Derailleur follows this plan to the letter. Having adopted many of Dura-Ace's technologies like the wider link design, without adopting Dura-Ace's price level, we consider this the real bargain of the whole line.
Like Dura-Ace, the links have been widened to make the shifter torsionally stiffer. All in all, the shifting will feel smoother, lighter, and more precise. It is different from 7900 in that the cage is wider and designed to work with a front STI shifter that still has an intermediate "trim" shift -- Dura-Ace doesn't have this feature anymore. Shimano says this front derailleur will work with older 6600 shifters, but considers it 'B' compatible -- it works, but not perfectly.
The Shimano 105 FD-5700 Front Derailleur is designed for compact (110mm bolt circle diameter) and standard (130mm bcd) double cranksets. There are three different versions -- braze-on, 34.9mm clamp and 31.8/28.6mm clamp (which comes with a shim to reduce the diameter from the larger size to the smaller). It can handle a big/small ring differential of up to 16 teeth.
Will this derailleur fit a Jamis Ventura...
Will this derailleur fit a Jamis Ventura Elite 2007 10 speed model that came with a set of 105's? I'm not sure what to get exactly, 31.8mm, braze-on...
Best Answer
Jamis is one of the brands that actually has a great archives of catalogs on their site and, surprisingly, they list specifications down to the exact details of the frame. It looks like that Jamis Ventura Elite '07 used a 10 speed shimano 31.8 clamp on front derailleur. You can use a 31/8/28.6 front derailleur from Shimano, or a clamp band adapter from Shimano to run a braze-on front derailleur. Feel free to call or chat with one of our bike experts if you might have any other questions or concerns.
Cheap is sometimes great!
Familiarity:

I've put it through the wringer
Hard to beat 105 model unless you really jump up to DA to be quite honest. So unless your wanting or needing to shed a few grams and I assure you, you will probably not notice anything going to Ultegra for the most part then get 105 and save some bucks. I have shredded this FD with climbing and quick shifting for downhills. It works.
I replaced a Tiagra FD with this to complete my 105 group. It shifts smoother than the Tiagra did. I honestly wasn't expecting much difference, but I can tell. Have not had any issues since I installed it.
One of the most important components
The front derailleur has a difficult job, but when it is working properly it is easy to forget it's even part of the bike. However, a poorly functioning front mech is the fastest way to ruin a good ride. Fortunately, I have had the pleasure to be the owner of a 105 front derailleur, which has made me a very happy cyclist. I only had to adjust it once over three years (cable change), and it never gave me any trouble. Perfect, quick shifts every time. No dropped chains. Shimano knows what they are doing! Price to performance ratio, 105 FD5700 is the clear winner.