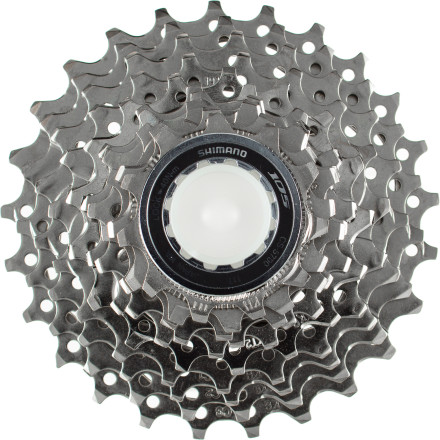 Description
A perfect 10 of a deal.
In the realm of drivetrain components, Shimano's 105 group is the easy choice for riders or racers who want to preserve the high performance of their Shimano drivetrain, but don't want to drop big dollars and aren't concerned with weight. The Shimano 105 CS-5700 Cassette will not only shift as smoothly as the more costly Ultegra version, it will save you a good chunk of cash and only add on 20 grams in the process. Seeing as that it's non-centrifugal "dead" weight, located at the center of the wheel, it's not a difference you're likely to feel, anyway.
As is to be expected of any of its cassettes, Shimano's 105 version utilizes the proven HyperGlide technology that's made its shifting so famously good. Special ramps and pins along the cassette's teeth allow fast, smooth up-shifting and down-shifting action for a near-seamless feel. An aluminum spider, to save weight, holds the largest cogs together, while the smaller ones are installed individually.
The 105 CS-5700 Cassette has ten cogs and comes in the following ratios: 11-25, 11-28, 12-25, and 12-27. It comes with an alloy lockring, and in a chome-like finish.