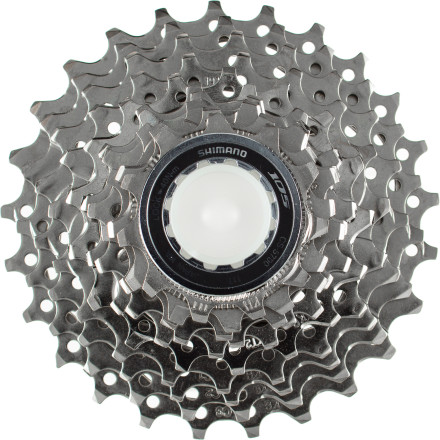 Description
A perfect 10 of a deal.
In the realm of drivetrain components, Shimano's 105 group is the easy choice for riders or racers who want to preserve the high performance of their Shimano drivetrain, but don't want to drop big dollars and aren't concerned with weight. The Shimano 105 CS-5700 Cassette will not only shift as smoothly as the more costly Ultegra version, it will save you a good chunk of cash and only add on 20 grams in the process. Seeing as that it's non-centrifugal "dead" weight, located at the center of the wheel, it's not a difference you're likely to feel, anyway.
As is to be expected of any of its cassettes, Shimano's 105 version utilizes the proven HyperGlide technology that's made its shifting so famously good. Special ramps and pins along the cassette's teeth allow fast, smooth up-shifting and down-shifting action for a near-seamless feel. An aluminum spider, to save weight, holds the largest cogs together, while the smaller ones are installed individually.
The 105 CS-5700 Cassette has ten cogs and comes in the following ratios: 11-25, 11-28, 12-25, and 12-27. It comes with an alloy lockring, and in a chome-like finish.
Affordable, reliable
Familiarity:

I've put it through the wringer
I've run this cassette on my CX bike for 1.5 seasons. It has worn fine and I'm never counting grams once I'm on the bike. Fun fact: this cassette uses the same intercog spacers as a Durace cassette. Which is super pro. It's a wear item, same the $$$ for post-ride coffees.
Ultegra On A Budget
Familiarity:

I've put it through the wringer
Bought this guy for a second wheelset for my cross bike. Didn't feel like spending the ultegra price for the back up wheels. Cassette works great and has all the quality of higher end Shimano componentry. If you want to upgrade, spend your money in shifters and derauilliers and save it on the cassette.
Good cassette for your buck
Familiarity:

I've put it through the wringer
I always use 105 cassettes for my training and commuting bikes to save some money. Shifts just as well and is as durable as an Ultegra cassette, just is a bit heavier.
Decent cassette......
Familiarity:

I've put it through the wringer
Not much to say but if your on a budget or just smart enough to know that the 105 model componetry is just as good as the Ultegra due to hardly any weight variation then do yourself a favor and go 105. Never a issue. I have had no issue what so ever with the changing of gears with this unit. Worth every penny folks.
I got this to complete my 105 group. Had a Tiagra cassette before. The 105 is a bit lighter and smoother. Not an enormous upgrade, but noticeable none the less. In my opinion, the entire 105 line is the best bang for the buck. Btw, i got the 11-28 version with a mid compact crankset, works very well.
3 years, still going strong
Dura Ace performance, fraction of the cost... what's not to like? Granted, DA is lighter and has more precise tooth profiles, but for everyday commuters... 105 is the new DA.



If you are thinking about purchasing one, stop thinking and just do it. You will not be disappointed.