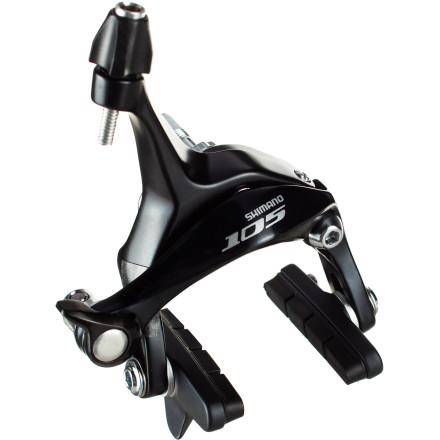 Shimano's 105 group has always been the go-to line of components for budget-minded riders and racers. 105 components have always carried Shimano's most important innovations, but sometimes the integration of the really high-end stuff takes a year or two to make it to 105. We've always been huge fans of 105 because it makes really nice, high-end bikes accessible to the average rider. Like the rest of the 105 line, the BR-5700 Brakes weighs a few grams more than its Dura-Ace and Ultegra brethren and lacks a few bells and whistles. But when it comes right down to it, 105 components are Shimano's workhorses, and the best way to bring high performance to the racers of tomorrow.
The most important innovation that this year's 105 brakes shares with its more expensive siblings is Servo-Wave, a lever design that increases the amount of cable pulled with a given amount of lever movement. This improves modulation and braking power. It also allows you to set the brakes up in a manner that the pads sit farther away from the rim when not in use. This extra clearance is key in wet conditions and also helps when a wheel is knocked out of true.
Servo-Wave also means Shimano has redesigned the arms. In addition to curves that work better with the increased cable pull at the lever, they've redesigned the arm that houses the cable stop. This arm has been moved and the stop angle changed for better cable routing, which has the effect of reducing cable friction. The arm position also reduces the likelihood of the brake slamming against your down tube on those rare occasions when your front wheel flips hard to the right.
Additionally, Shimano has improved its SLR design so that the arch pivot location provides a quicker linear response. Shimano has also improved its braking compound. The new compound improves braking power by 20% in the dry and 100% in the wet. The spring tension in the calipers can also be adjusted to get a feel that's more in tune with your braking style. Brake shoe toe-in is adjustable so that you can dial in the brakes to feel as snappy as you want while eliminating squeaks.
The Shimano 105 BR-5700 Brakes are available in the color Black, and are sold individually as either a front or a rear.
Are these compatible with Sora 3500 levers?...
Are these compatible with Sora 3500 levers? And how wide of a rim can they accommodate? I have a rim that is 25.82mm at the brake track.
Best Answer
Hi,



These brakes are designed to work with Shimano Servo-Wave levers (see paragraphs 2 and 3 of the description above) Your Sora levers do not have the Servo-wave braking. You will likely be able to get them running with your levers, but you will not have as the same power and modulation that you would get with the compatible levers.
Are there any issues with brake lever...
Are there any issues with brake lever compatibility? My front brake lever is a Shimano Tiagra from 2011 so I'm concerned that the 105 front brake will not operate properly with this brake lever. Thanks!
These brake calipers will still work great with your levers. The older Shimano road levers (all levels) are still compatible with the newer brake calipers.
Trusty old 105
Familiarity:

I've put it through the wringer
I have to give it to these brakes I've put some miles on them on some windy, steep decent's and they have always pulled me up when I've needed them to. If you dont want to go spend the big bucks on DA or Ultegra these are a really good option.
Great budget or not brakes!
Familiarity:

I've put it through the wringer
I gotta say if you don't want to spend the extra bucks just to say you run Ultegra or Dur Ace then 105 gets a positive nod. I really can't say anything bad on this line of components. Very similar in looks as Ultegra but slightly heavier but works just as good. If I were to build up another bike 105 for the price point would get the nod over Ultegra unless I just lucked onto Ultegra for the same price. Great stuff folks so don't shy away.
Is this recommended for training?
Is this recommended for training?
Id recommend them for everything! They're great!