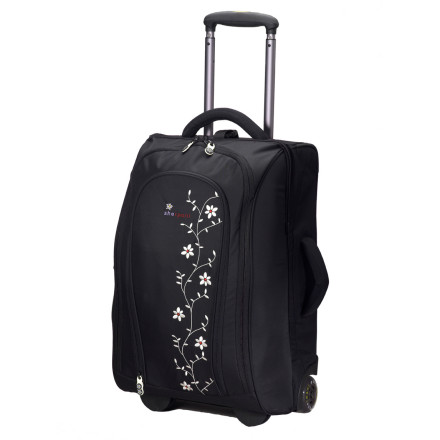 Your Sherpani Women Meridian Carry-On bag meets the airline's requirements for carry-ons as you travel to your parents' house for the holidays. However, after you've zipped open the expanding gusset and stuffed it chock-full of the presents you got from your large extended family, it might take some persuading to get it on the plane on the return trip. Even if it does get taken away at the gate for loading into the bottom of the plane, the Meridien is so cute you can count on it getting a little TLC from handlers.
Earth-friendly recycled fabric and aluminum materials line up with your eco-conscious resolutions
High-rebound polyester wheels roll well and won't get jammed up when you're running to catch your connecting flight
Durable skid plates and reinforced bottom protect your laundry from damage
Smooth one-touch retractable handle is easy to use when you're on the go
What do you think about this product?
Have questions about this product?
Works well with other Sherpani luggage. Handle is high quality.
Sherpani Meridian Carry On Bag is Perfect
The Meridian 22" wheeled luggage is perfect for every trip. When it isn't expanded it fits perfectly in the overhead compartment...and after all the shopping during the trip, I can expand it and check it on the way home! I love the zippered bottom compartment and the extra zippered mesh internal compartments. It is amazing what can fit in this bag.
The smooth skate wheels make rolling through the airport a breeze and my Sherpani is the best looking bag on the carousel! I love pairing this with the Sojourn and traveling in style.