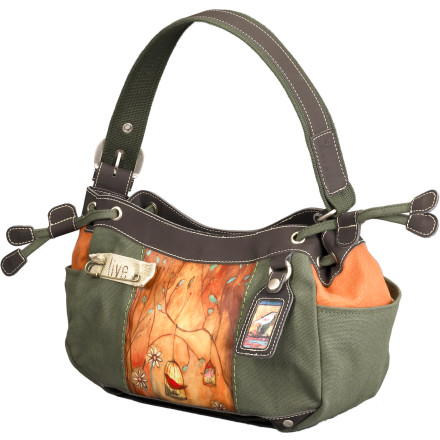 Detail Images
The outside of the Sherpani Women's Ivy Hand Bag has sweet details like suede trim, tie closers at each end, and a Sherpani logo flower, while the inside organizes your keys, wallet, and a water bottle. Sherpani made the Ivy Bag out of natural cotton fabric, and decorated the inside with a floral lining. So basically, you get a hand bag that uses all natural fabrics and treatments, looks feminine, and keeps your wallet, keys, favorite beverage bottle within reach.
I've bought 3 of these for gifts & they're not only super cute but so well made .

Lots of compartments to keep you organized & not everyone has one !
BEST Mother's Day Present ever. Now I can go back to being a slacker.
I've seen multiple photos of this bag in...
I've seen multiple photos of this bag in this color. What's the color actually like? Is it bright, springy or a dull more natural looking orange?
It's bright and spring like! Gorgeous and vibrant.
I bought a Sherpani purse called Ivy for my daughter to start high school. It is the envy of all her friends! It is made so well, the handles are great and the design swirl is so cute! Now they all want one! Great color choices!
I am happy with the bag. The orange is a happy, spring/summer color. I use both bottle pockets, one for a water bottle, another for sunglasses and regular glasses. I can fit a small cosmetic bag and a few small items in the middle. But it is hard to fit a magazine (even folded) and still be able to close the bag's clip in the middle. I only wish the bag was a little deeper, so my 0.75 L bottle wouldn't stick out as much.
do you have other colour of it ?
do you have other colour of it ?
Pari,
The Tree, Song, Love and Beginning are available. Scroll to the top of the page on the right hand side of the image.
They are all very cute!
Another great sherpani purse!
Love It! I got the Ivy for Christmas and couldn't be happier. I own a lot of Sherpani products (the Moe, Zoe, Lena, Milli, Mia daypack, Eila, Vida, Flora & Rumba child carrier) and I love this new line. It's a little less sporty while maintaining the outdoorsy style. This bag is a great size. I can fit everything I need (including a sippy cup for my son); it has great organization and a perfect number of size of pockets. It doesn't feel bulky and the shoulder strap is the perfect length (and it's adjustable) and actually stays on my shoulder (the only purse I own that stays on my shoulder). The lining is fun and I love the flower detail on the outside of the bag. The chestnut color is very nice. The material is very durable and I have found that Sherpani bags are worth every penny in style, comfort, quality and design. Another great sherpani product!!
I love it :)
And, other people have told me they like it too.
There are only two futures, which are so-so. Bottle pockets are not really practical. One would be more then enough. None would be even better.
And, the phone pocket is a little bit small and hard to access because of a zipper tag hanging directly in front of it, when the zipper pocket is closed.
Otherwise, it's a great, cute bag.
I would definitely recommend it.