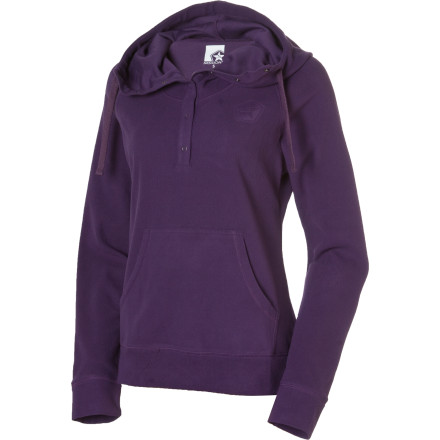 Detail Images
Pull on the Sessions Thermatics Benchwarmer Hoody under your jacket for extra insulating power on those really cold days. Moisture-wicking fleece fabric won't leave you clammy and chilled, while the quarter-length button closure and embroidered logo hits mean you can wear it around town without feeling like you're still in your pajamas.
What do you think about this product?
Have questions about this product?
This shirt is super warm, and the cut of it is beautiful on. I love the way it buttons down the front and up and over the mouth if you want it to; gives the hoodie a very different look that I appreciate. Fit is nice--thumbholes aren't very comfortable. I have what I suppose are normal arms, and the sleeve isn't quite long enough to make the thumbholes comfortable when I bend my elbows; this might resolve itself in time. While it's warm and cozy, the inside isn't very comfortable without an undershirt, but the shirt's so wonderfully-fit, it's difficult to fit a teeshirt underneath. I have mixed emotions, in other words. Now that it's here, I don't want to return it, but it's going to have to be a shirt I wear when I'm sure I'm not going to sweat or be in a car full of smokers or whatever.

I wore the sweatshirt one time after hot yoga, and it held the smell of the studio, my sweat--basically, the shirt carries a record of all the odors you've experienced through the day. This is all good if you plan to wash it regularly, but I'd hoped I could get away with making it my everyday throw-on shirt