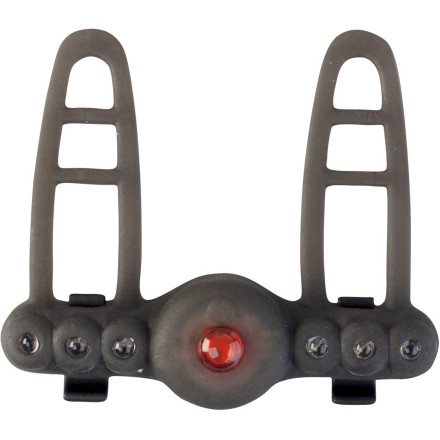 Serfas designed its TL-ST Seatstay light to shine behind you with its small but powerful red LED bulbs. The LEDs were patterned in a row, with three smaller bulbs positioned on either side of the 1/2 Watt central LED. Together, the seven bulbs operate in steady, flashing, strobe, rolling strobe, and flashing strobe modes.
The narrow light was constructed with a stretchy, water-resistant silicone body. Serfas built the TL-ST with versatility in mind, as its flexible 'ladder rung' dual straps mount to a variety of frame tubes, besides its intended seatstay mounting location. We've seen the light securely mounted on seatposts, rear racks, and even helmets.
The Serfas TL-ST Seatstay Light is available in one size and in the colors Black and White. The light includes two lithium-ion CR2032 batteries.