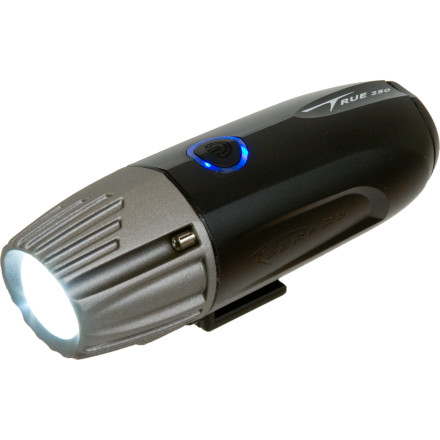 Detail Images
There are a lot of bike headlights out there that will keep you from getting run over, but they don't do anything to help you see the road at night. The Serfas TL-250 True Light fires off a true 250-lumen beam that lights up the road in front of you. Avoid cracks, curbs, kittens, monkeys, dolphins, or anything else that can knock you off your bike at night.
Share your thoughts
What do you think of the
Serfas
TL-250 Lumin Headlight
? Share a...
This is my mtb helmet light!
I use a NiteRider bar-mount light plus the Serfas True 250 on my helmet. The Serfas is light and comfortable atop my head plus provides the right amount of illumination for tight singletrack at night. It's a snap to charge and adjust. I'm glad to have one, ordering another for my son.
Unanswered Question
Does it mount to a helmet?
Does it mount to a helmet?
Unanswered Question
Is that 15 hour burn time for real? At...
Is that 15 hour burn time for real? At the highest 250 lumen setting? The competition (Niterider, Cygolite, Light & Motion) for 250 lumens only has burn times for 3 hours or so; how does Serfas pull off 15?
This is the first light I have ever owned for my bike, and I couldn't be happier with it. I bought it for a night relay I'll be participating in later in the season. I haven't used it on the trails yet, but I have used it on the street to commute home from work. I get out at 12:30am and most of the route home is pitch black. I could see everything with this light; even on the lower beam settings. The handlebar mount is very secure, and has yet to move at all during my commutes. It comes with a helmet mount as well, but I have not used that yet. For the relay, I'll need to have a secondary light source... I will be buying another one of these lights for use on my helmet. Awesome light!

Edit... Spoke with a guy I work with tonight who passed me the other night going the opposite direction. Not only did he say the light blinded him, but compared it to a HID light from a car. I told him the light wasn't even on the brightest setting :]
Lightweight, Compact, and Super BRIGHT! This light has it all. I bought the extra battery too, so I charge them up and ride for hours after the sun goes down.