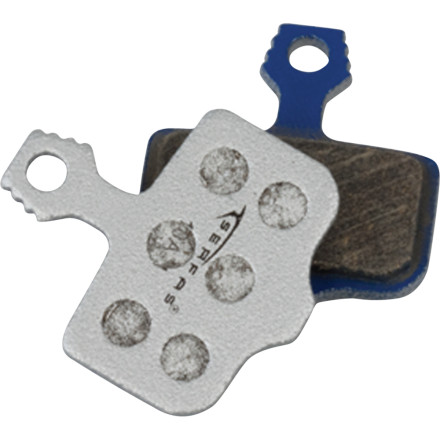 When your pads wear out, you can't stop as fast, and running into trees loses its luster after the third or fourth bounce. Stop faster with the Serfas Mountain Bike Disc Brake Pad for Avid Elixir brakes.
Compatible with all Avid Elixir brakes.
What do you think about this product?
Have questions about this product?
I'm not sure if these pads are a little thicker then stock Elixr pads, but when I needed to replace my stock pads, these left almost zero clearance. My rotor is true, and I made sure my calipers were fully retracted before I installed these. They weren't so bad that they were holding the wheel, but they added a little drag to my first ride. After my second ride (~15 miles downhill total) , I had worn down enough pad that rubbing was a non- issue. It seems that they were like 1/8th of a mm too thick. Not a big deal, but don't freak out if you are getting a little rub on initial installation.

In terms of braking power, they aren't quite as good as the stock Elixr pads. Take into consideration I'm ~ 200lbs with gear and am running the Elixr 5 in the rear. Still ample braking power, and the price is right.
Unanswered Question
Will these pads work with avid XX...
Will these pads work with avid XX brakes?