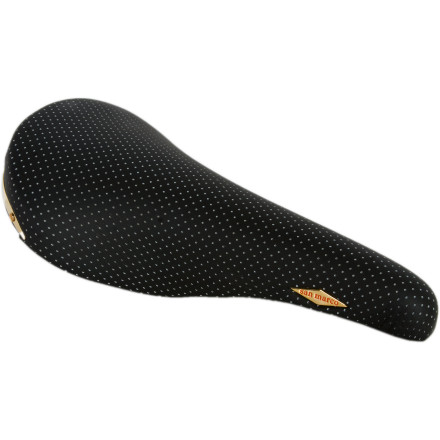 Detail Images
The Selle San Marco Rolls Miele Saddle looks strangely organic with its buckskin colored leather topsheet. But come to think of it, what better perch for our organic behinds than this. The Rolls is a timeless saddle with a comfort that many newer saddles simply cannot match. It possesses that classic (can we say generic?) form that many saddles of today have moved away from. That's what makes it a comfortable saddle for a great many riders. The padding is ample, and the density keeps you supported without feeling like you're sinking as the miles tick by.
Many of you may already be familiar with the Rolls as a result of its position as a veteran of the peloton. It's been under more classics hardmen and Tour contenders than we can begin to remember. The Rolls is similar in concept to the Regal, minus the rivets. It has a bit of a peak running down the center of the saddle, so it feels nicely anatomic unless you're planning on running your saddle high. It's another great saddle to choose if you're going to Halloween as a top-5 finisher of the Tour of Flanders -- Super-Euro.
The Selle San Marco Rolls Miele Saddle is available in Brown. It has gold colored tubular steel rails and that famous Rolls trim riveted around the rear of the saddle. It measures 282mm x 143mm.