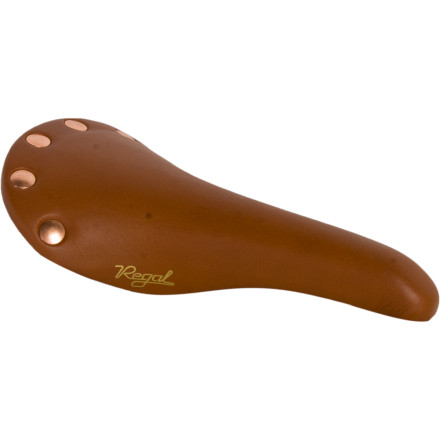 Detail Images
The Selle San Marco Regal Forato Saddle is special in that its cover is perforated with hundreds of tiny holes. Whether or not you'll experience a greater sense of ventilation atop this special edition saddle is anybody's guess. We are sure, however, that having one on your bike will lend it an air of Euro-ness, making it worth every penny.
A timeless, very PRO option for the hard-to-please tush. The Regal is an all-but-automatic choice for the classic hard-man-of-Belgium type of rider. Boonen? Yep, he rides a Regal. Musseuw? Rumor is he rode the same Regal throughout his whole career and got it re-covered by Selle San Marco every year. The Regal has more padding than any iteration of the Flite saddle and is wider at the rear. It offers lots of support and comfort, and it's nicely flat across the top which feels rather good if you're experimenting with raising your saddle -- there's no pronounced ridge at the top of the saddle that'll eat into your crotch. And those rivets on the rear, is that timeless style, or what? The Selle San Marco Regal Forato Saddle is available in Black and White. Both versions have chrome plated hollow steel rails and chrome rivets.
Although the construction was good, the saddle just wasn't for me. I ddi not find it very comfortable. However saddles are personal and this may be the best ever for someone else.
I actually bought this saddle in search for a change. I have always used cut-out saddles due my sensitivity in the basement. I tried pretty much every players saddle from Fizik Arione, Alante, Specialized Toupe, Romin, Alias, and Selle Italia Flite, and Flite Max. All the previous were ok but did not provide the feeling I was looking for. The Specialized Romin is the only one that ever came close to the fulfilling my saddle need. The Romin is very firm and the contour is outstanding, it's just made from cheap materials that rub away. A saddle should be a long-term investment and should be able to go the miles. This new experience with the Regal definately introduce me to an better option in saddle choice. The saddle is firm and what is even better than that, I did not experience any pressure spots in the basement. I felt like I was sitting on a chair that provided me with different seating options. I road it immediately upon receival for a 20 mile night ride and never felt better riding. It was kinda tricky setting up because the placement of the bars adjusting the fore and aft, but I think I negotiated a good position. Remember on set up to lower the seat post a tad.

I would recommend this saddle to anyone that enjoy a solid saddle or anyone that have basement problems. Don't let looks fool ya!
I have the version with titanium rails but the body is the same (and the weight isn't too far off).

You can see why this saddle had been around for so long - it's broad enough to be comfortable without being bulky, it has nice firm padding, very slight give through the body, and of course it looks great.

I replaced a minimalist Specialized Toupe' with this saddle and I found them surprisingly similar, though the Regal is slightly more comfortable.

I wouldn't hesitate to use this saddle in competition.

One proviso: the sides of this saddle come down and completely cover the rails, so it is NOT compatible with a side-adjust seatpost designed for ultra-modern saddles with exposed rails. You need a post that adjusts from the bottom.
I have it on the commuter/fixie bike. Very comfortable and color stays well even when it's left outside