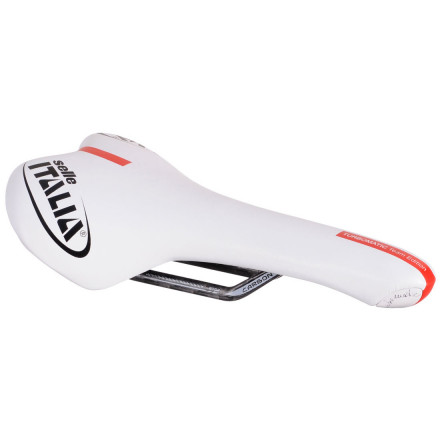 Detail Images
The Selle Italia Turbomatic is a saddle with a devoted cult-like following. When they discontinued it a number of years ago, there were more than a few folks who reacted with desperation, buying extra saddles wherever they could get them. This Turbomatic Team Edition Saddle is a faithful recreation of the original Turbomatic The only real concession to modern technology is the carbon fiber used in the saddle rails that saves you a few grams over Selle Italia's Manganese or Vanox options.
You'll still benefit from the shock absorbers between the saddle rails and the shell. This is the feature that the Turbomatic is best known for, and it's one of the things that make it so comfortable over rough roads. Another thing to consider is the width. At its widest point, the Turbomatic Saddle is 153mm across. That's 22mm wider than an SLR. So for those of you that prefer a wider racing saddle, this is a great option. The shell is made from injection molded nylon that contains 30% carbon fibers. While nylon is tough, the carbon content adds stiffness while allowing a lower total weight. For this Turbomatic, Selle Italia also specifies their self-modeling Perfect Fit foam padding. When you sit atop the saddle, it adjusts to the pressure you create for a perfect fit everytime.
This Turbomatic Team Edition Saddle gets Selle Italia's lightest rails. They're made of continuous braided carbon fiber for an optimum strength to weight ratio. For seatpost clamp fitting purposes, know that they are oval shaped and are 7mm wide and 9mm tall. The Lorica cover is Team Edition White w/red.