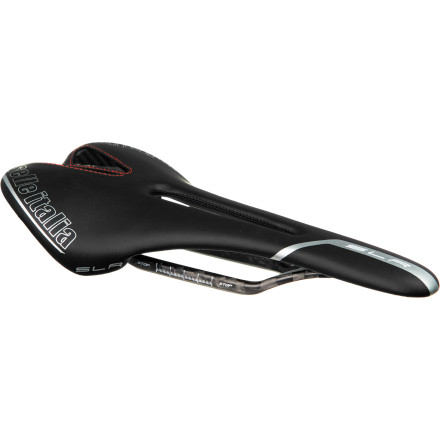 Detail Images
Because of its support and versatility, Selle Italia's SLR shape has become one of the popular saddle shapes in all of cycling. And with the anatomically-driven SLR Kit Carbonio Flow Saddle, Selle Italia takes this classic one step further.
If you're wondering where this saddle falls within the SLR family, it features the same 131mm width and 275mm length as the SLR Tekno. This makes it an ideal match for those with average width sit bones. However, where the Kit Carbonio Flow begins to differ is both obvious and not-so-obvious. Starting with the 'Flow' designation, you'll notice that this saddle has a moderately sized cutout in order to relieve pressure on the perineal artery and adjacent soft tissue. As a result, that pressure is directed to your sit bones (ischial tuberosity), which are far more adept at supporting your body weight. Additionally, they're able to do so without causing numbness during long rides. This principle is further supported by the wide cut out, as it removes pressure from the pudendal nerve. Essentially, this is a nerve that runs from around the third vertebrae, all the way down towards your foot. And when compressed at the perineum region, it is one of the major contributors to numbness. So, by relieving the very threat of pressure, your blood flow remains consistent, eliminating numbness. To put it into perspective, the cutout is slightly narrower than the one found on the SLR Flow, which provides more surface area to work with.
For further distinction, the Kit Carbonio differs from the rest of the SLR line through its degree of padding. It's a little less dense than the Team Edition, but thicker than the Tekno. However, it's nowhere near as dense as anything in the Flite or SLS families. And along with a modest amount of padding, the saddle has been wrapped with a hard-wearing and non-abrasive Lorica cover.
The SLR Kit Carbonio is supported by Selle Italia's carbon fiber rails. This feature assists in maintaining a low overall weight, but it also reduces and dissipates road vibration and trail chatter. And speaking of weight, at around 120 grams, this saddle approaches the 100% carbon fiber SLR Tekno. This is quite an undertaking considering the Carbonio features a 70/30% nylon/carbon fiber shell construction.
The Selle Italia SLR Kit Carbonio Flow Saddle is available in a 131x275mm size and in the colors Black and White.
Share your thoughts
What do you think of the
Selle Italia
SLR Kit Carbonio Flow Saddle
? Share a...