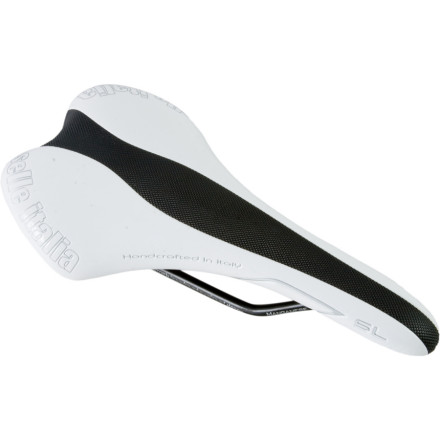 Detail Images

Community Images
Selle Italia makes a full range of saddles of differing dimension and shapes. This SL XC Saddle is wider than their Flite and SLR models. This makes it great if you have wider sit bones and don't feel like the narrower saddles offer the right kind of support.
Even though the SL XC Saddle is 143mm at its widest point, don't be fooled into thinking that it's just suitable for cruising. The side profile is marked by a generous curve that leaves the SL no wider than the SLR through the mid-section and towards the nose. This way, you can have the support you need and still have plenty of room for your legs to cycle up and down without chafing or pinching at the edge of a too-wide saddle. And in comparison to the SLR, the edges of the saddle roll down more acutely, more along the lines of the cross section seen on the Flite.
The Selle Italia SL XC Saddle is available with a durable Lorica covering in Black and White. Underneath the topsheet, Selle Italia's Perfect Fit self modeling padding ensures comfort over the bumps and a customized feel right out of the box. Though the SL XC is made for comfort, it's relatively light due to the fiberglass reinforced nylon shell. The manganese tubular rails are also lightweight, yet plenty strong for a lifetime of service over rough terrain. It measures 143mm wide by 275mm long.
What do you think about this product?
Have questions about this product?
Selle Italia SL XC Saddle
The quality is excellent, the white gets dirty easily but it's easy to clean. Great saddle.
I hated the idea of buying a seat online. But there are no local shops with a decent selection, I even went to Lance Armstrong's bike shop in Austin over the weekend and it was a no-go. So after much deliberation (mainly because there isn't a single review to be found about this seat) and a chat with a helpful Huck n Roll employ, I decided on this one. Plus the gf egged me on to 'get the seat you WANT to get.' How can you argue with that! Because hell, if I don't like it I can return it within 30 days. I got it today, and by feel alone I was skeptical but I took the stock Bontrager seat off my 29er as quick as I possibly could and got the XC mounted up and dialed in. Took it out for 16 miles and it was def a sweet ride. No sore butt, everything in working order. So I decided I may as well be the first to review it. If your bum is in need of a serious break, give this seat a shot. For the price, you can't go wrong.