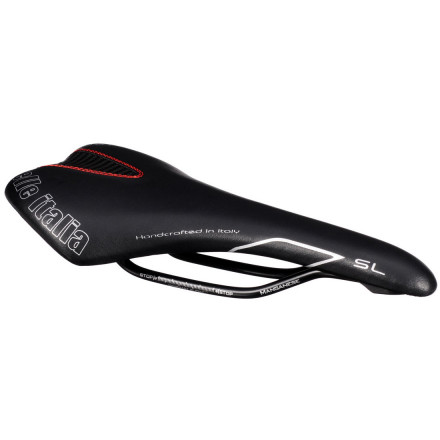 Description
Wider is better.
If you're a fan of the ever popular Selle Italia SLR, but come equipped with wider sit bones, the Kit Carbonio SL features the same shape with a wider paddle.
Built on strong and durable, tubular, manganese rails, the SL's shell is injected molded fiberglass-reinforced nylon. EVA foam padding is placed in areas where it's needed most-it provides enough support while cushioning soft tissue areas.
As far as the profile and width, even though the paddle is a wider 143mm, the mid-section and nose are no wider than either the SLR or Flite models. This means that while your sit bones will have adequate support, your legs are still able to move freely without chafing or pinching. The edges are also more acute than featured on the Flite saddle. So, even though it's slightly wider, it's not your average Sunday cruise saddle.
The Selle Italia SL Kit Carbonio Saddle has a durable Lorica covering in Black. It measures 143mm wide by 275mm long.