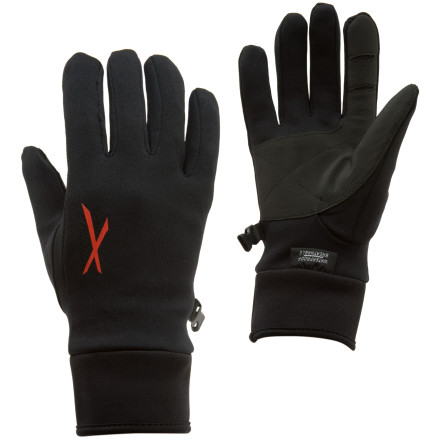 Detail Images
A low-profile design and a waterproof breathable membrane put the Seirus Xtreme All Weather Glove into its own category of versatile all-mountain performance. Durable four-way stretch material stands up to freshly sharpened ski edges and high-speed groomer crashes without worry. Seirus lined the Xtreme All Weather Glove with microfleece to improve wicking and increase warmth while you ride.
My first pair of this style gloves was purchased in Iraq in 08.I have since used them for motorcycling and general outdoor use.Now I am in Afghanistan and they have finally started wearing out.Time for a new pair.
I used these gloves on the AT in Virginia, and my fingers froze in the 20's. I ended up wearing a pair of smart wool socks on my hands to keep from freezing.
I recently used these on a ski trip in New Mexico and they were perfect. They kept the wind off and the water out. The only problem I encountered were that they aren't extremely breathable. My hands got a little sweaty (a testament to their initial warmth) which in turn froze the liners to the shell of the glove. Overall worth it, but you will definitely want to let them air out from time to time (they dry out quick) during the day.
these are the only true waterproof serius lightweight gloves
http://www.runningandrambling.com/2011/02/seirus-innovation-all-weather-and.html

this is why im buying these :)
Unanswered Question
are these thin enough to use under powder...
are these thin enough to use under powder mittens and still be good by themselves for hiking etc. Like that they are water proof/breathable. Two birds one stone??????
Warm, comfortable, pretty thin for the amount of warmth you get!
really really great gloves! they keep you hands warm and dry
Love these gloves!! No more cold fingers. Thanks.
I love the glove and they fit perfectly and brave the cold -10 wind chill factor
Hands are more colder than without
I am experiencing the same issue as some have, i.e. my fingers get colder than when I was not wearing any gloves. What gives?
Unanswered Question
Tell me how the same glove can get opposite...
Tell me how the same glove can get opposite ratings for warmth? This makes absolutely no sense.
As another reviewer stated, they actually make your fingers colder than without gloves. Never would have thought this was possible. Not waterproof. The quality was great but unfortunately failed on every other level.
Might as well not wear gloves
I was excited when I received these because of how thin they were, with the promise of being very warm and waterproof. I bought these mainly for skiing because I don't care for the big bulky gloves that I had. While they are very lightweight and allow for good dexterity, they do not keep my hands warm at all. I stopped using them for skiing and they aren't even warm enough for just walking around outside in the cold. Sometimes I felt as if they actually made my fingers colder than not wearing gloves at all.
I'm looking for a good glove to bike to...
I'm looking for a good glove to bike to work in. I'm a new transplant to Oregon, it's rainy and in the 30s-40s all winter, and my fingers get cold very easily. Would this glove be a good option? Does anyone have any better suggestions if it's not? I don't have a huge budget, but would be willing to pay up to $30-$40 if it means my hands are relatively dry and warm.
If you easily get cold hands, i dont think these gloves would be warm enough. I if where you i would go for something like the TNF Montana, which is a good entry level glove that provides good warmth. I used mine for biking to school in 30 F too, and was good for the first 1½ mile, after that i got too warm, but i always give it hell when im on my bike. If you biking in a medium tempo, without too much exercise, the Montanas will be good down to the 20's, maybe even 0 if you buy them large enough for a power strech glove inside :)
Unanswered Question
How do these gloves stand up to washing?
How do these gloves stand up to washing?
My hand is 7" from wrist to tip and 7.5" around the non-thumb knuckles. The medium's fingers were too long for me and there was too much extra space in the palm - but it did feel "just right" around my fingers. Nevertheless, I decided to go for the small, as I hate fingers that are too long. The smalls fit my finger length perfectly - but it's very snug around my palm and very VERY snug around my fingers. That said, I have a strong feeling that the glove will stretch a bit with use, so they're a keeper. They're easy on the eyes (but probably wouldn't use them if you have temps in the teens) and yes ... they're waterproof.
Thinking I'd matched up my glove size correctly, I found the gloves to be on the tight side. This means that a 3.5 mile bike commute in 34-degree weather left my fingers painfully frozen. Later, these same gloves did not keep the my hands driy in the rain on a cool day. Too cold to type again. Oh well, where to go from here?
Top notch customer service
Received a pair of these as a gift. Used them primarily for snowmobiling and skiing. Started to come apart at the seams. Called Seirus and they gave me a RMA #. 1 week later I had a pair of brand new (updated design) gloves at my door. Great customer srevice!
As far as the glove goes, love em. Warm, waterproof and comfortable.
I bought these gloves with one purpose in mind: Winter Photography.They're much thicker than I anticipated but they're still thin enough to give me moderate control over my SLR. These bad boys are actually warmer and more waterproof than my (old) Dakine snowboarding gloves which pleasantly surprised me a lot. I can see myself taking these boarding on non powder days. They're great for driving too. They immediately warm up after you put them on and they have grip on the thumb and pointer finger (and palm) so you have good control when driving in the cold.Overall: Very well built glove, and while not perfect for what I intended to use them for, they have proven to be extremely versatile and useful for much more.
I need a new pair of gloves that provide...
I need a new pair of gloves that provide warmth (temps in the teens and 20s), comfort and a fair amount of dexterity. Will these do the trick? How do they match up to the Arc'teryx Stinger Glove? Are there other gloves you'd recco?
Best Answer
These are not warm enough for 10s-20s on their own. Lowest comfortable temp is about mid 30s, if it's not very windy (they're not quite windproof). They're fairly disappointing in that regard. Others have said that they're good in the 20s with a liner, but I haven't tried that out. They're a tight fit, so would probably need to go up at least a size with liners, and not sure how easy they would be to take off with liners.
Dexterity is quite good (if your fingers aren't frozen that is).
Hey there,

It depends on how long you're in the cold with these gloves. I've been out in 20/teens for shorter amounts of time photographing or driving to campus and have been fine with these gloves. Would I wear them for hours on end while boarding? No, they won't be warm enough like dodo said. And they are a tight fit - so if you go the liner rout, definitely size up.