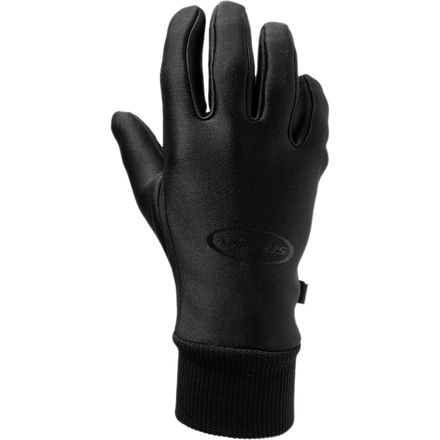 Detail Images
The Seirus All Weather Soft Shell Gloves provide hand flexibility and breathabilty on backcountry tours and snowshoeing adventures. The stretchy fabric helps keep your fingers mobile so you can grab snacks out of your pack without exposure to the cold, and the durable palms stand up to ski edges. With a soft fleece backing, the All Weather Gloves feel cozy.
Not bad but not the best.
These are wind proof, but not water proof. The stitching is coming undone after a few years which is an easy repair. I am going to be shopping for a better pair. They are dexterous enough and the material is sturdy.
These gloves give me the warmth I need and the dexterity is awesome. Great grip. Perfect for running, shoveling snow and even riding my Mt Bike when it is cold.
Love em!
Good grip, moderate warmth
I love these gloves for late spring and early summer outings in the mountains. I ski with them in the spring and trust the grip when hiking and climbing. They give me enough dexterity to find and use small items in my pack and to work with my GPS receiver. They can also be used as liners under heavier gloves on colder days.
These gloves fit great and have been very durable but they simply are not very warm. IMO they are not wind resistant and certainly not water resistant. They are good for milder temps but I wouldn't want to rely on them for anything below freezing.
Unanswered Question
What size should I order? My hand width...
What size should I order?

My hand width is right in between small and medium according to the chart. I don't have very large hands or very long fingers.

I wear a size small Dakine gloves (stingray and Bronco) and that fits perfect (albeit snug, but that's how I prefer it to fit)

Dexterity and fit is important in this case because I'll be using them to take pictures with my dslr, should I try and squeeze into the small or play it safe and get the mediums?

Thanks for any help
Not worth $1. Not warm. Not "water resistant". Not anything except crap. Seirusly..don't waste your money.
Good gloves. Highly recommend Seirus.
Excellent gloves. Light, warm, wick well and breathe.
When I bought these gloves I was looking for a shell like glove that would keep my hands dry and block the wind while biking. I still have not found gloves which do just that.
In the rain, water bleeds right through the seams.
They are slightly better in the wind but still the seams are a huge weakness.
I would not recommend these gloves much bellow 30 degrees F. Considering I don't really wear gloves until around this temperature these gloves are pretty useless.
If you want real wind/water resistance you need taped seams. The only thing I do really like about these gloves is the grips, which are nice and tacky.
Verdict: Save your money, get gloves with taped seams. Your hands will thank you for it.
Bought a pair for my wife and me, and it has been my worst purchase to date.

I tried them on in a store and they fit pretty well. I thought that they had a nice amount of insulation too.

However, we wore them on a not-so frigid NYC day, and our hands were about to fall off. The problem with these gloves are that they fit very close to the skin and it doesn't allow warm air to circulate.

Horrible, horrible gloves. Wore them once, will never wear them again.
I do not like these gloves. I returned them after the stitching began unraveling at the same place on the thumbs (the rubber grip portion began separating from the base fabric). In addition, these gloves are useless when wet. They absorb water extremely quickly. They do not even come close to the term "water resistant." If you use these as driving gloves or to walk your dog, they might work fine for you.
I do have some trouble with circulation so my hands tend to get extra cold. Of you have better circulation than me perhaps these could be great for you. For some reason I have had 2 pairs of these, luckily they are all lost now or I might be tempted to try them again. I would rather not wear gloves then use these, because then at least my fingers can derive a little warmth from each other. If I made a top 10 list of when my hands have been coldest every time I have warn these gloves would probably be on the list. On one trip I switched to a pair of fleece liners and hour into the climb and was much happier.
How are you suppose to wash Seirus Extreme...
How are you suppose to wash Seirus Extreme All Weather gloves?
Best Answer
I believe you are not supposed to machine wash them. You might be able to machine wash them but I don't know what that would do to the water/wind proofing. I would say spot washing (wiping them down with a damp cloth) would be the only way to go. hope this helps
I was hoping for better protection when cycling in wet weather. These gloves may work well in a light drizzle and may be wind resistant but are just not suitable for rainy conditions. They work OK under mild conditions but I wouldn't depend on them under freezing conditions. I'm still looking for truely waterproof cycling gloves but have not had any success so far.
these are definitely amazing gloves. i got them 2 years ago and i have been skiing in them for the past 2 seasons and my hands are never freezing i actually use them on my motorcycle in the in between summer fall season and i ride in weather as cold as 38-40 degrees F. and my hands are fine and i love how i can still feel all of the controls on the bike with them, and on some motorcycle gloves specifically made for riding in the cold they are so thick you cant feel the controls and your hands still get cold. i would definitely say best glove i have ever had. glove are 2 years old use them all the time in winter and still absolutely nothing wrong with them and 40 degrees F at 65-70mph haha yea amazingly thing ... cant go wrong buying these gloves
Worst Purchase of my Life
While the gloves do offer great dexterity. I just went outside in 20 degree weather and felt I might as well take the gloves off because my hands were numb anyway. Offer no warmth at all.
I'm not freezing and great ganipulation.
Amazing dexterity, I can shoot outside without worrying about having an accidental discharge without not freezing my hands off. My hands my not be warm but they sure as hell not freezing. They're great for the thickness.
Good dexterity, but not warm enough for winter
These gloves are thin enough to allow me to unlock my bike, take things out of my pockets, and even use my cellphone if I'm careful. They're good at blocking the wind when I'm cycling, but they aren't warm enough for more than a few minutes below freezing temperature. I should qualify that the lack of warmth might be because they are tight and reduce blood flow to my fingers (see below).

They are somewhat water resistant, but my fingers start to get wet after a few minutes in a light shower.

They fit a little tight to size, especially around the webbing between the thumb and first finger. As a result they are starting to fray there. There is also some fraying around the wristband. They haven't stretched at all in the month I've owned them.
I found these to be pretty good for thinner gloves. They're a bit stiff because of the grip part and the part that's supposed to be windproof. Even though they have that grip stuff I still had to take my hands out of the glove to take a bus card out of my wallet. And the windproof part isn't completely windproof. However they're holding up well, and really like that they wrap closely to your wrist so that the warmth stays in.
Nice grip, warm gloves...
I ordered these for my husband to wear on our urban hikes during the cold New England weather rather than his bulky/knit snow-shoveling gloves. They are sleek, love the rubber grip on the palm. He has relatively small hands but the fingers are a little tight so we're hoping they stretch a little.
I am an ameteur outdoor photographer, bow hunter, and backpacker, so I appreciate warm gloves that are highly dextrous. I have owned two pairs of these gloves (I lost the first pair; they didn't wear out).

Pros: They are not fully windproof, but regularly kept my hands warm down to 20-25F and worked as liners beneath an uninsulated mitten shell in harsh North Dakota weather down to -15F. The palm and pointer finger have the added protection of a thin rubber(?) pad, which prevents much abrasion. The gloves aren't waterproof, but stayed dry while playing in the snow. I LOVE that they cover my wrists--what good is a warm glove that lets all the heat out at your wrists?

Cons: The dense nylon holds temperatures for a while. If your fingers get cold in these gloves, you have to warm the gloves themselves up before they will be of any value (take the gloves off and fill them with a few warm breaths or store them beneath your shirt near your stomach for a while). I like the rubber palm protection, but it eliminates much dexterity on the pointer finger (I had to use my middle finger for the shutter button).

I recently lost one of my gloves on a hike, and I will be buying a third pair without hesitation.