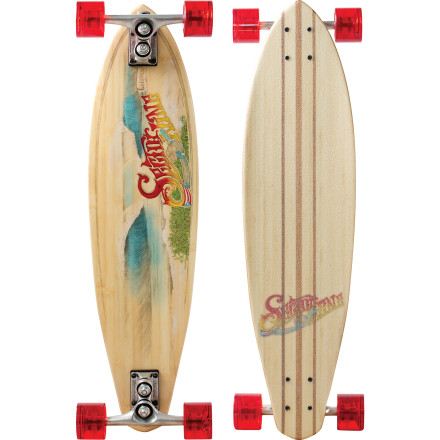 If you get to live life in the Caribbean islands, consider yourself lucky, but if you don't you can still live the lifestyle on the Sector 9 Puerto Rico Longboard. All you have to do is swear to never wear socks, trade your shoes for flip-flops, and park the car until winter hits, and spend the summer on the Puerto Rico.
Full, vertically laminated bamboo construction retains its flex without suffering from stress fractures; creates a forgiving, comfortable ride that lasts
Wide, tail- and nose-less shape is ideal for cruising boardwalks and tackling distance rides on flatland
Risers elevate the deck to prevent wheel-rub and add cushion while you shred
Soft wheels prevent hangups on pebbles or cracks, but are still firm enough to push out a power slide when you need to cut velocity
What do you think about this product?
Have questions about this product?
Bought this as a gift and see the person shredding it all the time.
There is not much to say about this board besides it's phenomenal. It's an all around great board, sweet for any level of skater. My only complaint about it (which isn't really anything bad for most people) is that it's very bendy. I'm 6'5, 210 pounds and it flexes quite a bit. Most longboards aren't meant for heavy guys so I don't mind much. Might have to look at alternatives once I snap this baby.