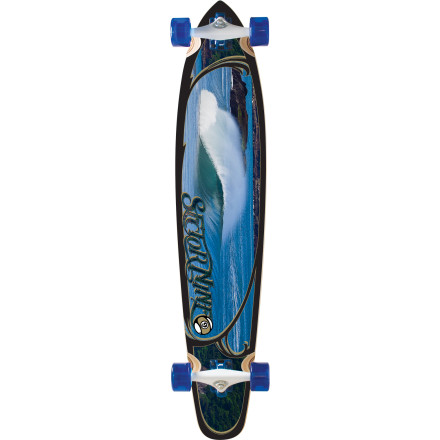 The Sector 9 Iguana Longboard features a classic, easy-riding cruiser shape with just enough concave to hold your feet in place during laid-out soul carves.
Classic bowl-concave cruiser shape for smooth, easy carves
9in Gullwing Charger trucks for stable, quick turns
70mm, 78a Nineball wheels for solid grip on varied surfaces
Subtle kicktail improves maneuverability in tight spaces
I got this Board at a local skate shop two years ago. I still have it and ride it almost every day! mine came with Abeck 5 bearings which are decent if your just starting.. i swapped those suckers out with Abeck 9's i had in another board. still though if you want some speed, Reds where i place my cheese. It handles well on the concrete waves but it can have some speed wobbles unless your just special. Anyways this board rides real smooth. I mean dawg you will think the world just turned into a giant babies bottom. Over all this board is coolsauce but not for bombing mountains or nufin' cray cray, (trust me i tried to hit mount Carbon in Colorado like a zillion and five times on this thing..not gunna happen) well i hope this helped! and your a cute chick, i really really hope this helped. peace! virtual smooch to the cute girl.