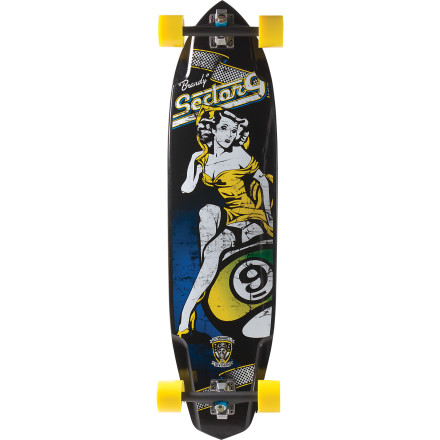 The Sector 9 Brandy Longboard isn't the typical, cruise-around-barefoot-and-baked kinda board; it's a bullet of the blacktop. As part of the Sector 9 'speedboard' line, the Brandy features a short wheelbase for instant action and serious stability that holds reliable carves and supports your body in deep, hard-pressed power slides necessary to shave off a little velocity around corners.
Race concave profile features steep sides that lock your feet in place and instantly transfer subtle toe/heel pressure into dominating, controlled carves
Eight-ply hardwood maple provides a seriously stiff platform to perform at high speeds
Wide nose and mid lets you drop down and put all your weight forward and turn yourself and the board into a gravity-powered projectile
Reverse-pivot trucks have a free-flowing feel from one turn to the next
Big, relatively soft wheels grab asphalt and roll over imperfections with precision
What do you think about this product?
Have questions about this product?
is sector 9 brandy just for downhill is...
is sector 9 brandy just for downhill is it good for just cruising round town?? n
I just ordered one, I'm going to mainly use it for cruising so I'll respond once I get it in!