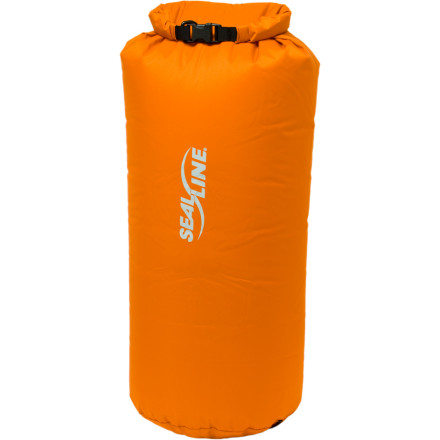 Community Images
The SealLine Storm Sack Dry Bags offer reliable waterproof storage in a variety of sizes to prevent soggy supplies in the most demanding conditions. Durable, seam-taped PVC-free nylon fabrics reduce environmental impact, and the roll-top closure features a stiff strap for a secure seal. 25L and 35L sizes easily store tents or sleeping pads, while the 60L's oval-bottom shape fits effectively inside a backpack to keep your gear dry during biblical downpours.
better than my other dry bags
i'm impressed!
Very nice bag.
Familiarity:

I've used it several times
I use this bag to keep my tent in being that I haul my tent on the outside of my pack. keeps it dry as a bone not a drop. Works really well.
Made in USA. U.S. and imported parts
Has anyone tried using a 60L as a pack liner? I am looking for efficient ways to keep my pack contents dry on rainy weekends in the Pacific NW.
A pack cover does that well. But, i see no reason that a lightweight dry bag cant be used as reasonable option.
Adequate, but not great
Familiarity:

I've used it several times
I would not recommend this bag for canoe camping because it just doesn't keep the sleeping bag dry enough. It's fine for a damp day or a mist, but no way for a rainy trip.
Is the width dimension measured laying...
Is the width dimension measured laying flat or a diameter?

Is the length dimension measured rolled and sealed?
Best Answer
I must admit, my curiosity was piqued by this question, and while I cannot say that the dry sack/stuff sack used is exactly a control variable, I found some interesting things that differed from the claimed specs, so they may be of some help to you.

So I have a Medium size Sea-to-Summit eVent Dry sack, with claimed dimensions of 8 x 18 inches.

At the bottom of the stuff sack, I measured the diameter and found it to be the advertised 8 inches across. However, at the top, taking the same measurement, I found it to be 10 inches, and then when I laid the sack flat and measured side to side, I got a measurement of 12 inches.

With regards to length, as opposed to the 18 inches claimed (I don't know if this is meant to represent, say one (or two or three) rolls of the top), when lain flat, I got a measurement of 20 inches. I assume that 18 inch measurement takes into account the S2S minimum recommendation of 3 rolls of the top to ensure that whatever is contained within stays dry, so take that 20 inch measurement I found with a grain of salt.

In any case, I would have to guess the measurements that are provided would take into account rolls of the top (thus deducting inches from the overall length) and perhaps take into account items inside the bag (thus deducting inches from the overall width).

Hope this helped!
I think in general these dimensions represent diameter and length for a properly stuffed and sealed bag.
Yes, it helped.

Thanks for the info.
These dimensions are for when the stuff sack is loaded.



Jared D.

Expert Gearhead

800.409.4502 ext 4055

jdowns@backcountry.com
I am going on a three day raft trip, only...
I am going on a three day raft trip, only taking a sleeping pad, sleeping bag and a change of clothes. What size of dry bag would suffice? This is my first raft trip and it's a short one so I won't have a ton of stuff.


Best Answer
Hey Staci,

It all depends on a couple of factors. First, is the temperature rating and insulation material of your sleeping bag. A 30 degree down bag is a lot different than a 30 degree synthetic in terms of compressability. Second, are you planning on using a separate compression sack. I'd say if you're going to be putting your bag and clothing in a compressions sack, then I'd say you might be able to squeeze it in a 35L but it would be really tight. The 60L is probably the way you want to go.
I don't know what I can really say about these, but it is an essential for paddling. They work perfectly, easy to use and keep your gear dry. Bottom line don't leave home without one.
I'd like to enclose an item that is...
I'd like to enclose an item that is (Dimensions WxHxD): 12.6in. x 9.1in. x 5.0in [Epson EMP-DM1 3LCD Projector].

How big would my Storm Sack have to be (2.5L/5L/10L)?

Thanks!
Are the length dimensions for closed tight...
Are the length dimensions for closed tight / sealed?
This thing is water-tight...what else can you ask for in a dry-bag?
This is a great bag if you're looking for a durable dry bag. Its a cordura style nylon that is laminated on the inside, then the seams are sealed. I've hung it by the handle in the rain without leaks, its been thrown about in the bottom of the boat, left outside on the ground in a puddle during thunderstorms, floated through rapids, and otherwise thrown around. So far it hasn't suffered a scratch, and hasn't leaked. Unless you plan on dragging your bag through rocks, I don't see any reason to get a tougher bag. Especially when the black canyon bags weigh more than twice as much.
My down bag's stuff sack size is 8x17....
My down bag's stuff sack size is 8x17. What size dry sack should I get? Can I just put the bag in the dry sack without the stuff sack or not?
I just go straight into the dry bag. You can roll these down and "compress" your bag pretty well with them. Down is a lot easier to compress than synthetic in my opinion. Keep in mind you'll need to Roll the closer a few times to keep the contents dry (but you probably already knew that).

9 x 21in [25L] = Might be a tight fit depends on if your 8x17 leaves room to compress or is pretty tight to start with.

7 x 25in [35L] = Would probably fit pretty well.

10 x 28.5in [60L] = Would be plenty big and leave some room for other stuff.
I've burried this bag deep in the surf during a beach launch, stuff flying all over the place and the camera and clothes inside remaind dry. There is an extra flap to this bag that is designed to keep things air tight.

I've even used this bag as a rescue throw. I think that if I was going to buy a dry bag as big as 60L, I would probably buy something made with a thicker double sided PVC material. 60L size would work fine inside a backpack or other bag that would be offering the abrasive strength.