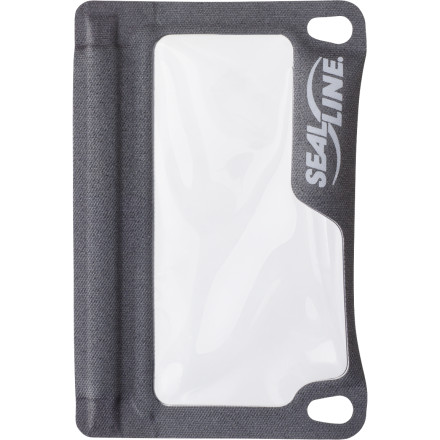 Detail Images
Paddle the ducky into the gorge with your buddy and a cell-phone lifeline that won't ever be severed thanks to the waterproof SealLine Electronic Case. Even if you get folded up in a giant hole and spill the raft, you'll always have a working phone in case your buddy breaks his leg Burt Reynolds-style. As your buddy paddles through the splashy narrows, you could check your email through the clear polyurethane material that is gushy enough to operate most button-operated electronics. Three different sizes let you waterproof all of your valuables.
Not properly sized for I-Phone
I really like the product. I really do. The ziplock seal is heavy duty...the plastic is durable, but allows you to use a device through it (i.e. you can type on your iphone while it's in the bag).



The Small (4x6) is supposed to be iPhone sized, but it isn't. It's about 1/4-1/2" too tight to fit comfortably. Once the phone is in, you're fine...but it's really hard to get the phone in or out. Add the sticky plastic of the case to the situation, and it's just not a well-functioning piece of gear.



The next size up is WAAAAAAYYYYYYY too big for iPhone use.



So I'd give it a 5 stars, if it fits your phone, and a 3 stars rating as an iPhone bag.
Great case for any valuables. I use the 4x6 with my iphone and it keeps it water tight, tough to get in and out with a case on my phone (the rubber sticks to the rubber on the case, so I usually tak it off). As mentioned in a review below the case does allow you to use the touch screen on your phone or ipod touch (if it is not wet, when wet it won't work). Different sizes mean different things for different people, so this is just what I use mine for and am sure there are hundreds of other items that will work efficiently with these bags.
The Small Is Sufficient, But Tight
I have the small version of the Seal Line case. It does the job, is very handy (fits in my pocket), and I can still use the touch screen on my iPhone 4S - all great attributes. I use my case primarily for protecting my phone during runs/hikes in the rain and it has adequately done the job - I cannot attest to how well it would work if it was dropped in the water.

My reasoning for the four-star rating ("pretty cool") is due to the fact that my iPhone BARELY fits into it (with the case on). It is tight to the point of annoyance and is an effort to insert/remove my phone. It just seems counter-intuitive to me to produce a case that barely fits one of the most popular electronic devices on the market (to include iPod touches). Perhaps that is narrow-minded of me but I think it would have made more sense to make it a tad larger. If you have a smaller phone (or similarly-sized phone with a similar case or no case), it seems like it would do the job wonderfully. One could argue that I should have purchased the medium but then it would not have fit in my pocket.
Used this sailing, and you can use your phones touch screen through the plastic, the zip lock closure works well, just not sure how it would hold up submerged. Great for heavy seas on deck though!
Works Surprisingly Perfect!
I got one of these and was a little iffy about the "ziplock" type closure so I did some testing. I put a tissue into the bag and dunked it in the sink. Tissue did not get wet. Took it to the bottom of a 5' swimming pool, pushed it together and played with it and it did not get wet. Took a smart phone through the Subway slot canyon in Zion NP (very wet canyon) and IT DID NOT GET WET!!! The Small is perfect for your smartphone and is touch sensitive so you can use your touchscreen phone through the bag! I wouldn't recommend using these for your cameras as I have tried other bags for that in the past and they all suck. Just get a waterproof camera. You can find them relatively cheap and they work great! Get one of these for your smart phones to protect them from water and sand! Easy too open, easy too close.
I bought this seal line electronic case to use with my camera under the water but would not work out well because this bag can open easily with a big electronic like that. It was a flip camera. This seal case is good for smaller stuff and papers.