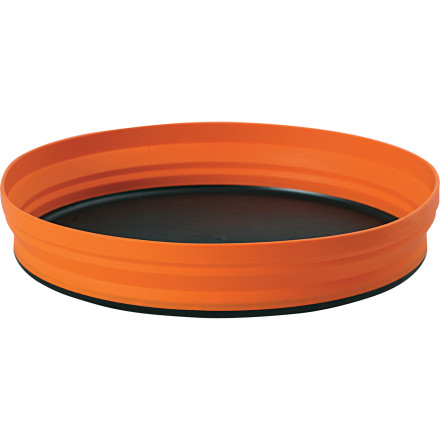 Colors
Description
Dish out some steamy goodness on the X-Plate.
Not just any plate is worthy of a heaping pile of your legendary backcountry beef stew. Reach for the Sea To Summit X-Plate Collapsible Plate and get ready to grub. Accordion sides easily pop up and fold down for quick packing, while a tough nylon base can function as a cutting board.
Is this okay to use in the microwave?
Is this okay to use in the microwave?
Hey Taylor,



This bowl is both dishwasher and microwave safe.


So I bought this for a trip I went on last week, and it was pretty cool. If I could do it over again, I'd get the set. I tried eating spaghetti out of this and it was pretty difficult. I really like the concept of this and I'd highly recommend trying it out!
Nice compact plate
Familiarity:

I've put it through the wringer
This plate is nice and compact and I like using it camping. It is well made and all that. When I go backpacking though I like to take the XL bowl since it can be used as a bowl and a plate thus only requiring you t take one rather than a plate and a bowl. The plate and bowl are nice for camping to save space in the box but I would rather carry just one while backpacking.
one time is all it takes
Gender:

Male

Familiarity:

I've used it once or twice and have initial impressions
One time using this product is all it takes to see that it is a quality purchase. The plate itself is extremely durable and easy to wash. The cutting board feature and fold up sides make this one of the most versatile items in my bag. The plate is big enough that I can fit what ever I want on it, and the sides go up high enough so nothing falls off. So far I am no disappointed at all, and look forward to using it again very soon.
Cutting board, food prep, plate for meal, done.
Already a big fan of the X-bowls, the X-plates make prepping for a really good camp meal that much easier. I'll use one plate as my cutting board to start, and pile up some veggies in the other in prep for cooking, and if we have lots of people and more veggies, can then use the one I was cutting on for the rest of the prep food. And since the plate has the fold up sides, you won't have things rolling off. Then use the same two to eat off after cooking.
These plates are great. They are sturdy, thin and made of good solid material that doesn't tear or wear out. I definitely recommend them. Great for car camping.
This plate is HEAVY at 5 oz. A 9" aluminum plate is 3 oz and about $4. A titanium plate is 2 oz and about $16. This plate is heavier and more expensive but it does nest with the X cup and bowl. Seems better suited for camping than backpacking. I returned mine to REI and got their 9" aluminum plate instead and use it as both a plate and lid for the MSR Flex Skillet.
Yes, you only get one plate. But, it does seem to be a pretty sturdy plate, and you can use the bottom as cutting board. My only concern is that the collapsible sides might not stay up if you have a heavy meal. But, so far so good ...
How many come with one purchase? just...
How many come with one purchase? just one?
Also... the back of the plate has enough surface area to function quite well as a cutting board. When I first read about the cutting board in the description I was skeptical but it does work.
My family owns 3 of these X-Plates. One for me, one for my wife, and one for the dog. The walls of the plate come up just high enough to keep greasy strips of bacon from sliding off to a disastrous fate, but not too high that they are bothersome.