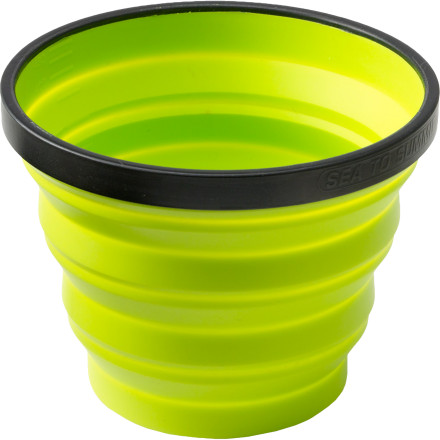 Detail Images

Community Images
Enjoy your favorite backcountry beverages in the Sea-to-Summit X-Cup Collapsible Cup. The X-Cup is constructed of high quality food-grade silicone, which won't impart plastic taste into your drinks. A rigid nylon ring gives the Cup some stability and prevents scalded fingertips when you partake in hot drinks. The X-Cup nests with the X-Bowl and X-Plate to fit compactly in your backpack. The X-Cup is dishwasher- and microwave-safe so you can clean it up when you get out of the backcountry.
Perfect but...
Familiarity:

I've put it through the wringer
It is so convenient and perfect for holding hot drinks. No more burnt fingers!!! But... I would get the next cup size. This one is too small for me; have to get at least 1 refill all the time ;)
Great as an on-the-go doggy water bowl
Familiarity:

I've put it through the wringer
These are just perfect for small dogs to share your water on a car trip.
eXtreme Cup for eXtreme Tea!
Familiarity:

I've used it several times
I am a tea junkie when I am on the trail! I will never leave without my tea. I am a backpacker and so weight and compact-ability are some keys things and the X-Cup succeeds at both of those things! I love the size too, the X-Mug is just a bit too big for me because I don't like to let my tea get cold while in the cup and the mug is actually pretty big so I could see myself dropping it. I just keep my Primus LiTech Tea Kettle right with my X-Cup so I can refill as needed. It washes well too. I would keep it away from clothes because the silicone likes to grab small lint but not a huge amount so not a huge problem. Love it!
This cup is lightweight and does not take up space so it is great for travel. It is a little flimsy but it does has some structure. It is more expensive than a normal cup but that is expected.
I was a little skeptical about how sturdy a collapsible silicone cup could be, so I bought one to try it out.



And then I bought four more.



The measurements on the inside of the cups are frosting on an already-pretty-awesome cake.



Obviously, since they're silicone, you don't want to put any hot, strongly flavored foods in here, since it'll hold the taste.
What measurment increments are on the...
What measurment increments are on the inside of the cup?
Sometimes people like to take a drink out on a walk, but hate carrying an empty cup with them the rest of the day. Some people also hate using disposable cups. Some people wish they could take whiskey to the park, then just collapse the cup later and put it in their pocket. This cup (I assume) would be great for this.I love this cup.
Is well made, light and useful. A tad on the small side and perhaps the mug is a better size. Cant beat how it collapses.
These work well and are super easy to carry. They only weigh a couple of ounces and collapse down small enough that I carry them in the outside pockets of my pack. They have held up well so far. When full it stable enough to sit on it's own but not as stable as a normal cup IMO.
Does anyone know what the diameter of this...
Does anyone know what the diameter of this is?
Best Answer
4.25" at the lip.
http://www.seatosummit.com/products/display/138

AJ, this is a link to Sea to Summit company website. It has all the specs for the product. I hope this helps.

If the link doesn't work. 3.75 in / 9.5cm x 2.75 in / 7cm
I am so happy Sea to Summit made a cup smaller than the x-mug. I use the mug as a bowl, but it's a bit large for my small hands. I also wanted something smaller, just to use as a cup for brushing my teeth when I travel. When I heard this was coming, I couldn't wait. I love the compactness. I do a lot of backpacking and packing with my horses, so the smaller and more compact the better. I'd love it with a cover for keeping things hot, but I guess that will come in time.