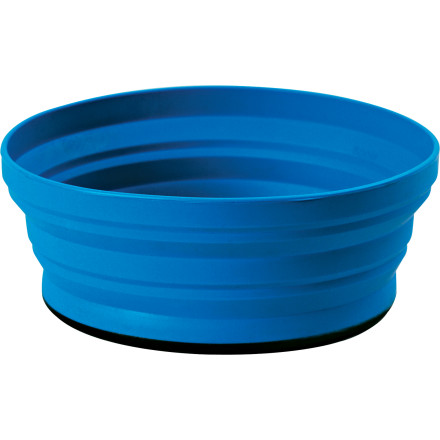 Colors
Description
Time to grub.
You've earned your meal after a tough day in the backcountry, so reach for the Sea To Summit X-Bowl Collapsible Bowl and chow down. Flexible silicone sidewalls make for ease of packing, while a tough nylon base doubles as a cutting board. Oh yeah, and it can withstand food temps of up to 300 degrees.
they get the job done!
Familiarity:

I've used it several times
It's nothing incredible but it does the job.
Unanswered Question
What are the dimensions and how many quarts does the Summit X-Bowl hold?
Unanswered Question
Will this fit within the x-pot when both are collapsed?
Good for Eatin'
Familiarity:

I've put it through the wringer
Love it. this thing packs down to virtually nothing. can use it as a bowl, cutting board, dog dish, hell even a mug if you're desperate/ need as much coffee as I do. a pretty essential piece of equipment for backpacking. i've yet to have it collapse, which i thought would be a problem. the rubber definitely deteriorates over time, but by then you've gotten more than enough use out of it.
X-bowl
Familiarity:

I've put it through the wringer
It does the job its intended to do. Works great for mountainhouse meals. Never had an issue with collapsing on me while eating. The bottom of the bowl can be used as a cutting board, but I have never used it for that purpose. Eventually, you might have to worry about the silicone getting ripped overtime. I don't know how long that will take until it fails or if it will fail. I do like how small it collapses down and fits into my pack.
Multiple use bowl
Familiarity:

I've used it once or twice and have initial impressions
Cool little bowl that you can use for whatever you are eating, and if you want to, whatever you are drinking. Having it be collapsible is nice because you dont have to worry about it being awkward in your back or breaking.
NOM NOM PRETTY COLORS
Familiarity:

I've put it through the wringer
I've used this bowl to hold stuff with. It does a pretty good job of it.

But seriously, is an awesome bowl. Oatmeal, soup, pasta, dog's water dish, cereal, hot cocoa, it really is super versatile.

I love the walls of this bowl for two reasons:
1) It provides insulation between the contents and my hands, so my hands don't get cold or hot (I sounds like a princess...)
2) I don't need to worry about awkwardly packing a real bowl or the item breaking or cracking while in my pack

Two spoons up!

Ben
brabinowitz@backcountry.com
801-746-7564
Holds food in a small area
Familiarity:

I've put it through the wringer
What can I say? It works. My solo kit consists, in part, of an XBowl and XMug. Both nest together when collapsed and almost disappear in my pack. If you're not so UL as to rely strictly on aluminum foil or occasionally eat something other than just-add-water meals-in-a-bag, get yourself an XBowl.
This Bowl is worth it
Familiarity:

I've used it several times
This is a great bowl. It holds my food. haha. I am able to hold a hot bowl of noodles in my hand while hot. I have had some hard plastic plates/bowls/cups in the past and the heat made it hard to hold. These are perfect and allows you to keep warm hands. Not as easy to clean as hard plastic. There are lighter options out there but not by much. The durability makes up for the weight. Great product. I would recommend.
Ideal
Familiarity:

I've used it once or twice and have initial impressions
Haven't had the opportunity to use it much yet, my dog decided it was the most delicious frisbee around and now the bowl is no more, so I need to grab another, whoops. But when I did use it I found it tough enough to handle quite a bit of heat, it held its shape well, made a useful cutting board, and folded flat very easily. It didn't feel super tough, it probably won't last forever, but its a pretty darn compact and solid backpacking bowl that I would recommend.
One of my "always goes" pieces of gear.
Familiarity:

I've used it several times
This is my ramen and oatmeal bowl. I can't think of getting anything else. I don't like having anything but water in my boiling pot so I need a bowl that can do it all. Can get a little hot in your hands but that is what my universal foil lid/tray is for(just a 3' piece of tin foil folded down to 6"x6"). Not sure about the long term durability and silicone can attract lint, pet hair etc. But whatever, right? I mean there's a leaf in my water right now.
Great bowl - not bombproof
Familiarity:

I've put it through the wringer
I love this bowl, but I put it through too too much. I kept it on the outer pocket of my backpack covered only by mesh, and it unfortunately got a few small holes. This was mostly my own fault - every time I put my backpack face-down it would be resting on the bowl. I still give it 5 stars because it held up to normal wear and worked great as a cutting board too. Note: this is actually the XL-Bowl.
Great bowl for packing.
Familiarity:

I've used it several times
It is a great bowl for packing along and wanting to eat out of a container other than the pot you just cooked your meal in.
perfection
Familiarity:

I've used it several times
this bowl is great, especially on mountaineering trips. packs down small, and light weight. cleans out really easily. no issues with hot soups or pasta melting the material.
Great bowl
Familiarity:

I've put it through the wringer
This is nice and compact for a bowl so you can stack them nicely. If you just need a bowl then this is a good choice. If you are car camping and want to save space the X series would be a good option. I like this bowl but for backpacking I take he XL bowl since it works well as a plate and bowl. If you want a plate and a separate bowl then get this and the plate. This bowl fits nicely in the bottom of my 1.5L MSR Blacklite pot and the XL fits in the fry pan. I like being able to stuff the X series in a pot and not take up all the space in the pot so I can put my stove in there as well.
great product i used this for all my hiking trips.
Used on many backpacking and kayaking trips in Southeastern Ohio. Love that the base can double as a cutting board (just make sure you don't chop the silicone sides!) Also surprised that it was dishwasher and microwave safe. Took advantage of both of these while moving cross-country and dishes box was buried.
I love them!
Gender:

Male

Familiarity:

I've put it through the wringer
I take them everywhere in my computer bag. You would be surprised how often they're used when available. I also have the mug. Two suggestions: 1) Make them less floppy. They would be easier to hold and feel more secure if they didn't flop as much. 2) Make the mug 'snap' into the bowl so it stays put.
Great bowls! I have 3 of the plates and 3 of the bowls and I love them. They are solid, good-sized and are constructed with good material that won't wear out easily. Perfect for car camping!
Overall it's a nice bowl. It's compact, nests with the X line of cups, bowls and plates. The silicone is too thin to insulate it, when using it for hot soup. So it has to be held by the bottom nylon part or it's too hot to hold. And it retains food odors. Try eating a small can of pork and beans out of it and wash it within an hour. Mine still smells like pork and beans even after multiple washes and soaks in hot soapy water. It's no biggie, because I can't smell the pork and beans, when I eat other food out of it. But overall it's a winner.