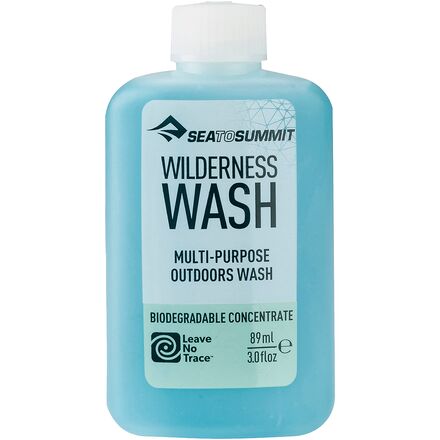 Colors
Description
Keep it clean.
When it's time to clean up in the backcountry, whether it's dinner dishes, clothing, or your own dirty head, bust out the Sea To Summit Wilderness Wash. This super-concentrated soap is biodegradable, as well as phosphate- and fragrance-free. The tough bottle and cap ensure it won't explode in your pack.
No trace, No problem
Familiarity:

I've put it through the wringer
This biodegradable soap is awesome for cleaning anything you need while your 'on the trek'. It looks small but you really don't need that much because its concentrated. At this price, it doesn't really make sense not to get some.
Does the Job
Familiarity:

I've put it through the wringer
Love using this when needing to clean some of the dishes. No need to use a lot since it is pretty concentrated. Also, you don't need to feel bad since it is biodegradable.
One wash to rule them all
Familiarity:

I've put it through the wringer
Wilderness wash is the only soap I bring into the backcountry. Great for washing dishes or a frigid river bath. Nice to have something completely biodegradable!
Wicked Awesome Wilderness Wash
Did the job it was intended for to keep your pots and hands grime-free while camping. Makes you feeling so fresh and so clean clean.
Good stuff
Familiarity:

I've used it several times
Works great. really not bad for showering either. Cleans dishes well. Like most the reviews say a little goes a long way.
Washes it all
Familiarity:

I've used it several times
This thing will wash anything. Literally anything. I use it for everything when I am camping; dishes, clothes, myself, dogs, really anything that needs washing. This will do the trick. I always take one of these camping with me and as of late always keep one in my truck just in case.
One bottle to do it all.
Familiarity:

I've used it several times
From washing your bum to washing your hair and even doing the dishes. Plus, it's safe for the environment.



An absolute must if you head out and want to wash anything.
this stuff is great to take along for extended trips into the backcountry. a little bit goes a long way. ive used it for camp dishes and then a lake/river side bath. a nice little luxury.
Great camp soap
Familiarity:

I've put it through the wringer
I have used both this soap and the citronella version and they both work great. You don't need much to clean up so even the smallest bottle lasts longer than you would expect. It comes in 3 different sizes (8, 3, 1.3) so you can get a size that is better suited for your trip. I would recommend getting one bottle of the desired size and then just get the big bottle and refill it as needed
I love
Familiarity:

I've put it through the wringer
It's kind of weird to love this sort of thing, but I do. And I don't just use it for camping. Any time I travel this goes in my quart size baggie - and it has never exploded or leaked. It's nice to know you can wash something out quick in the sink, or use for shampoo if you run out.
Perfect wash for anything!
Familiarity:

I've put it through the wringer
This wash is great for dishes, dogs,clothes, myself.. anything really! It's biodegradable, so perfect for camping. I haven't had any leak issues with the bottle the wash cam in. Always handy to have in your pack.
Nice little container to keep clean out on the trail. Easy to carry, doesn't leak, cleans very well.
I used this soap to clean my cup holder for my car and I love it
It gets stuff clean and I think that the reason some folks feel like they have to use so much is because it doesn't have any phosphate in it. Phosphate is terrible for the ground water but it is great for making things clean. It just takes a bit of time to realize that stuff is clean even though it may not feel that way. The lack of phosphate in dishwasher detergent is what makes people travel across state lines to buy it and smuggle it back. Ken
Convenient wash in small package
A little goes a long way, despite what other reviews might say. Doesn't create as much suds, but it cleans the way it's supposed to.
Doesn't Go Far
Gender:

Male

Familiarity:

I've used it several times
This product works well for cleaning yourself or your gear. It rinses quickly and easily. The bottle's opening is nicely designed to allow you to easily use just a bit at a time. The amount of liquid complies with airline carry on bag regulations. The only problem was that I had to use much more than expected. As others said, household cleaners seems to be more concentrated. Not a bad product but I expected more.
cleans very well but .....
This product does an excellent job cleaning but you end up needing to use more than I would think to create suds in your soapy tub. It is a concentrate but is not as concentrated as other household products. with that said, it does clean and rinse wonderfully well. just plan to buy several bottles if you camp a lot.
I wash my dishes, my hair, myself, and my stuff with it. It isn't overly soapy and it rinses nicely. Definitely leaves you feeling clean and refreshed when used on the body. A little goes a long way and I've had the same bottle for a half year now with pretty frequent use.
Multi-function AIO cleanliness for the ultralighter =)
it's does the washing as intended. i expected some more washing power from the concentrated factor but it didn't seem like that was the case, and i ended up using a lot of the liquid at one time.