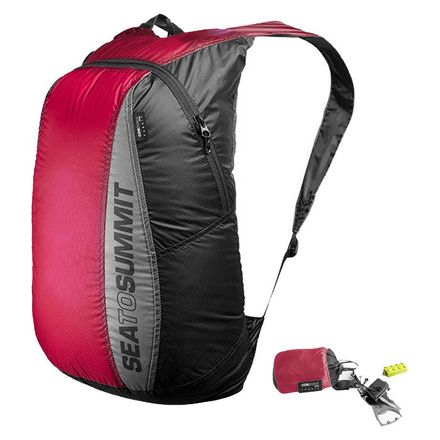 Detail Images

Community Images
Description
There's no place like gnome.
You are roaming town on your bike, and, out of nowhere, you spot a stray ceramic garden gnome. The little guy is just what your life has been missing, but riding hands-free all the way home might result in a concussion for you and instant death for your gnome. Good thing your Ultra-Sil Daypack from Sea To Summit fits on your keychain. Unfurl this 20L pack from its bite-sized stuff sack and give that gnome a home. The siliconized Cordura is stitched up tight with bartack reinforced stitching on the stress points to make sure your new bestie doesn't end up a pile of ceramic road kill, and the adjustable shoulder straps mean this pack fits snugly on your back.
I'd been wanting one of these for a long time and honestly this pack is rad. Great on the trail and for any kind of travel this is so compact and useful. Great product.
Great but smaller
Familiarity:

I've used it once or twice and have initial impressions
I just received my pack and have not used it yet. I love its tiny weight. (It measures 2.5 oz, close to the advertised 2.4 oz.) It compresses into a tiny sack which reminds me of the ring in which the Flash stores his costume. However, it is nowhere near 1220 in3. I measure it as being about 800 in3, either with a tape measure or by comparison to other packs I own. For example, it is clearly much smaller than the medium Granite Gear Zipp Sack, which is advertised as 1080 in3, and measures a little larger than that. If you can live with this smaller volume, I think you will be happy. With its small straps and no belt, the larger volume would probably be too great anyway.
This thing is pretty cool, the straps are thin and small which can be annoying but doesn't bother too much if you are just carrying a couple things and there is no back support so if you have just random stuff just thrown in it may feel weird on your back but the reason the pack is like this is so that so that you can pack it up nice and small. I usually keep it in my car just incase I need it but I have used it for throwing my climbing shoes and chalk bag if I'm running to the climbing gym and other things but also it has a little buckle on it so you can attach it to things like a key ring. Definitely nice to have just incase, oh also the bag it packs into is attached to the pack and its water RESISTANT not water PROOF, just keep that in mind, can't take it for a day hike in the rain and expect things to not get wet but water won't soak right through it immediately. Overall its a pretty good product. Never know when you might need it
Great idea!
Familiarity:

I've used it several times
I saw this in a store and couldn't pass it up. I have had other Ultra-Sil products in the past that fell apart, but I had to try this incredibly packable backpack. I've used it for carrying stuff to the pool/gym, and it works great for these purposes. One of the seams on mine has already started to tear, though, so Ultra-Sil is still on my untrusted list. I wouldn't stick my laptop in it.



As another reviewer mentioned, I would like to see a mini sternum strap added. The lack of structure and the slippery fabric makes the shoulder straps spread apart very easily. I would also like to see the shape of the stuff sack change from short and round to tall and oblong so that a cell phone could fit in it.
Surprisingly rugged.
Familiarity:

I've used it several times
I bought one of these about a year ago. I store it under the passenger seat of my bullet bike. I've used it to transport everything from groceries to tools to heavy chains (about 15lbs). This pack gives me the flexibility to transport stuff home without having to leave the house with a backpack on, and it has held up remarkably well. Not only do I recommend this pack, but I've bought a few of these for other riders.
Now I always have an extra bag when I need one. I use it for errands on the bike, or as a front bag when I'm wearing a big backpack.
I love pulling this little thing out and letting people guess what it is. It compresses down so small that there is no way anyone recognizes it as a backpack. I use this for throwing beer, sunscreen and a towel in when going to the beach or a Frisbee, water and dog leash when I take my pup to Tanner park for an hour or two. If you plan on filling it all the way up you need to get a bit strategical with it. You can't just start throwing things in or it won't rest on your back comfortably. All in all a super solid pack for what I ask of it---oh, and did I mention it sheds water?
What is the color of this backpack?
What is the color of this backpack?
It comes in the 5 colors shown but you cannot select which one you prefer they don't order specific colors from the manufacturer.
I've used this on a couple day hikes and when traveling. If I know that I will be taking fishing equipment on a backpacking trip I take this pack to carry my bait, water, and a camera. It carries a water bottle a fleece and small slr pretty comfortably. I've only had two issues with it the first is breathability my back get's pretty sweaty when I carry this little pack. The second is the straps tend to pull to the outside when the pack is fully loaded. I think a basic chest strap would fix this. I think the pack weight is worth the trade offs and I plan to continue using this pack.
It is so cool. I take with me all the time! it is so small you cant fill it. and if you need a backpack to the supermarcket or the mall...ther you have it
Great Backup Backpack / Ultralight Backpack
This one of my favourite essential pieces of kit. Be it when you go on a shopping trip or a 7 day trip.
+ Amazingly small packed size.
Its small packed size makes it convenient to carry around and you can open it up quickly for use.
+ Very strong load strength
I didnt measure the exact load but I did fill it with 10 huge cans of soup and the straps carried it easily (though I personally did not appreciate the weight)
+ Fairly tough material
The material was suprisingly tough and did not tear when I accidently dragged it on a tarmac road.

Cons
- The adjustable straps can slide when you are moving about aggresively. I solved this by tying a knot at the desired lengths.
- Not condensation proof. Its ultrasil (Siliconised Cordura) so some condensation can occur. I wrapped the laptop/iPad in the sweater so it was fine.

There is no padding to the straps nor the back of the backpack. So if you are going to be carrying something that might hurt (like the edges of the aforementioned cans) it might be wise to put a bit of padding on the back part of the backpack.

I have used this backpack for my laptop as well as its assorted odds and ends. (mouse, chargers etc) and a fleece scarf or a sweater laid at the bottom was sufficient padding for me to not worry about damaging the electronics.

But I think its best used for those unexpected shopping moments when you dont want to carry several shopping bags. You can save a few plastic bags by just loading your shopping directly into this.

This is a great travel accessory or daybag. Go for it =D