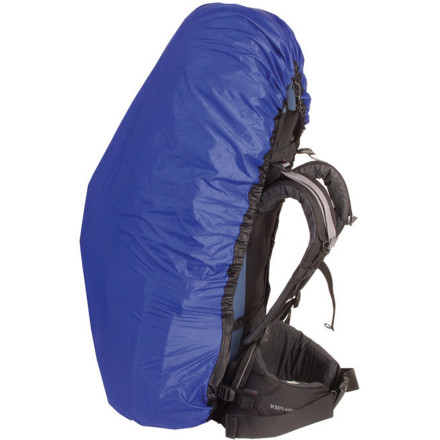 Colors

Community Images
Description
Dry gear = happy camper.
You have your high-tech rain gear and your waterproof hiking boots. Don't stop there—protect your pack and its contents from summer downpours with the Sea To Summit Ultra-Sil Pack Cover. Weighing in at only 4 ounces (size medium), the cover won't weigh you down as you slog through the mud. In fact, it probably weighs less than the water you'd otherwise take on during the average gully-washer.
Seamless construction offers extra weather protection
Mid-back keeper strap that holds it secured to the pack
Comes with integrated stuff sack for stashing it away once the storm passes
It is a pack cover.
Familiarity:

I've used it several times
Nothing Sexy or super cool just a pack cover. However it performs well, light weight, and keeps your pack dry. Works well the the pack that I purchased it for the Osprey Volt 75 Backpack.
Unanswered Question
I've got an Osprey Aether 70L bag and not too sure on sizing. Will the medium JUST fit over? But the large be way too loose/baggy? Generally don't fully pack the bag so thinking the medium, but would like an opinion as well.
Storm-proof
Familiarity:

I've put it through the wringer
This is the best pack cover I've ever owned. My boyfriend recommended it after taking it on his AT thru-hike (worth noting that his is still in tact after that journey.)



I have a Gregory Deva 60, so I bought a medium. It fits great, even when it's packed to the brim. Because of the mid-back keeper strap and drawstring at the top, it also fits relatively well when it's not full.



The water-proof factor was seriously tested during a torrential rain storm in Alaska. I was on an exposed ridge hike for about 6 hours, where winds were intense, and rain was unforgiving. Every single thing I had on was soaked through - my boots, my raincoat, my rain pants, etc. But when I stopped at a shelter and took my pack (and pack cover) off, everything in my pack was completely dry. My pack itself was damp, but by no means soaked.



I highly recommend this pack cover.
great pack cover
Familiarity:

I've used it several times
I have an Arcteryx Bora 95 pack. (95L) It is a big pack so I went with the size large (70-95L). The cover can accomodate my pack when fairly full. On my first trip with this pack there was some rain so I got to try it out. It kept my pack dry and stayed on. That said, the retaining strap is small and whimpy and did work with my pack. Fortunately this pack cover stays on just fine without the retaining strap, even through some brush.



At some point I may modify the retaining strap (use my own webbing & buckle). I haven't decided yet. The cover seems to stay on just fine without the retaining strap.



The cover would get five stars were it not for the usless retaining strap. If they had field tested with a 95L pack they would have realized the retaining strap is not big / strong enough. Don't let that stop you from getting this product though since the strap is really superfulous.
light, stands up to torrential downpours
Im impressed!
Small and Light
Familiarity:

I've used it once or twice and have initial impressions
This pack cover is a great addition because of how small and lightweight it is, especially for how much protection you receive. It packs away into the corner of your pack so you don't have to think about it much. But it definitely does the job keeping your stuff dry in a downpour. So far it seems to be getting the job done!
Great Pack Cover
Familiarity:

I've put it through the wringer
After just returning from 10 days in the backcountry of Northern British Columbia I am very impressed with this pack cover. It rained on and off for 7 days in a row. I was on my pack through the densest fir forests one can image, miles of soaking wet rock willows and laid it down dozens of times on sharp shale rocks. I honestly expected it to be shredded by the end but it is still in excellent shape and my pack remained dry the whole time. Order the correct size for your pack and you will not be disappointed.
No keeper strap on XS; too big 4 daypk
Familiarity:

I returned this product before using it
I think the mid back keeper strap is a key feature on a small daypack on a small person (tight straps = easier for the rain fly to pop off getting on/off if not cinched on). Only found out after receiving it that there is no keeper strap on size XS (says this on Sea to Summit website but not here). Also, altho the XS says it fits 900-1800 cu in or 15-30L, it was WAY too large for a 973 cu in 16L Gregory Maya pack. I like the thin material and tiny stuff sack it fits in, but it will be returned since it doesn't work for my pack/needs.
Excellent Pack Cover
Familiarity:

I've put it through the wringer
Excellent Pack Cover, super light, and keeps my pack dry. What else is there. Oh I would recommend getting the larger one as you can always draw it in tighter on smaller packs. Makes it more universal.
I've seen one reviewer comment that the...
I've seen one reviewer comment that the StS pack covers run smaller than the stated size. I am wondering if the size small (23x13x9) would be right for use with my Osprey Farpoint 40 (21x13x9), which is almost the same size as the pack cover? Does anyone know?
Hey,

The small should fit your pack just fine. the Farpoint is 2441 cu inches and the Small pack cover will cover up to 3000 cu in.
great pack cover
Familiarity:

I've put it through the wringer
i have a few of these covers in various sizes and they all perform great. durable, light and the stay on the pack really well.



wish there was more color variety, but oh well.
Which is the water resistance? Sil/Sil...
Which is the water resistance?

Sil/Sil or Sil/PU construction?

Thanks!
It is silicone impregnated Cordura, so its waterproof finish can't peel or wear off over time
Just what you need.
Familiarity:

I've used it several times
For me this has become like my Gortex jacket, if I'm going hiking its in my pack ready to go. For the little bit of extra weight it is, it saves your pack from becoming wet and more importantly heavy. I made the decision to by mine whiles walking behind a mate with one on the Victorian high county when it was raining heavily. It's never failed me. Obviously it'd not going to keep,your pack dry on a river crossing but it sure does keep the rain off.
Works!
Familiarity:

I've used it several times
Does what it says, keeps rain off your bag. I obviously don't trust in this to keep my pack and all my stuff within completely dry, but it keeps most of the wet off. If I'm going out into weather that I know could be wet I'll pack most stuff in to dry bags, or line my backpack with a contractor trash bag as water always has a way of finding it's way into places you don't want it too, but this is great to keep the pack it self from getting saturated with water (heavy!) and I like to take it even if it's supposed to be dry as a backup, as it easily fends of a little unexpected shower when stuff might not be properly packed away.
sa-weet
Gender:

Female

Familiarity:

I've used it once or twice and have initial impressions
small and handy just as I suspected, I'm about to use it on a trip to Central America and am excited, I'm not too picky about pack covers so I trust it will do the trick. It compacts down pretty small and dense, it feels heavy and the color is accurate.
Great So Far
Gender:

Male

Familiarity:

I've put it through the wringer
I read a number of reviews about various pack covers when making the choice. Most indicated problems with tears or poor features. Sea to Summit's received the best consistent reviews so I gave it a try.



So far, it's been great. Kept the water out. Super easy and light to pull out of an outer pocket on my pack and quickly wrap around things. Put it through some brush/branches, etc. and no tears yet!
Used this a few times during a month-long hike. Seems to work well (i.e. it repels water), it's easy to put on, and it's light enough that I didn't mind throwing it in my daypack just in case. I could still grab stuff out of my pack while I was walking without the whole thing falling off, and it was secure enough that I could shove my rain jacket between my pack and cover for easy access and storage during on and off rain showers. I subjected it to the abuse of plane-side checking twice (gentler than normal checked luggage, but still can be a bit rough) and we hiked through some rather brush-filled areas...it held up through all of it. I'm not sure I'd test the durability too much if I didn't have to, but it seems to do well, particularly for being so lightweight.