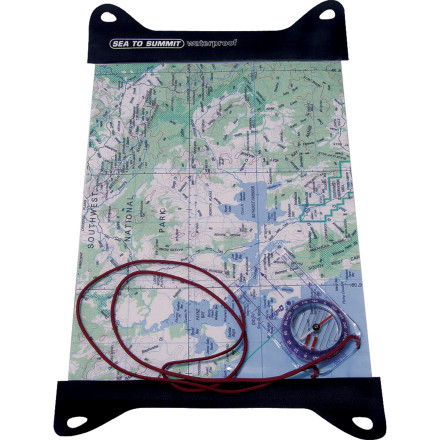 A map can be everything when exploring parts of the world that are free from the clutter of road signs and roads for that matter. If your map gets wet or torn a weekend excursion can turn into a dire situation. The Sea To Summit TPU Guide Map Case protects your map from the elements so even if you get soaked, your map won't.
Durable TPU is bendable, foldable, and crease resistant even under freezing temperatures, and it is UV resistant so it won't yellow or cloud over time
Detachable neck strap leaves your hands free
Welded construction and a zip-locking closure keep out moisture
PVC-free construction is better for you and for the environment
I like the idea, but just what does this...
I like the idea, but just what does this item have that my extra large Ziploc Freezer bag I have used for years does not?
Best Answer
More weight and cute little grommets for lashing it to stuff.
Looks cool too! Haha! Seriously, my guess is it has is durability... the ability to lash it onto your backpack, know its within arm's reach and not worry it will tear or get trashed when you drop your backpack on the ground. I ordered it and promise to write a review after I have used it for a few times.




It is a heavier case so it will not wear as quickly and will protect your map from wear and tare as well as water. You can also connect it to your pack somewhere so it is within easy reach. I don't have this exact one but I do use a similar style one and it keeps my maps looking nice and usable.
I dont know guys... I can but alot of freezer bags for 35 dollars
That is very true but you would have a hard time keeping a freezer bag attached to the top deck of your kayak without you map ending up wet from a torn bag when you flip it over to either get out of your kayak or to look at the other side of the nautical charts. If you are just doing backpacking then a freezer bag is for sure all that you would need.