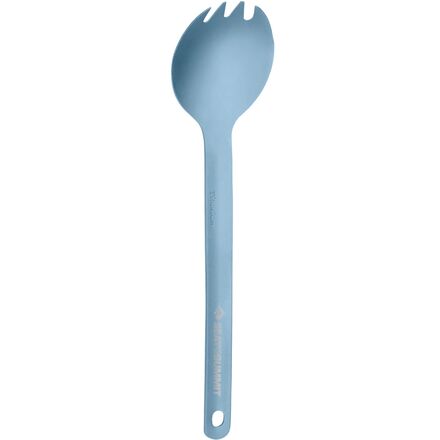 Detail Images
Description
Dinner is served.
Ultralight freaks and car campers alike enjoy the durability and feather-light construction of the Sea To Summit Titanium Spork. This versatile utensil stabs like a fork, scoops like a spoon, and thanks to rust-proof titanium weighs less than an ounce. Sounds good to us.
Sporky!
Familiarity:

I've put it through the wringer
This spork gets it done. I bought a few of these and had no problems with them. They are in my desk at work and at home. My wife thinks it is funny when I use them for dinner in our home. Little does she know i am just saving myself the trouble of washing the extra spoon ;)
Spork Love!
Familiarity:

I've put it through the wringer
Thank you Sea To Summit for these sweet sporks! They are super light weight and my favorite spork on the market! Very durable and work so well! No complaints!
Can't go wrong with a spork!
Titanium too!
This is a question for Backcountry, not the community. Click the CHAT NOW button on the upper right corner of the site.
Same thing happened to me. As far as I can tell, it's just the newer model of Titanium Spork & it doesn't have the cut outs.
I had the same same issue. Picture did not match product. I'm not returning the spork because in the end... It's just a spork.
yesmail question about the titanium spork!...
yesmail question about the titanium spork! How is it?
I like it. It's light and tough. There is a design for sporks that I prefer to this one, though. It has the spoon on one end and the fork on the other, so you get a full fork. I've never seen it in titanium, though.
Light, durable, simple, and can be used for everything you cook in the backcountry. It's a little expensive (2x the cost of the aluminum spork from Sea-to-Summit) but I like it at least 2x as much so I guess it works out.
What is the country of origin of this, or...
What is the country of origin of this, or any of the other listed titanium sporks? (I want to buy American.)
The Sea to Summit titanium utensils are just great, I mean REALLY really great. They are super light, extremely durable, easy to pack. I can't think of anything I would ever have to complain about. I am hooked for life on these. One small way to turn a camp meal into luxury. Spork tips stab well enough to eat hobo meals (steamed veggies from the fire).

Just keep in mind the titanium long spoon is better that this spork if you want a good stirring utensil.
Oh man, the first to write about a Spork!
How lucky am I, writing about the totally incredible SPORK! No, seriously, it's a spork, how great can it be? Well, as far as sporks go this one seems to function quite well. I'm trying to think of something it does poorly, and I can't think of one... dam you spork, your too awesome! It can cut through oatmeal so fast and rips through pasta as well. It can even hold your tea bag while it drains. and if anyone knows how to play the "spoon game" it can serve up some serious punishment.