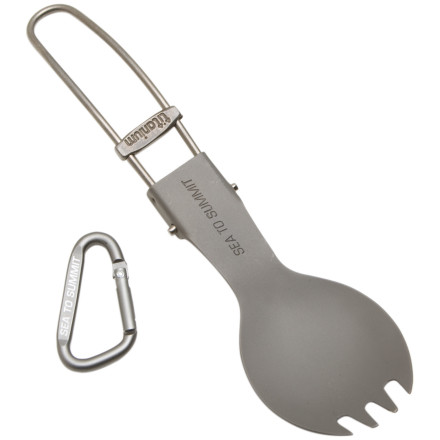 Detail Images
Description
They don't come much smaller or lighter than this.
Backcountry utensils don't get much lighter, more compact, or more versatile than the Sea To Summit Titanium Folding Spork. Not only does this ultralight feeding tool weigh a paltry half ounce, but it folds in half to fit right into your soloist cookware. The classic spork design functions as a spoon and fork, and Sea To Summit included a handy mini-carabiner to keep you from losing your miniscule utensil.
Hinging on disaster
Familiarity:

I've put it through the wringer
The hinge collapses every opportunity it gets. I would have been better off if I had just used my bare hands, most of my food ended up on my hands anyhow.
spork of choice :)
Familiarity:

I've put it through the wringer
this thing folds up really small, and it's just so cool! The design is really smart too--it has a bar that slides up and down the wire handle, and if you slide it down close to the hinge when the spork is open, it will force the wire handle apart and keep the spork from collapsing (it's like a locking mechanism). It fits really well in my Evernew 600ml pot along with my stove and matches, because it's curved when it's folded up, so it hugs the curves of my pot and leaves more space in the middle. The only thing that I don't like about it is that the texture of the spork head is not smooth, so it's impossible to lick completely clean, but in the grand scheme of things, that's a pretty small thing.
Pretty good
Familiarity:

I've put it through the wringer
This thing is definitely light and compact for sure. Awesome for the backpacker counting ounces. It is a little short so if you're trying to dig into a mountainhouse bag your hand will be diving in too. The holding power of the folding mechanism on mine isn't great either, pretty much anything other than soup makes it collapse just holding the wire part. I was able to pinch the little fins in a little bit with pliers to make it more solid, but it still is a bit loose.
what is the length when extended? (as in,...
what is the length when extended? (as in, is it a hassle to eat out of the backpacker meal pouches?)
Best Answer
Hey, I can't say exactly how long this spork is, but it is a short one (maybe 6-7" open). To answer your main question though- yeah, getting into a pouch of food with any regular length utensil is a pain. If you're hot for something in titanium, try the STS Alphalight long spoon, or, for a long spoon with a bigger scoop and a smaller price tag, get yourself a spoon in either polycarbonate or lexan...packs just fine, no fingers and hands covered in food, and, no problems with crunchy bits that you can't reach down in the corners. Hope this helps.
Who are you? That's the question. If you are the ultralight enthusiast who goes to the extreme of cutting the tags out of your clothes, then yes, of course, you have to have this! Keep in mind that a plastic spork from KFC actually weighs less (but is obviously not to be trusted on the PCT!)... but this, I imagine, is what Neil Armstrong would have taken to the moon if he'd had the choice. I don't cut the tags out of my clothes. Hell, I weight 250 lbs NAKED... but I, clearly NOT an ultralight camper, also carry this spoon. Why? Because it's just that cool. Seriously.
The Sea to Summit titanium utensils are just great, I mean REALLY really great. They are super light, extremely durable, easy to pack. I can't think of anything I would ever have to complain about. I am hooked for life on these. One small way to turn a camp meal into luxury. Spork tips stab well enough to eat hobo meals (steamed veggies from the fire).

I thought nothing could get better that the normal sea to summit ti spork, and then BAM, a FOLDING ONE, even lighter, even smaller, still feeds my face.
What's better than a spork??...
A FOLDING ONE!! and it comes with a "not safe for climbing" carabiner! The handle could be used as an emergency whisk, a giant fish hook, or possibly even a rudimentary mouth harp. It's also much lighter than almost any spork on the market. Well sure you could go to Taco Bell and grab a couple plastic ones and still beat this weight, but they wouldn't be foldable!