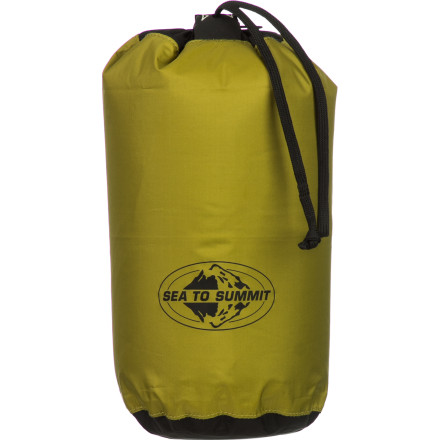 Colors

Community Images
Description
Get waterproof material without the roll-top closure thanks to the Sea To Summit Seam Sealed Stuff Sack.
Sea To Summit's Seam Sealed Stuff Sack helps backpackers, hikers, and mountaineers stay organized and keep their gear dry without the inconvenience of a roll top closure. This draw-string-equipped ditty bag uses waterproof, seam-taped, polyurethane-coated nylon to keep your gear dry as you hike through a rain storm or bivy in a snow cave. The Seam Sealed Stuff Sack comes in a wide range of sizes to accommodate your needs whether you want to protect your an extra T-shirt on a day hike or every stitch of clothing for a week in the woods.
Good Bag
Familiarity:

I've used it several times
Works well, nicely detailed and featured. I love the hang loop and the white interior. The concealed, two-sided cord lock is clever, but a little tricky to do with gloves or only 1.5 hands when you are trying to wrestle other stuff. The red color is much more of a "rust" to my eye, but I actually like it better for that.
Pretty waterproof
Familiarity:

I've used it several times
Honestly, after having so many non-roll top stuff sacks leak, I was expecting at least some water to get in. So far, I have been wrong. I filled this stuff sack and completely submerged it, and only a few drops got in, maybe from when I was opening it. The stuff sack is larger than I thought it'd be and the inside is white so it's super easy to find little things left behind. It's a really great value, especially for the price, and I definitely recommend it.
Great for hammock quilt and under quilt
Familiarity:

I've used it once or twice and have initial impressions
I bought 2 of these in size Large for my full length 0 degree hammock top quilt and under quilt, both with about 3.5" of loft. The quilts stuff in easily with good compression but not so much that it crushes the down.



I usually go for the ultralight silnylon stuff sacks, but at 2.3 oz on my scale these offer better protection and can be used as sturdy gear storage bags clipped to my hammock.
Excellent stuck sack
Familiarity:

I've used it several times
Have used the stuff sack (medium size) to manage my in-pack clothing. The medium fit perfectly at the top of your backpack. You can take the sack out of your pack when unpacking and set it down anywhere - the material keeps your contents dry.
Large is the perfect size for a down bag
Familiarity:

I've used it once or twice and have initial impressions
I purchased this stuff sack to replace a disintegrating bag for a three-season down sleeping bag. When I received it, I realized it is smaller than the one I was replacing, but since the bag stuffs down so well, it's actually an improvement.

The quality of construction is excellent, and the grab handle on the bottom is really handy for unpacking the bag.
Well made, lightweight.
Familiarity:

I've used it once or twice and have initial impressions
I bought the 20L to have on hand as an extra bag, especially when wanting to keep things dry (like a fresh change of clothes when you've had enough and just need to break out some clean and dry clothes. ;) ) It's large enough to go around my down sleeping bag and still have room for a change of clothes, or it will hold several changes without the sleeping bag. It's well made and lightweight.
White on the inside!
Gender:

Male

Familiarity:

I've put it through the wringer
What really sets this stuff sack apart from other waterproof burly durable stuff sacks (OR Durable, Podsacs Deluxe) is that the inside is WHITE! This is sooo helpful when you're looking for a small item. The dark gray color linings of other sacks makes hunting for items a chore. Otherwise, it works as advertised, but so do my other quality stuff sacks! It doesn't have the external daisy chain of the OR Durable sack, but how often do you need that feature?



My one complaint is that the XS sacks are long and narrow , and this can make it difficult to remove small items or stuff small down jackets. Podsac Deluxe is my go-to small stuff sack due to its shorter and wider shape.
I purchased a 15L green and 20L red. I really love the green color and 15L is really an ideal size. Between the 15L and 20L, I can long-term store my cold weather and warm weather sleeping kits. I recently went backpacking with an army surplus Alice frame strapped with this 20L, 15L and a Marmott Kompressor. These bags were perfect, but I'm now on the hunt for a more comfortable frame.
Going to do APT in march need a food bag...
Going to do APT in march need a food bag to hang in a tree at night, will only need 3 or 4 days of food to store. any guess how big of a bag I need
Frank, I hope the APT was great. Did you end up going with one of these? What size? I'm guessing a small or medium would have done the trick.
burly
Gender:

Male

Familiarity:

I've used it once or twice and have initial impressions
I bought this because the stuff sack I had with my tent tore. This thing is pertty burly and I have a lot more confidence in the life of this then I ever did in my tent's pack.
Perfect fit to hold my jet boil stove and a couple dehydrated food packs and even some snacks. I got the xs 5L. I also got the xxs 2.5L, holds my rain jacket perfectly.
exactly what i was looking for, they have all sizes for all uses.
This stuff sack is just what the brand name implies.Anything put in it will stay safe and dry at no matter what elevation.
These are great. My pack is not waterproof, so I make sure everything I put in it is in some kind of waterproof bag. These work great for all the random items or clothing that you might want to put in your pack and keep dry. I have 2 XXS's and a XS. I use one XXS for my first aid kit and the other XXS for all my random camping items that don't have another place to go. The XS I usually put my food in. I've not actually gotten to test them in rainy conditions yet, but I filled one with a bunch of stuff and ran the sink over it for a while and it was totally dry, so I trust the waterproofing. I love how the the cinch cord is contained within a sleeve so its not hanging out loose. Quality construction on these things.
On review says there is a vaiety pack?...
On review says there is a vaiety pack? Where would I find that?
I believe he was just saying that he ordered one of each size manually.
what is the diameters of the 30 L, or if...
what is the diameters of the 30 L, or if you can give me an area on your site that will help me convert measurements. Thanks in advance. darline
Hi Darline, the diameters of the bags are listed on the site; the XXL is
[XXL] 10.5 x 23 in, or 10.5 inch diameter...
I recently ordered one of every size from XS-L. I wanted to get enough that I'd be covered in most situations. The small and medium ones will work great for jackets and food and stuff, and the bigger ones will fit all the clothes I can pack plus my sleeping bag, which has its own compression sack but it's not waterproof. These bags are surprisingly tough and light and they seem very waterproof. I like how the cinches for the drawstring are incorporated into the collar of the bag (if you look at it in the pictures you can see what I mean), how there's that flap at the top to act as a lid and help to keep water out, and I like the webbing strap on the bottom and the little tab on the top that you can thread the drawstring through to make it extra-secure or you can use it to hang the bag while you're digging around inside it for a pair of socks or something, though I'm not sure how much weight that little tab can hold. If it's hypalon, which it seems to be to me, then it's probably pretty strong.
So, I'm looking forward to these things keeping my gear dry and organized and making packing a lot easier. Can't wait to take them on adventures with me!
Good bags. I bought these to use in addition to a rain cover for my backpack. a few extra ounces is worth the security of having a dry sleeping bag and clothes. Just don't get so extreme as to totally submerging your pack & you'll be OK. Also, I like the fact that they are more heavy duty than standard stuff sacks.