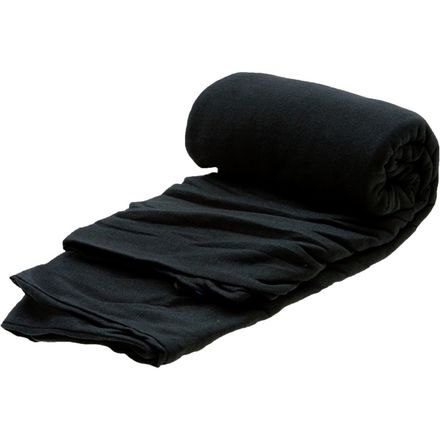 Detail Images

Community Images
Pack the 9oz Sea to Summit Reactor Thermolite Sleeping Bag Liner on trips where the weather could change drastically or for a night under the stars. This mummy shaped sleeping bad liner adds up to 15 degrees Fahrenheit to your sleeping bag and can keep you comfortable on a cool night by itself. The combination of its low weight and high compressibility makes it a painless addition to your camping quiver.
When will more of these be in stock?
Sophia,



We've got a big shipment coming to us in a few days. Let me know if you'd like me to watch this item for you and notify you when it comes in!



Shoot me an email if you'd like me to do that for you.
What is the Length and Width of the liner?
Dimensions are 82 x 35 inches.. 6.8ft x 2.9 ft
Excellent liner to augment bag warmth
Familiarity:

I've used it once or twice and have initial impressions
This liner was purchased for a recent 3 day trip through Big Bend. I primarily brought it for my girlfriend who used it on the last two nights after she had a rough first night. She has stated that it was the difference between a cold, miserable, sleepless night to a wonderful night's sleep. The evening temperatures were probably around the upper 30's and she had a 20 degree bag.

It is very soft, fairly light, and (according to my girlfriend) very helpful in increasing the temperature rating of your bag! I highly recommend for those who: A) Sleep a little cold B) hate grimy sleeping bags C) Hate the feeling of clammy nylon sleeping bags
Unanswered Question
What is compressed size?
Toasty warm!
Gender:

Female

Familiarity:

I've used it several times
While this liner can't protect you from roaming bears...it can help you sleep like one! I used it on a Teton backcountry trip for added warmth. For a minute I thought I was in a 5 star hotel. It's soft, adds just enough warmth, and you can pack it anywhere!
Good bag liner
Familiarity:

I've used it several times
Very happy with this bag liner. Good balance of weight, warmth and size. While the degree of warmth it adds is a bit subjective, to me it is a good 10 degrees. To address an earlier question, I am 6'4", use a long bag and have no problem using this liner.
Warm, comfortable, highly recommend
Familiarity:

I've put it through the wringer
I used this bag hiking in the Andes, and as promised it added approx. 15 degrees of warmth (I'm very surprised to read comments to the contrary below!!). Roomy, soft, with nice ties to hold it up around your shoulders. Will use this for years to come.
How cold could it be outside to use it...
How cold could it be outside to use it without a bag and still be comfortable?


Best Answer
That really depends on how warm you like to sleep. I typically use just a liner when it is warmer than ~70 degrees at night. This is a warmer liner, so you may be able to go several degrees lower.
Serves its purpose
Familiarity:

I've used it several times
I usually always sleep with a liner in my sleeping bag. They are much easier to clean than a sleeping bag. This is very light but adds 15 degrees to any bag, which after using I think is pretty accurate. Definitely worth purchasing if your looking for a little extra warmth for not a lot of money or weight. Also can be used on its own for light covering.
Good and comfortable liner
I always try to sleep with a sleeping bag liner to protect my down sleeping bags from sweat and oil. I bought this for winter camping and really like it. I would agree with the reviews below that 15 degrees is a bit generou. But I don't think 5-10 degree increase would be out of line. Overall, I like the liner a lot and it doens't seem to be showing any signs of wear despite numerous uses/washes.
This liner is alright but it really doesn't add as much warmth as it claims. If you open it up you will see why, you can see right through it. The fabric is stretchy and comfortable but with no zipper or any type of opening you have to shimmy your way into from the top which is annoying. I traded it is for an Alps microfiber liner that weighs and packs about the same, but has a velcro opening about half the length of it which is much much easier to get into and actually adds more that a few degrees of warmth.
Wish I had got one sooner.
I have used this sleeping bag liner a lot lately. I had thought I would only use it to keep the dirt and grime away from the bag. I found out it is great to use to keep the bugs off and add some warmth when a bag isn't needed. I highly recommend this product. My wife has taken it so will be getting another one :-)
Comfortable, not as warm as claimed
I bought this for a winter camping trip and used it with a 20 degree bag and a thermarest pad in weather that dropped to around 18 degrees and dry. I was still very cold. However, I found the liner very comfortable and stretchy, so I'm keeping it for warmer weather to protect my bag. But for extra warmth, I don't think it provided much maybe 5 degrees (my bag is cold for a 20 degree bag).

I had a silk liner that I used before. This liner is more comfortable if you move a lot when you sleep. The fabric stretches and moves with you. It seems like it would be breathable in warmer weather.
Ok this liner does help but I found that there is some liner made of fleece that are cheaper and works better. In a middle of camping trip in March above the arctic circle, I was able to compare both liners and I prefer the fleece one.
I use this 95% of the time I'm sleeping in my sleeping bag. It just makes it so much more comfortable. The fabric feels amazing to the skin, and you can wash it when you're done and save your sleeping bag from getting too funky. It probably adds 5-10 degrees of warmth to your sleeping bags rating, but I still like to use it even when unnecessary just because its so comfy. It packs down tiny and weighs almost nothing. I never leave a trailhead without it.
What are the dimensions? I am 6'4" and use...
What are the dimensions? I am 6'4" and use a long mummy bag. am I going to be short sheeted with this?
Found the material scatchy. It did strech which was nice but really did not think it added more than 5 degrees. For that amount of warmth I would go with a silk liner which is much more comfortable.
is it a stretchy material?
is it a stretchy material?
Best Answer
yes. i have the extreme version and its like a thin loose wool sweater in consistency. not constricting like a cotton sheet or something like that.
This review might be a bit odd for some people, but I'm guessing some will get it. I don't like the feel of most sleeping bags against my skin. Never been a big fan of nylon. Of course it is what is and I love backpacking. I use this liner even when I don't need extra warmth just cause I love the way it feels. The extra warmth is a very nice bonus. It definitely adds warmth I just don't know how much extra warmth it adds I've never tested one night, one night without.
I can say that right after I bought this I was messing with it in my truck whilest driving. (Ya, I know 10 and 2.) I had it pulled out of the bag and I put hood up over my head. Even though my cab was a comfortable temperature, my head was sweating within about 5 minutes of having wearing it.
I can also add that on my most recent hike I was of course using this liner in my bag. During the night the liner came down around my waist only covering lower section I felt a slight chill around my chest and and arms. I woke up and pulled the liner back up all the way and was back to be being nice and warm in no time.
So in short I'd buy this again. I'm not sure if really gets as many degrees as the advertisement says, but it does get the job done.
I picked one of these up for my 40 degree bag when an early fall trip dropped down into the 30's at night. This liner is light, very comfortable, and warm. I enjoyed the feel of the liner, no sticky silk feeling. At 9oz it isn't much extra weight and in the summer you could use this instead of a bag.