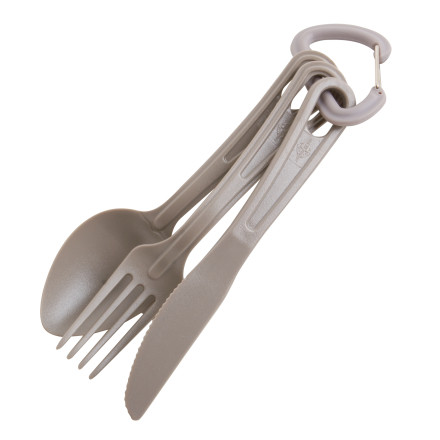 Detail Images
Leave your stainless-steel silverware at home and pack Sea To Summit's Polycarbonate Utensil Set. The knife, fork, and spoon in the Polycarbonate Utensil Set won't weigh you down and a handy little carabiner ensures they won't get separated in your pack. These functional utensils won't scrape the non-stick coating of your pots and pans either.
Its really nice to have a crew of sturdy utensils to use when you are out in the middle of no where. Also having a real fork and spoon is amazing! They aren't as sturdy as the aluminum utensils but they are lighter and still can get the job done.
I hate sporks
Gender:

Male

Familiarity:

I've used it several times
This lightweight set is a great, slightly heavier alternative to the single spork. The material is quite sturdy (same plastic as STS uses on their bowls and plates).



Solid basic pick-up for any trip.
Go eat!
Gender:

Male

Familiarity:

I've used it several times
The spoon spoons, the fork forks, the knife spreads cream cheese but not much else. The spoon is on the large side and works well as a serving spoon. The knife doesn't cut much more then a bagel and then spreads cream cheese but most people carry a real knife when camping so this knife is adequate.
I really love this cuttlery!!!
I am using mostly this cutlery for winter camping to safe any energy usually taken away by surrounding cold. Also I use it for my summer hiking for its weight and strength.

I already had bought approximately 15 sets of this cutlery. The last Christmas I gave away all of them to my friends.

The price from bancountry.com is one of the best. Unfortunately backcountry.com recently is out of them. I hope that they will bring this product back, because I would like to buy ten sets more.

Vlad Rybick, Calgary, AB, Canada
I got these to match a mug I got and because I needed utensils when camping and they do the trick. I thought they would be a little smaller, but its not a huge deal. They do what they were made for and are easy to clean.
I bought these for work.Just got tired of always hunting round for utensils and also using plastic.Thought these would fit the bill.And they do!Work great in a variety of foods......hot and cold.Wash up quick and easy.The clip works great for keeping the utensils together and able to hook it to my mug.Best of all,no more plastic to the landfill.Get em!
Great utensils for camping
We own two orange sets. My son, wife and I love then. They are tough, light, easy to clean and perfect for camping or backpacking. You can't taste them when you eat. Where can I buy more? Backcountry.com!
I've gotten some good use out of this set. The carabiner is a nice touch & good for keeping the set together & hooking the set when necessary. They are super light & clean up easily. For the price, an excellent buy.
This is one of those items that people usually forget to bring, but regret not having. Polycarb utensils are worth their weight in gold. I like these better than the ti versions because they don't transfer heat and don't bend like ti can. Since they're only a couple of ounces, there's no reason not to bring them.
They're dishwasher safe and work really well! I like the clip and how lightweight they are. The biggest flaw is the size of the spoon. It is HUGE. I doesn't fit into youplait yogurt, so think about what you're packing your food into and see if the spoon fits into it. The orange looks a little like a kids toy, but it feels great in the hand. buy them!
Will the polycarbonate utensil set withstand...
Will the polycarbonate utensil set withstand the heat while cooking?
Best Answer
Any prolonged exposure to direct heat (bottom of the pan) would cause this (or any) plastic to melt. However, when cooking you are probably just pushing or stirring the food around. So just don't leave the utensils sit in whatever you are cooking and you'll be fine.
Don't use the fork to turn bacon. I melted the tines on my fork this week. The spoon has done fine stirring coffee and meals but I imagine bacon grease can run up to 400+ degrees in the pan.