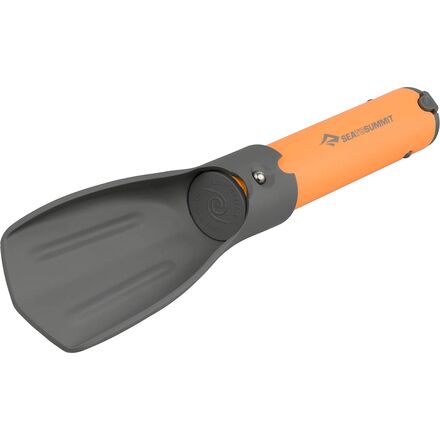 Community Images
Description
The super lightweight, super handy Pocket Trowel helps you practice LNT principles.
With a clever design, the Sea to Summit Trowel helps you practice a lightweight Leave No Trace ethic. Sea to Summit made this pack trowel out of super strong, lightweight reinforced nylon 66, so it digs cat holes in compact soil with ease, leaving you no excuse to improperly dispose of poo in the backcountry. Push the button back to collapse the blade against the handle by pushing the button lock, while the hollow handle stores an emergency lighter or biodegradable toilet paper. With its efficient blade, the 3-ounce trowel makes going to the bathroom in the woods even more fun.
Funny!
Familiarity:

I gave it as a gift but have feedback to share
This shovel is super cool, cute, and practical! It looks as though it will fit super nice in a backpack for those long trips, and make diggin way easier! The only thing is it has a tendency to bounce out of the pins that keep it in place when opening and closing it.
The metal one is better
Familiarity:

I've put it through the wringer
I tried this because I thought it would be light weight and compact, but it really doesn't hold up to regular use. It can't cut into hard dirt at all. The GSI trowel would be a better bet if you want a light weight plastic trowel. If you are dead set on the sea to summit design get the metal version. It is more expensive but does a better job than this one.
Piece of crap.
Familiarity:

I've used it several times
I used this trowel on three separate trips and it broke every single time. Maybe if you were digging a hole in sand it would be alright. Otherwise it just collapses. Awful, especially when the clock is ticking. Garbage.
Great idea, average product.
Familiarity:

I've put it through the wringer
I have used 3 of these in the last 3 year (people keep giving them too me as gifts...) The concept for them is good, and the size and weight are great. However, the rest of it is crap! Shakey handle, too small a blade and breaks too easy. This trowel has left me needing to play poo golf too many times because of its ineffectiveness. I don't like playing poo golf. In all honestly got by a $3 trowel from your local Hardwear store, it won't be a short but it won't fail you when it counts.
Works but needs improvements.
This trowel is super lightweight and does get the job done but needs improvement. The handle gets stuck and can be a pain to close and store. I didn't have issues with the trowel when digging, I was also on soft ground. After Sea To Summit improves the item, I would rate more stars.
Cute but not tough enough
I purchased this for myself, since we use metal foldable trowels with our groups. While the design is great, trying to dig hard grounds is useless. A stick, my heel, or rock did about the same job. I'm sure in nice soft ground it works well, but not for the Northeastern area I'm in.


I was a little disappointed in this product by Sea to Summit. Typically Sea to Summit has solid products, but this trowel left me wanting more. When I first pulled it out of the box I was impressed that it was very light weight and seemed to be made out of bomb proof material. I was also excited about how it could collapse in to itself for easier storage. Unfortunately, it was latter feature the ended up upsetting me the most. After I had dug my first waste hole, I noticed that the trowel was having trouble closing. I soon figured out that if any dirt or sand gets on the trowel it is almost impossible to close. This is unfortunate, because trowels are made to dig in dirt. As you can see in the picture, there are several scrapes marks from me trying to close it. I hope Sea to Summit addresses this issue, because this could be an amazing product!
it works but when you have a heavy load on its way you don't want a shaky handle on your poop scooper.
Good concept, poor execution, but adequate
In concept, this is an attractive option in that it's packable, light, and attractive (relatively speaking). I also like the addition of leave no trace logo. But there are couple of issues with how these concepts were implemented. The collapsible blade/handle is a good idea, but the bush button is the only thing that provides resistance and the circumference of the handle isn't very snug against the sheath of the blade. Naturally, the blade never feels quite solid with the handle. And as other reviewers have mentioned, the cap to the handle isn't very easy to remove (though perhaps it may loosen with use). The saving grace is the materials are pretty strong for the weight, so it'll get most of your poo digging jobs done.
Expensive but durable. Better than a plastic fantastic trowel from the dollar store. The handle can be very hard to close, but when it does - this thing packs down small. The end cap to get "inside" the handle is also really tough to open. Nice thought on the product, but how much can you expect out of a poop shovel?
Pros:
Very durable
Compact
Lightweight for the construction

Cons:
Weight
Fiddly handle
Price

Short of a true shovel that you can use a foot to force into the ground, I don't think you'll find a better digging tool, and it packs into a very small package. I've hacked through frozen and rocky soil that friends couldn't get through with their cheapo plastic trowels. I keep a roll of camping TP in a small Ziplok bag, and there's room for the TP and the iPood in the included stuff sack.

There are lighter options, but I don't think they're nearly as durable. The sometimes fiddly handle isn't a big problem, but it bothers some people. There are much cheaper trowel options. All of those cons are minor, and directly balanced against the pros; it's up to you to decide what's more important.

If anything, the current version is over-engineered. I think it'd be very difficult to break, even when abused. I'd like to see a metal version that's a little lighter, even if that means it's slightly less durable. Sea to Summit makes a plastic version that's a little cheaper and lighter, but I don't know how well it digs.
For What It Is It's Fine.
This tool is ideal for it's size, weight and durability. However, I've had difficulty with getting the handle in place. The little tabs you have to push in to extend and lock it in place are tricky without using something like a pen tip or something of that nature to push them in. But if you have a tool/pen handy with it then it's great =)
Great little tool to have around for a multitude of reasons. Good for digging and extremely light so its a no brainer to throw in the pack on backcountry trips. The handle does catch a bit, but it is not a huge deal as the folding function keeps the trowel really small, easily fitting in a pocket.
I used this to dig out the fire pit, and cover up the hot ashes before I head out. And of course, for burying the departed. Only thing I don't like is the difficulty to extend and collapse the handle. Especially when it has dirt particles wedged under the backside. It worked great on moist soil. Haven't used it in dryer soil. I assume it would be a bit more difficult to dig with this as it doesn't have a very sharp tip.
This little tool has some good things going for it. It is lightweight and does a decent job of digging if the ground is not rock hard. It has a hollow handle that can be used to store toilet paper. It compacts nicely but the button is kind of a pain sometimes.
Things I like and things I hate. Small pack size becuase the handle slides up into the trowel but the button is hard to press especially when it is 35 degrees out and your hands are freezing. The metal construction is great and it works well in rocky and hard soil. It is what it is, a way to dig a hole for you to lighten your load in. I still think it is one of your best options.
Though this attracts attention and has a funny name it was a pain to use. The button always got stuck and it was hard to remove the cap where you insert the toilet paper.
Lite, compact, does the JOB
Light Weight, compactable design with good storage for the poo tickets. does great job of digging a hole for you to do your job.